Dune Passes $100 Million At Domestic Box Office In Great Boost For The Spice Economy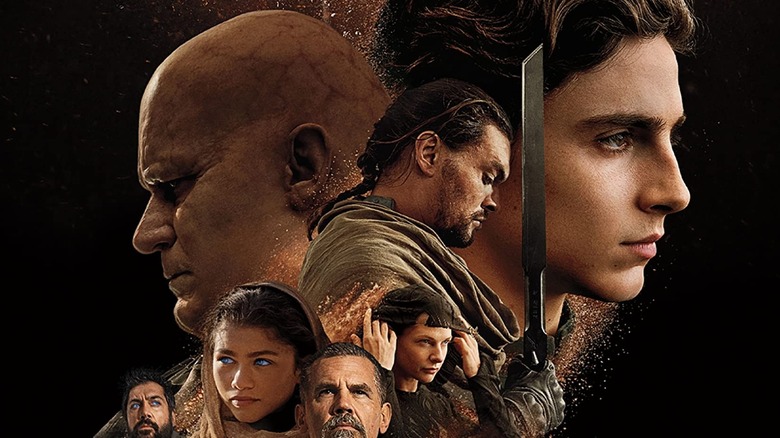 Warner Bros.
In an unexpected turn of events, Warner Bros. and Legendary's sensational and spiritual spectacle "Dune" has surpassed $100 million at the domestic box office. This is a milestone achievement for the adaptation of Frank Herbert's legendary science-fiction novel of the same name, and the second film from Warner Bros. and Legendary to hit the achievement this year, following "Godzilla vs. Kong." 
With COVID-19 still raging, there are still fewer people going to the theaters than there were before the pandemic. For "Dune" to pull off a domestic gross of over $100 million is worthy of praise, especially since the film was also released day-and-date to stream on HBO Max for its first 31 days in theaters. "Dune" managed to cross the threshold on its 35th day of release due to a $400,000 boost in Thanksgiving screenings, hitting a milestone that took "Godzilla vs. Kong" 12 weeks to achieve.
"Dune" is projected to bring in $2.26 million over the Thanksgiving weekend, bringing the U.S/Canada total to roughly $102.4 million. The film will likely experience another boost shortly after, as it's heading back to IMAX on December 3, 2021. According to a report from Deadline, IMAX screenings were responsible for 22% of the film's $41 million opening weekend sales, and 20% of the overall domestic total.
Officially Villeneuve's Highest Grossing Film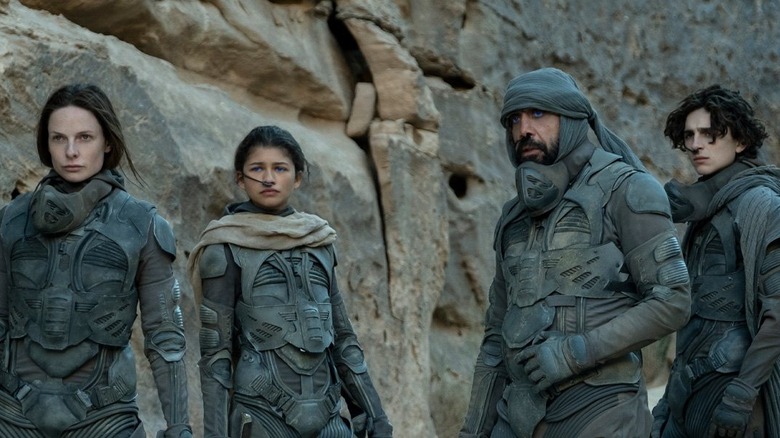 Warner Bros.
While there are plenty of films that can be enjoyed perfectly fine in the comfort of home on a smaller screen, "Dune" absolutely benefits from being seen on the largest screen possible. That is, as long as the audience feels comfortable enough to do so, because sitting in a theater while riddled with COVID anxiety is no way to watch a movie, regardless of how big the screen is. When Warner Bros. first announced the day-and-date plan with HBO Max, director Denis Villeneuve was furious. He took to writing a column in Variety stating:
With this decision AT&T has hijacked one of the most respectable and important studios in film history. There is absolutely no love for cinema, nor for the audience here. It is all about the survival of a telecom mammoth, one that is currently bearing an astronomical debt of more than $150 billion.
A year after Villeneuve's column, "Dune" is surpassing the expectations of many, and Warner Bros. has already greenlit a sequel, which will be released exclusively in theaters October 20, 2023. Despite all of the obstacles set up against it, "Dune" is Villeneuve's best domestic opening of his career, surpassing "Blade Runner 2049" which brought in only $32.7 million. "Dune" is also projected to become his highest grossing film both worldwide and domestically, as it is expected to surpass his Oscar-winning film "Arrival" by the end of this weekend.
"Dune" is playing in theaters now.