Everything We Know About My Hero Academia Season 6 So Far
After the fifth season of "My Hero Academia" aired its final episode in September, it was immediately renewed for season 6. Now there isn't a release date yet, but we already know that season 6 will adapt the original manga's Paranormal Liberation War Arc, which will see the existing heroes go head-to-head with the Meta Liberation Army and the League of Villains. 
In a short clip shared by the official "My Hero Academia" account to commemorate the confirmation of season 6, the show teased a battle between the heroes and villains by showing a glimpse of Tomura Shigaraki stronger than ever, as he prepares to face off against Izuku. 
【ヒロアカ6期が、来る。】

『僕のヒーローアカデミア』TVアニメ第6期制作決定!https://t.co/YiWrfETyZfhttps://t.co/CgZDWzbJGK#heroaca_a #ヒロアカ
#PLUSULTRA #プルスウルトラ pic.twitter.com/d1ttcQ3XaS

— 僕のヒーローアカデミア "ヒロアカ"アニメ公式 (@heroaca_anime) September 25, 2021
"My Hero Academia" has resonated with audiences across the globe, thanks to its highly likable characters, well-executed action sequences, and an incredible soundtrack. It effectively captured the humans behind larger-than-life superhero personalities. 
It's no wonder why fans are so excited about season 6! "My Hero Academia" might have one too many characters (even by anime standards), but each of them is given an opportunity to shine and inspire the viewer. Another season means manga fans can watch one of the most anticipated story arcs find a place on the small screen, as the rivalry between Izuku and Shigaraki reaches an all-new high.
When Will My Hero Academia Season 6 Be Released?
Recently, there hasn't been an anime series as popular as "My Hero Academia," so it's only fair for fans to feel impatient about the new season. 
While we have a teaser that tells us more about the story we are looking forward to, it's not much if there isn't a premiere date accompanying it! The creators have kept the new season a secret so far, and we know nothing, excluding the fact that the series is getting a season 6, and our beloved superheroes will be back shortly.
Judging from the time frames between other seasons, the series is likely to return sometime in 2022. 
Season 1 through 4 all aired across four years, and the immense delay behind the fifth season was only due to the Covid-19 pandemic. We wouldn't rule out the possibility of "My Hero Academia" following a regular release timeline and returning in late 2022.
Who is the Cast of My Hero Academia Season 6?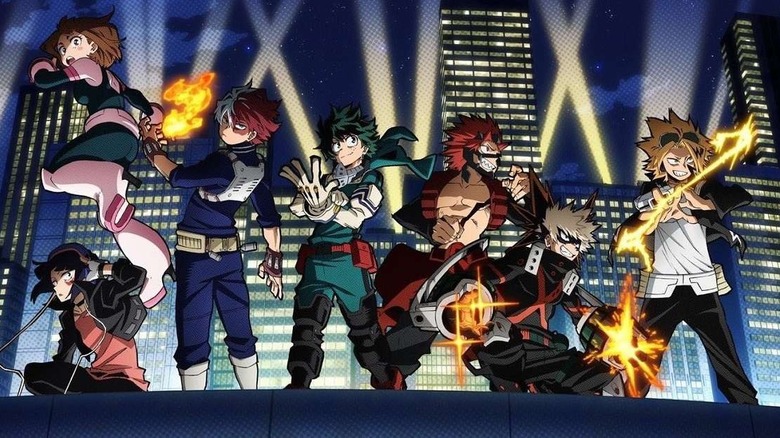 NTV
In terms of cast members, we expect Daiki Yamashita to return as protagonist Izuku/Deku, Nobuhiko Okamoto and Yuki Kaji will reprise their roles as Bakugo and Shoto, and Kōki Uchiyama will of course, be back as the legendary Shigaraki Tomura! Ayane Sakura is also expected to return as Uraraka.
What Is The Plot of My Hero Academia Season 6?
Season 5 of the series covered the Endeavor Agency as well as Meta Liberation Army plot arcs, as seen up until the manga's volume 26, chapter 257. Through the episodes, it is revealed that the League of Villains is set to join the Meta Liberation Army, a villainous organization, so they may merge and become the Paranormal Liberation Front. The PLF is essentially a powerful organization that wants to shatter people's faith in heroes, among other seriously dark ideas they're looking to execute.
The only way to defeat the organization and its nefarious leader Tomura Shigaraki, is for the heroes to come together and train so the incoming battle may be stopped. Season 5 faithfully adapted the arcs from the manga while providing an excellent introduction leading into the Paranormal Liberation War. 
And hey, "My Hero Academia" might not end at just season 6. There are 31 volumes (326 chapters) of the manga that have been published in Japan, which means there is enough source material to inspire more seasons of the series. Considering the show's ever-growing popularity, it doesn't seem like a bad idea!