Ray Donovan: The Movie: Release Date, Cast, And More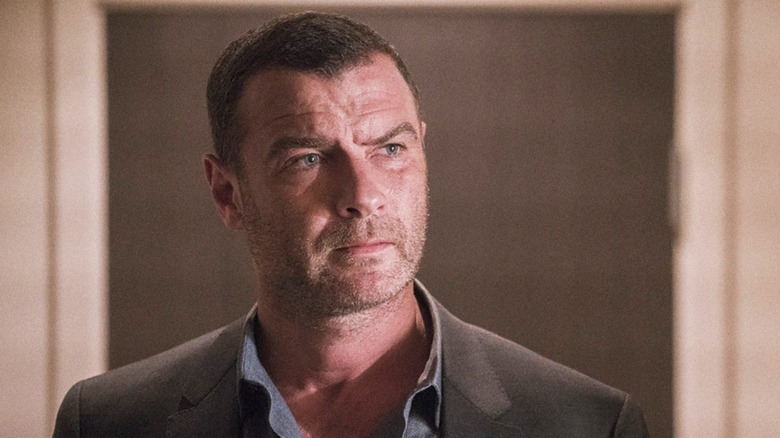 Showtime
(Welcome to ...And More, our no-frills, zero B.S. guide to when and where you can watch upcoming movies and shows, and everything else you could possibly stand to know.)
That show your parents kind of like is back, and this time it's a movie! "Ray Donovan" debuted on Showtime on June 30, 2013, and after seven seasons of watching Ray (played by Liev Schreiber) work as a professional fixer and do some skeevy deeds for his celebrity clients, we're getting a full movie to wrap up all those leftover plot lines. If you're a dedicated "Ray Donovan" fan, I'm sure you're hyped as hell to dive back into this seedy underbelly and watch Schreiber go toe to toe with Jon Voight (who plays his deadbeat father Mickey Donovan). If this is the first time you're ever hearing about the show, lucky for you there is plenty of content to dive into. 
Without further ado, let's see what's going on with "Ray Donovan: The Movie."
(P.S., Do you think this is a good title? I mean, the show is just called "Ray Donovan," so the movie branding is thematically appropriate, but it's kind of boring, right? I'm on the fence between thinking it sounds boring and thinking it sounds like a niche joke someone who is really into Showtime would tell. Sound off in the Facebook comments I guess? Let me know how you feel about this one Donovanheads.)
Ray Donovan: The Movie Release Date and Where to Watch It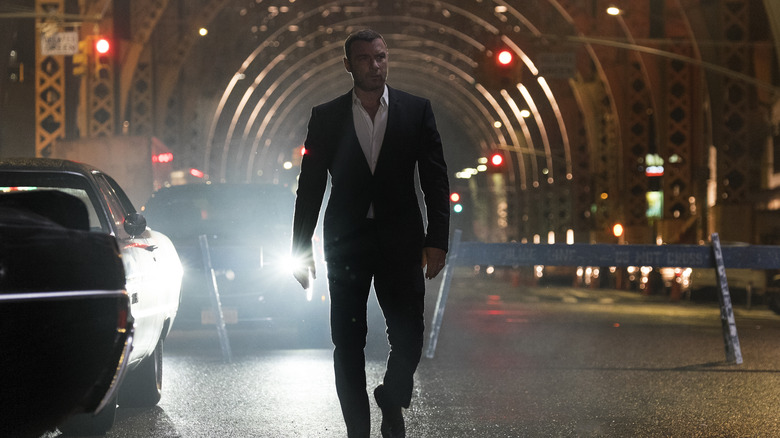 Showtime
Showtime is keeping this one in house, so you'll be able to watch it on Showtime itself when the movie debuts on January 14, 2022. While that date feels kind of far off, it is a Friday, so this gives you plenty of time to curate a full weekend of Donovan-themed activities. Start a feud with your dad! Start a feud with your wife! Start going to therapy! The options are truly endless, and if they seem a little more hardcore than what you usually go for, you can always just put on a suit (no tie, of course) and pensively drink whisky straight out of the bottle as you stare into the middle distance.
What Is Ray Donovan: The Movie?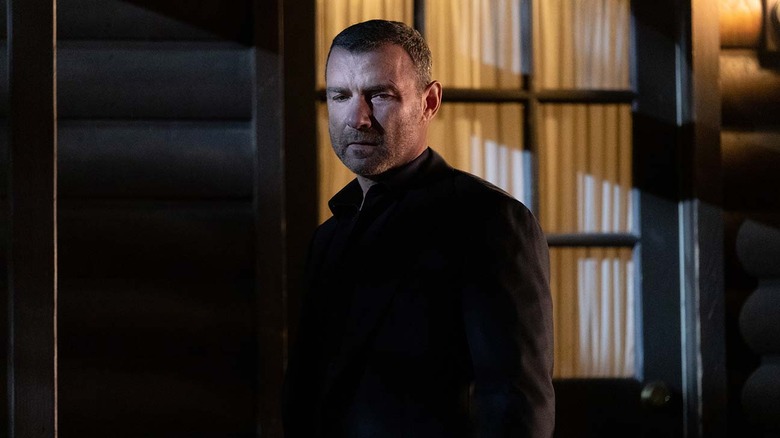 Showtime
What isn't "Ray Donovan: The Movie?" might be the better question. Look, this is a classic Showtime spectacle. You've got the moral grey areas, tough guys making tough decisions, heavy drinking, daddy issues — it's everything you need to make a hard hitting crime drama. 
The movie specifically picks up exactly where the finale of "Ray Donovan" season 7 left off (which is lucky for our Donovanheads). Ray's dad Mickey is out in the wild doing god knows what and it's Ray's job — no, duty — to track him down and put an end to the Donovan family madness once and for all. On top of all of that, the movie will weave in some of the Sullivan/Donovan feud that was hot and heavy in the final season, and do a little time jumping 30 years into the past to give you the full origin story. I've got to say, the father/son plot line is this show is kind of fun, if only because it begs the question: what if you solved your daddy issues by killing your daddy/sending him to prison for the rest of his life? I mean, that is one way to do it.
Ray Donovan: The Movie Cast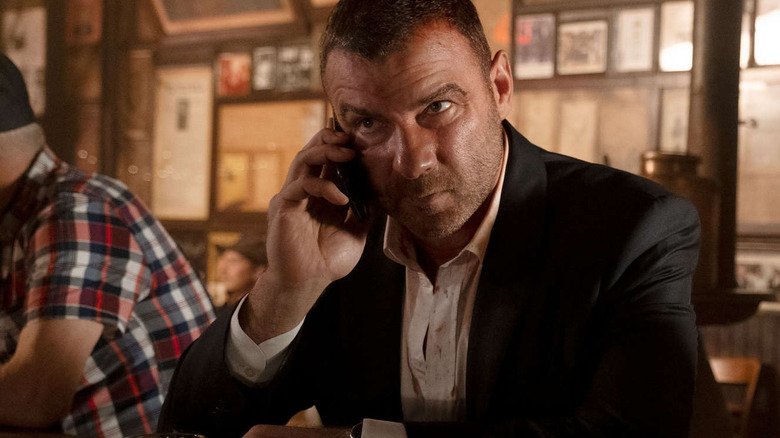 Showtime
All of the big players are back for this one, which makes since because they were all apparently very upset when the show was cancelled right after season seven. Of course, you can't have "Ray Donovan" without the lead/co-writer Liev Schreiber, who will absolutely be returning for the movie. Jon Voight is also popping back into his role as Mickey Donovan and doing what he does best: being everyone's least favorite dad. 
Besides the big boys, Eddie Marsan and Dash Mihok are coming back as Ray's brothers Terry and Bunchy, respectively. Rounding out the brothers, Pooch Hall is returning a the Ray's half-brother Daryl. Moving onto the ladies, Kerris Dorsey is reprising her role as Ray's daughter Bridget, plus Katherine Moennig is playing Lena and Kerry Condon is playing Molly Sullivan.
Ray Donovan: The Movie Directors, Writers, and More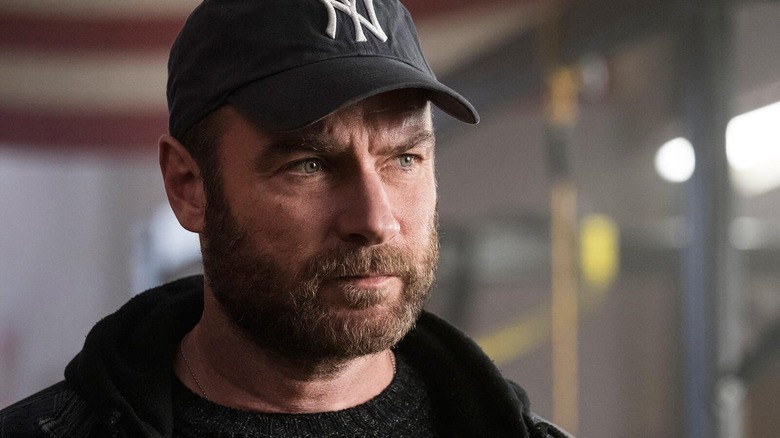 Showtime
Showrunner David Hollander is one half of the magic that makes "Ray Donovan" what it is, and thankfully he has returned to direct the movie and co-write the script with Schreiber. They're both also named on the executive producer team, alongside Mark Gordon, Bryan Zuriff and Lou Fusaro. 
Based on the number of returning cast and crew members, I think you can expect a product that's very true to the "Ray Donovan" branding. If you're looking for more of what you got from season 7, you've come to the right place and Showtime is going to make sure you leave satisfied. If you were looking for the "Donovan" story to do something different, I would recommend you start writing your own fan fiction. Be the change you wish to see, because this team seems very loyal to their original vision.
Ray Donovan: The Movie Trailer and Synopsis
If you're still undecided on whether or not you're going to tune in for the grand finale that is "Ray Donovan: The Movie," we've got the trailer and the official synopsis right here for you. Pour yourself a drink, sit back, press play and maybe have your therapist (or your dad?) on speed dial:
The film picks up where Season 7 left off, with Mickey in the wind and Ray determined to find and stop him before he can cause any more carnage. It will also weave together the present-day fallout from the Donovan/Sullivan feud with Ray and Mickey's origin story from 30 years ago.