The Best TV Shows And Movies Leaving HBO Max In December 2021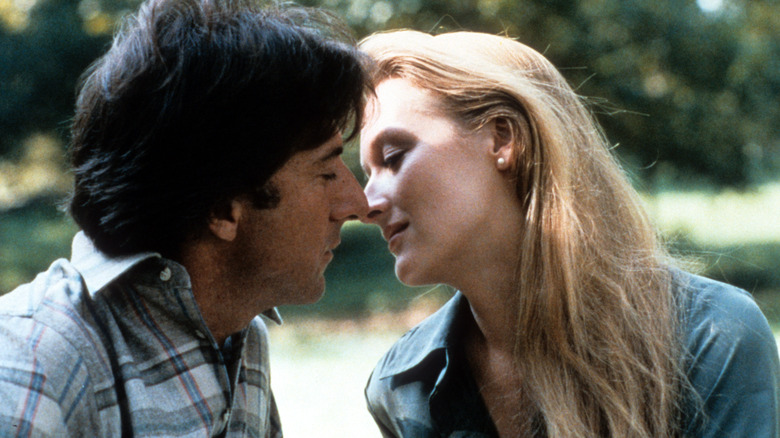 Columbia Pictures
Of all the major streaming services at our disposal, HBO Max has always boasted one of the richer and more in-depth libraries of movies — both classic and more recent — than many other options. Unfortunately, because this is the internet and nothing is real, even the most critically acclaimed and widely appreciated titles aren't a permanent fixture on the streamer. But hey, physical media is an expense that can add up quickly and so many of us must simply make do with what we've got. Of course, "what we've got" means keeping track of the never-ending streaming story as dozens of movies and shows cycle in and out of availability at the end of each month. But that's what we're here for! In this edition, we highlight the must-watch entries from HBO Max that will be disappearing at the end of the year. Check them out below.
The Invisible Man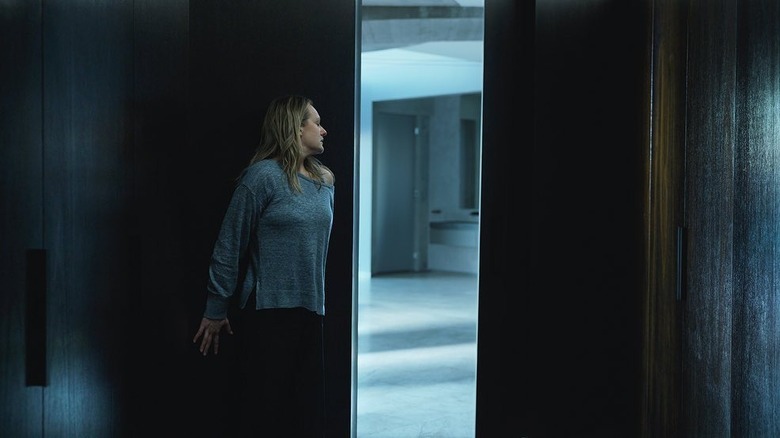 Universal Pictures
In the midst of seemingly more calls than ever before for originality in favor of remakes, reboots, and franchise sequels, leave it to another adaptation of an untouchable classic to end up being one of the best horror movies in recent memory. After showing promise with 2018's "Upgrade," writer and director Leigh Whannell stepped up to the plate and knocked "The Invisible Man" out of the park. The key, intriguingly enough, was to rejigger the premise just enough so that the eponymous Invisible Man is left as the (mostly) unseen antagonist throughout the entire film, leaving Elisabeth Moss' Cecilia Kass as our eyes and ears into this terrifyingly real story about abuse and gaslighting. Elisabeth Moss delivers a genuinely award-worthy performance and Whannell's uncanny ability to stage the action — specifically through the use of negative space — is an absolute masterclass.
Dr. Strangelove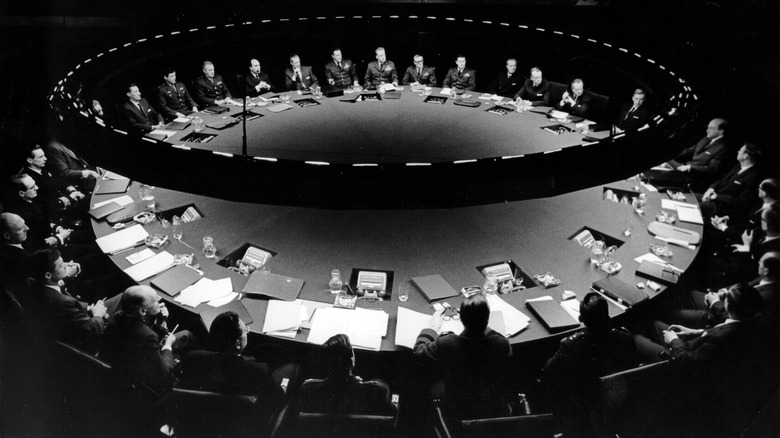 Columbia Pictures
For some, catching up on the most celebrated touchstones of cinema can feel like more of a chore than anything else. That's not the case with "Dr. Strangelove or: How I Learned to Stop Worrying and Love the Bomb," which boasts a brevity (in terms of runtime, yes, but more so in terms of pacing) that makes its absurdly long title even more of a self-deprecating in-joke. If art should generally reflect the time period it was made in, then "Dr. Strangelove" takes that to the utmost extreme. Releasing at the height of Cold War anxiety in 1964, director Stanley Kubrick channeled all the existentialism of the day into a satirical, hilarious, yet utterly bleak depiction of government authorities marching headlong into self-annihilation. Of course, that's not accounting for the over-the-top alternate ending audiences didn't get to see which, in Kubrick's own words, "...was farce and not consistent with the satiric tone of the rest of the film."
Emma.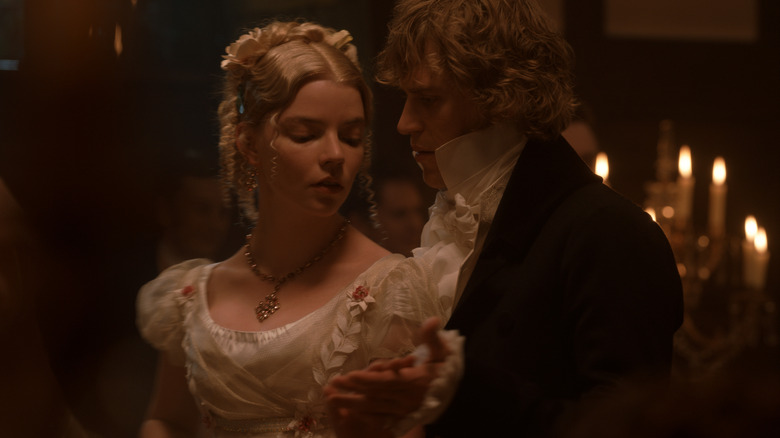 Focus Features
Cover your eyes, purists, because it's another remake! In this next entry, director Autumn de Wilde brings an incredibly deft touch to this latest Jane Austen adaptation, featuring the famous story of rich socialite Emma Woodhouse, who is as charming as she is vain and insufferable. Of course, that's entirely the point of the character — as /Film's Hoai-Tran Bui points out, Austen's skills as a satirist have gone woefully underappreciated over the years, and never is that more apparent than with "Emma." Anya Taylor-Joy imbues this narcissistic young woman with a grace, sense of humor, and a beguiling screen presence that forces viewers to hold their noses at her unspeakably rude behavior until she finally learns that everything does not, in fact, revolve around her. De Wilde's film loses none of the source material's pointed criticisms of its own main character, while becoming the latest film to leverage Taylor-Joy's rising star power in deceptively clever and subtle ways.
Never, Rarely, Sometimes, Always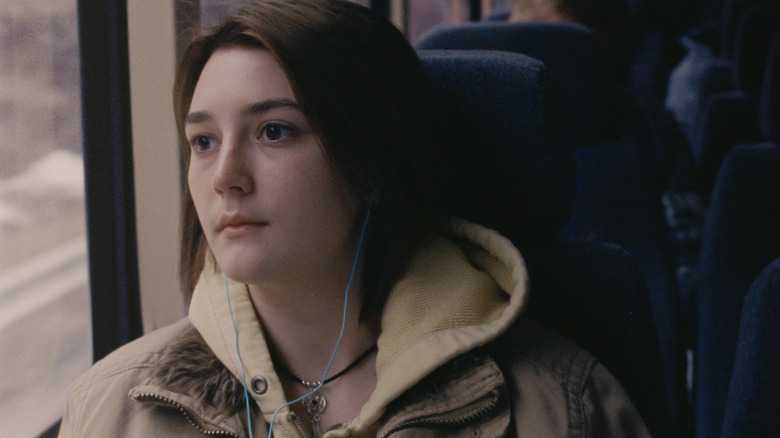 Focus Features
With upfront acknowledgment that it's not really my place to speak from a position of authority about the need for a film like "Never, Rarely, Always, Sometimes," I can at least point to how important it is that writer/director Eliza Hittman's quiet, lowkey indie drama treats its main characters with a refreshing matter-of-factness and a sense of dignity that could so easily have been denied them. As opposed to a film like, say, "Juno" (which I also really enjoy), there is no sense of romanticism or fantasy on display here. Autumn, played with incredible poise by newcomer Sidney Flanigan, all but shuts down emotionally through most of the story as she mechanically journeys from Pennsylvania to New York City to get an abortion, accompanied by her cousin Skylar (Talia Ryder). In lieu of an overabundance of dialogue, Hittman allows vignettes and visuals to tell much of the story, which proves surprisingly effective in getting us into the head space of the two very different main characters. It may be low key and restrained, but "Never, Rarely, Sometimes, Always" isn't a film easily forgotten.
Twelve Monkeys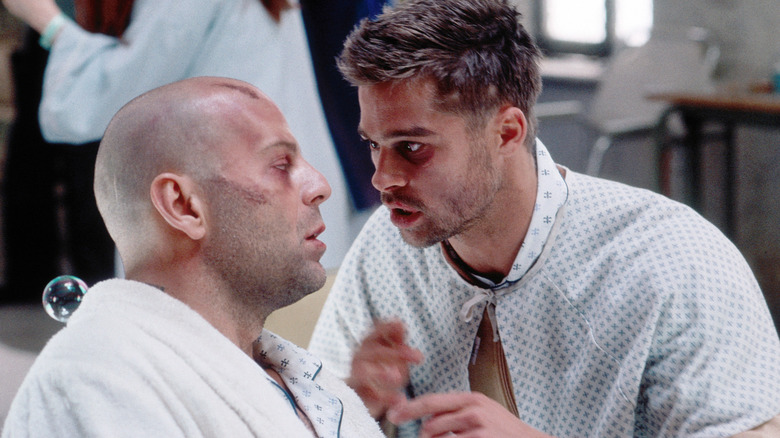 Universal Pictures
Well, "Twelve Monkeys" may be loosely based on a short story, but it's full-length 1995 adaptation is as original as it gets. Directed by Terry Gilliam and starring Bruce Willis, Madeleine Stowe, and Brad Pitt (with a supporting role by the late Christopher Plummer), "Twelve Monkeys" just so happens to deal with the fallout of a lethal virus set during the holiday season. If that feels like it hits a little close to home at the moment, you wouldn't be the first one to make that exact observation. The hokey time-travel setup easily could've gone wrong in lesser hands, but the outright zaniness and creativity on display immediately puts this film in a league of its own. Literalists and plot-first viewers may have trouble getting onto the same wavelength of this one, but those who enjoy a challenging and somewhat less-than-optimistic sci-fi story will find plenty to appreciate. The '90s were a weird time, man, and few movies capture that essence as well as "Twelve Monkeys" does.
Everything Leaving HBO Max in December 2021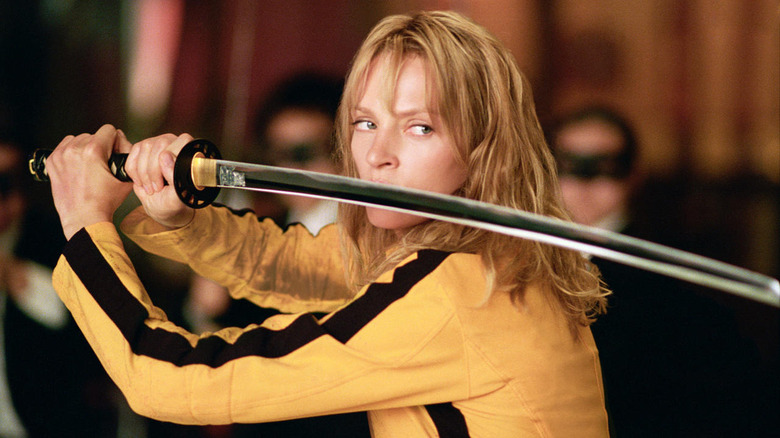 Miramax Films
December 16:
CNN Heroes: An All-Star Tribute, 2020
December 18:
The Invisible Man, 2020 (HBO)
December 19:
King Richard, 2021
December 24:
Fifty Shades Of Black, 2016 (HBO)
December 31:
Abuelos (Aka Grandpas), 2019 (HBO)
Ace Ventura: Pet Detective Jr., 2009
Alpha And Omega 2: A Howl-Iday Adventure, 2013
American Graffiti, 1973 (HBO)
Assault On Precinct 13, 1976 (HBO)
Bangkok Dangerous, 2008 (HBO)
Beautiful Girls, 1996 (HBO)
Black Christmas, 2019 (HBO)
Blackhat, 2015 (HBO)
Bratz: The Movie, 2007
Bridget Jones: The Edge Of Reason, 2004 (HBO)
The Cable Guy, 1996
Casi Famoso (Aka Almost Famous), 2019 (HBO)
Cats, 2019 (HBO)
The Collection, 2012 (HBO)
Cousins, 1989 (HBO)
Curse Of The Pink Panther, 1983 (HBO)
Dante's Peak, 1997 (HBO)
Dear Christmas, 2020
Dim Sum Funeral, 2009 (HBO)
Don't Tell Mom The Babysitter's Dead, 1991 (HBO)
The Doors, 1991 (HBO)
Downhill, 2020 (HBO)
Dr. Strangelove, 1964
Emma. (2020), 2020 (HBO)
Employee Of The Month, 2006 (HBO)
The English Patient, 1996 (HBO)
Eve's Bayou, 1997
Flashpoint, 1984 (HBO)
Friends With Money, 2006
Gandhi, 1982
God's Not Dead, 2014 (HBO)
Gods And Monsters, 1998 (HBO)
He Said She Said, 1991 (HBO)
Heaven Help Us, 1985 (HBO)
Hitch, 2005
Ira & Abby, 2007 (HBO)
Kill Bill: Vol. 1, 2003 (HBO)
Kill Bill: Vol. 2, 2004 (HBO)
Kramer Vs. Kramer, 1979
Leapfrog: Math Adventure To The Moon, 2010
Leapfrog: Numbers Ahoy, 2011
Leapfrog: The Letter Factory, 2003
Like Mike, 2002 (HBO)
Like Mike 2: Streetball, 2007 (HBO)
Los Futbolisimos (Aka The Footballest), 2018 (HBO)
Lucky, 2017 (HBO)
Machine Gun Preacher, 2011 (HBO)
The Manhattan Project, 1986 (HBO)
Mr. Smith Goes To Washington, 1939
My Left Foot, 1989
Never, Rarely, Sometimes, Always, 2020 (HBO)
The Pallbearer, 1996 (HBO)
Perpetual Planet: Heroes Of The Oceans, 2021
The Pink Panther 2, 2009 (HBO)
The Pink Panther Strikes Again, 1976 (HBO)
The Pink Panther, 2006 (HBO)
The Pink Panther, 1964 (HBO)
Pups United, 2015
The Raven, 2012 (HBO)
Reasonable Doubt, 2014 (HBO)
Reds, 1981 (HBO)
Return Of The Living Dead III, 1993 (Alternate Version) (HBO)
Return Of The Pink Panther, 1975 (HBO)
Revenge Of The Pink Panther, 1978 (HBO)
The Sessions, 2012 (HBO)
Shakespeare In Love, 1998
A Shot In The Dark, 1964 (HBO)
Snake Eyes, 1998 (HBO)
Son Of The Pink Panther, 1993 (HBO)
Trail Of The Pink Panther, 1982 (HBO)
Twelve Monkeys, 1995 (HBO)
Vaca, 2018 (HBO)
Volunteers, 1985 (HBO)
Won't Back Down, 2012 (HBO)
xXx, 2002
xXx: State Of The Union, 2005