JoJo Siwa Leaps Her Way Into The History Books As Dancing With The Stars Runner-Up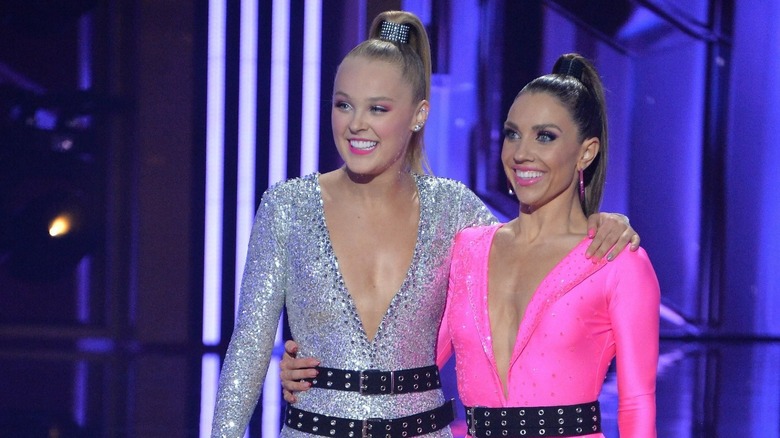 ABC
At what many saw to be the peak of her career, teen icon JoJo Siwa did the unthinkable — she came out as pansexual. 
With a fan base consisting almost exclusively of children, many thought JoJo Siwa's coming out would kill her career, but it only made her more powerful. This year, Siwa made history on the 30th season of "Dancing With The Stars," competing alongside professional dancer Jenna Johnson, making the duo the first partnership on the show to consist of dancers of the same gender identity. The duo came in second place to Iman Shumpert and Daniella Karagach, another historic win as Shumpert is the first NBA player to win the coveted mirror ball. If JoJo Siwa was going to lose to anyone this season, after Shumpert's perfect score-earning performance inspired by Jordan Peele's "Us," it was going to be him.
Throughout the series, Siwa and Johnson made history not only for their pairing but also for earning the first perfect scores of the season. "I think it breaks a wall that's never been broken down before," Siwa told Glamour during the summer Television Critics Association press tour. "I think it's really special that, not only now do I get to share with the world that you're going to love who you want to love, but also you can dance with who you want to dance with."
Why is JoJo Siwa Famous?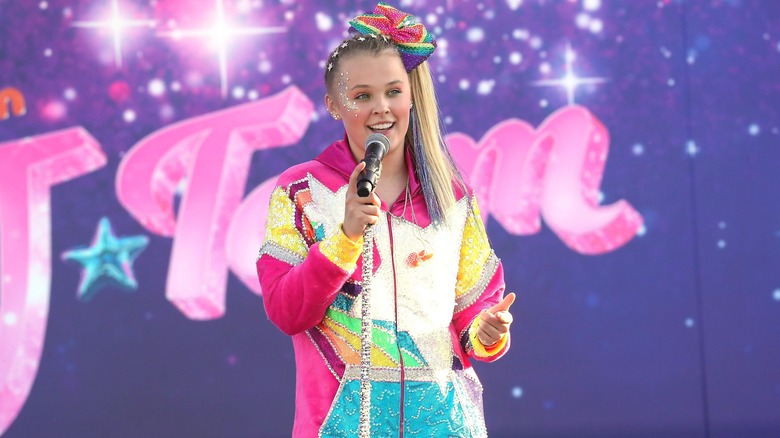 Nickelodeon
In 2012, JoJo Siwa applied to compete on "Abby's Ultimate Dance Competition," the reality show produced by the loud and boisterous Abby Lee Miller of "Dance Moms" fame, the same show that gave us Sia's muse, Maddie Ziegler. JoJo was later invited to join the Abby Lee Dance Company, putting her on the "Dance Moms" reality TV roster. Even as a small kiddo, JoJo was a dynamic personality with her bubbly attitude and now-trademark hairbows and side ponytails. A few years later, Siwa signed a multi-platform deal with Nickelodeon, which sparked the flame of the JoJo Siwa merchandising empire. Time Magazine named her "America's Most Famous Children's Entertainer" in 2019, and currently boasts 39.1 million followers on TikTok. The girl has so much merchandise of her likeness, she was able to host a "JoJo Siwa Themed Birthday Party" when she turned seventeen.
@itsjojosiwa

JoJo Siwa having a JoJo Siwa Themed party. doesn't get much better than this!!
In addition to her merchandising line, Siwa's fan base overwhelmingly consists of children and pre-teen girls. But after her coming out announcement earlier this year, Siwa has developed a fanbase in the form of LGBTQ+ adults. Considering her influence on the youngest generation, JoJo is the role model so many LGBTQ+ adults didn't have as children. She serves as a beacon of hope for a brighter future, one that includes affirming acceptance for everyone, regardless of sexual orientation or gender identity.
Why Should We Care?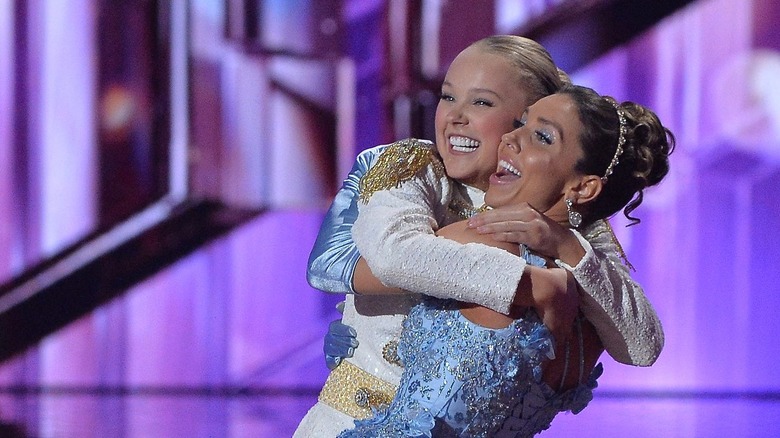 ABC
I know it sounds stupid in 2021 for it to be a big deal when someone is LGBTQ+, but JoJo Siwa is a game-changer for the entertainment industry. Children's programming and primetime television are both extremely behind in LGBTQ+ representation, and JoJo Siwa is proof positive that you can include LGBTQ+ authenticity in both arenas and still be successful. Those promised boycotts don't mean a thing when season 30 of "Dancing With The Stars" reported a record number of votes coming in to support the show. Ahead of the season finale, JoJo took to Instagram to express her gratitude about her experience on the show, and to honor her partner Jenna Johnson for being willing to dance with her.
"Being the first ever same sex [sic] couple was a scary thing and for you to be involved is just a huge testament to who you are," Siwa said. "You are such a good person and I am so thankful to have you in my life. Thank you for doing this with me. I am forever grateful to have you as my Pro Partner on DWTS."
The decision to have Siwa perform with a woman was a huge risk for ABC, as plenty of people called for a boycott of the show for its alleged "wokeness" and "pushing of the homosexual agenda." Fortunately, Siwa cannot be bothered by bigots who allow her rhinestoned self to live rent-free in their heads and wowed both audiences and judges with her talent and creativity. 
The doors have been blown wide open for future duos on "Dancing With The Stars," and we have JoJo Siwa to thank.