The Best Movies And Shows Coming To Hulu In December 2021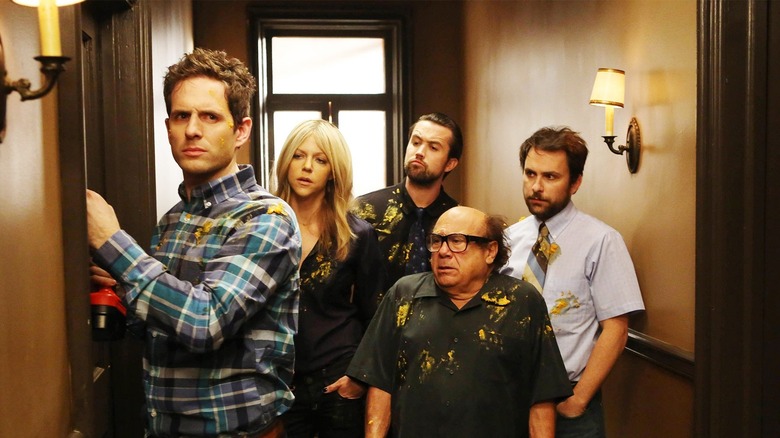 FX
It's almost December, which means we're all going to be spending more time indoors, possibly trapped with relatives we don't have anything in common with. Thankfully, Hulu has us covered, bringing loads of great movies and new TV shows to its streaming service just in time to avoid Uncle Larry's UFO TED talk. 
The new season of "It's Always Sunny in Philadelphia" will drop its first two episodes on the streamer on December 3, 2021, one day after the premiere on FXX, but there's plenty of other great content headed to Hulu as well. There's a couple of holiday specials, a whole slew of great movies, and new seasons from Hulu originals, so no one has to feel bad about locking themselves in their rooms and refusing to try Great Aunt Betty's new cranberry sauce recipe. Heck, they're even releasing season 10 of the Canadian comedy hit "Letterkenny" on Boxing Day so everyone can get into the Canadian holiday spirit.
The Princess Bride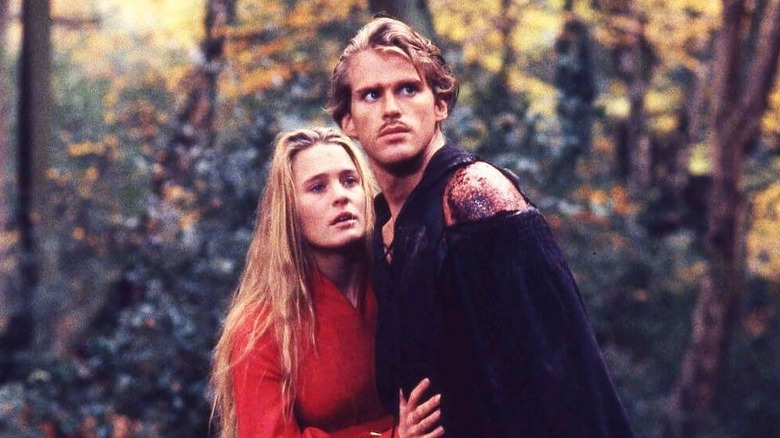 20th Century Studios
The 1987 film "The Princess Bride," based on the book of the same name by William Goldman, might be the perfect family film. The comedic fantasy follows the adventures of Princess Buttercup (Robin Wright) and her one true love, the Dread Pirate Roberts/the stable-boy Westley (Cary Elwes). When Buttercup is forced to marry the evil Prince Humperdinck (Chris Sarandon), Westley must join forces with the fierce sword fighter Inigo Montoya (Mandy Patinkin) and the giant Fezzik (Andre the Giant) to rescue her and prove the power of love once and for all. 
"The Princess Bride" has plenty of humor for kids and their parents, plus it's a rip-roaring adventure story that doesn't have anything too scary for the little ones. This might be the perfect movie to put on and distract everyone during those holiday parties. After all, you can't argue about politics if you're too busy laughing at Billy Crystal's ridiculous ad-libbing as Miracle Max, a mad medicinal magician.
The Raid 2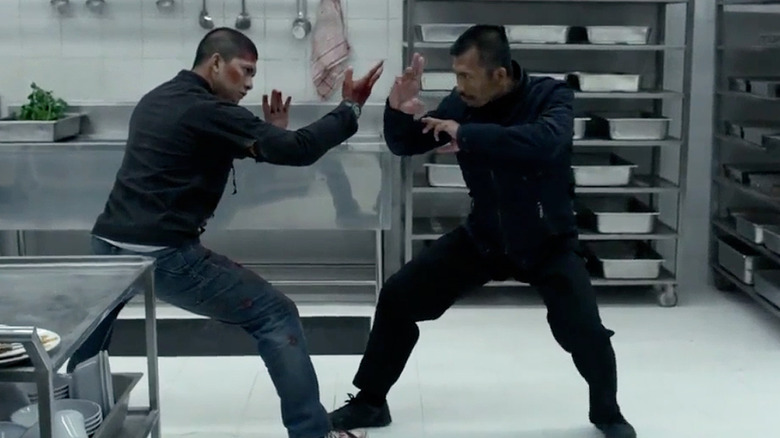 Sony Pictures
Gareth Evan's 2011 film "The Raid: Redemption"  is one of the greatest action films of all time. It's a non-stop adrenaline rush starring martial arts phenom/actor Iko Uwais as a police officer trying to make his way to the top floor of a building run by criminals. (If that sounds familiar, the "Dredd" movie basically did the same thing, though with a much more fantastical bent.) 
"The Raid 2" is the 2014 sequel to "The Raid: Redemption" and it goes even harder than its predecessor. Written, directed, and edited by Evans, "The Raid 2" follows special forces officer Rama (Uwais) as he goes undercover to expose the corrupt police working with Jakarta's organized crime families. The fight scenes showcase the Indonesian martial arts style of pencak silat, often with few cuts or camera movement. This is one seriously violent film, so it might not be one to watch with grandma, but it's an action bonanza that has to be seen to be believed. 
Her Smell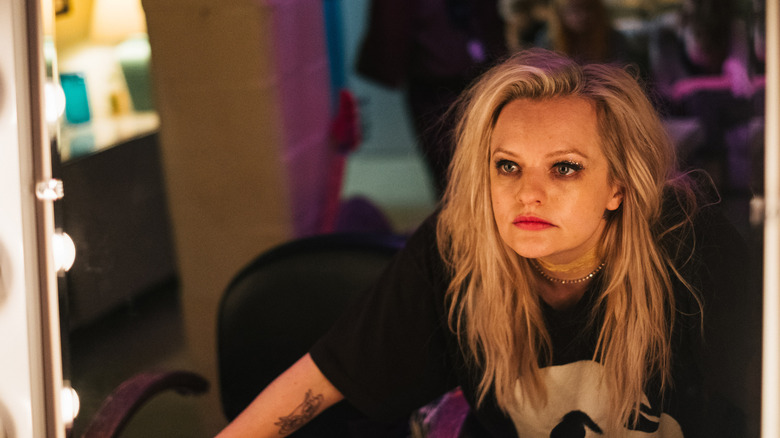 Otter Media
While checking out "The Raid 2" with grandma might be weird, watching "Her Smell" with her would probably guarantee you get written out of her will. This 2018 drama written and directed by Alex Ross Perry follows fictional rock star Becky Something (Elisabeth Moss) whose band breaks up at the peak of their fame because of her self-destructive behavior. 
"Her Smell" is a shocking, femme-led story of excess and fame that makes one heck of a double feature with the 2018 film "Vox Lux," which stars Natalie Portman as a similarly destructive rock star. The good news? "Vox Lux" is already on Hulu! So, if you're feeling a little down about your own circumstances this winter, watching these two high-profile fictional women lose it all could give you some perspective.
Friday the 13th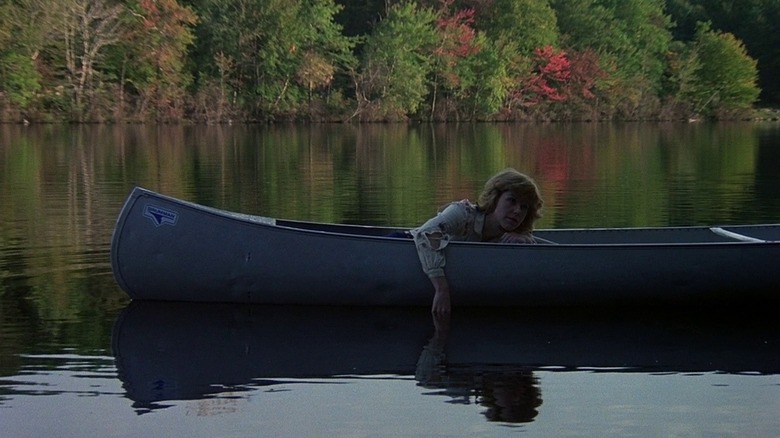 Paramount Pictures
Sure, it's not spooky season anymore, but that doesn't mean you can't check out this seminal slasher! "Friday the 13th" debuted in theaters in 1980 and kicked off the summer camp slasher subgenre. You won't see the hockey mask-clad Jason Voorhees cutting up teens in this flick, but there's still plenty of bloody fun to be had. 
"Friday the 13th" features a very young Kevin Bacon, along with Betsy Palmer, Adrienne King, Harry Crosby, Mark Nelson, Laurie Bartram, Jeannine Taylor, and Robbi Morgan. The movie follows a group of teenage camp counselors who are murdered one at a time by a mysterious killer while attempting to re-open the abandoned Camp Crystal Lake. The film spawned an entire franchise, with its masked killer even one day slashing his way through outer space! Why not check out where it all began?
Armageddon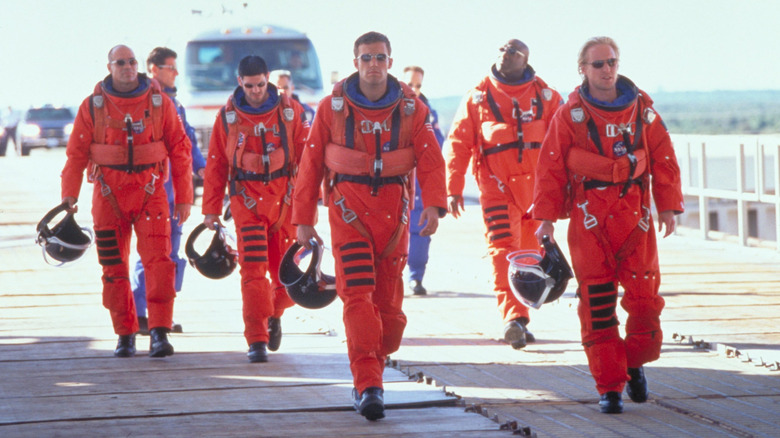 Walt Disney Studios
Michael Bay's 1998 disaster movie "Armageddon" has its fair share of both fans and detractors, but it's honestly a lot of fun. Most movies about potential apocalypses tend to be total downers, but "Armageddon" is the kind of silly action-adventure romp that made '90s blockbusters so special. With an absolutely stacked cast that includes Ben Affleck, Bruce Willis, Liv Tyler, Owen Wilson, Michael Clark Duncan, Steve Buscemi, Billy Bob Thornton, and Peter Stormare, the best parts of the movie are just the various characters interacting with one another in cramped quarters. Whether it's Buscemi trying to ride a bomb à la Slim Pickens in "Dr. Strangelove" or Stormare hitting NASA equipment with a wrench, just watching these guys go wild in bizarre situations is a lot of fun.
There are some real emotional stakes in the movie, particularly between Willis and Tyler, who play father and daughter, which means you can probably convince your more sentimental relatives to check this one out after everyone's done opening presents. Just don't forget to pause if someone needs more hot chocolate, because this is one movie where you don't want to miss a thing. 
Everything Coming to Hulu in December 2021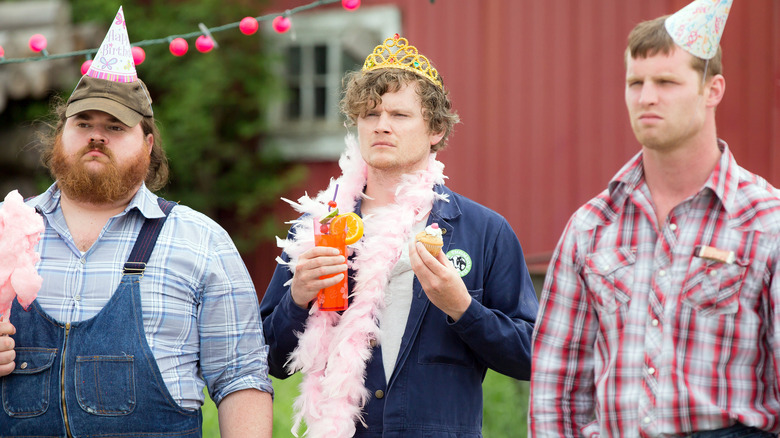 Hulu
Available December 1
Candified: Home for the Holidays: Complete Season 1 (Hulu Original)
All Rise: Complete Seasons 1 & 2 (CBS)
THE A-TEAM (2010)
ABOVE THE RIM (1994)
ACE VENTURA: PET DETECTIVE (1994)
ADDICTED (2014)
ALEX CROSS (2012)
ALIENATOR (1989)
ALL IS LOST (2013)
ARMAGEDDON (1998)
BACK TO SCHOOL (1986)
THE BANK JOB (2008)
BEHIND ENEMY LINES (2001)
THE BLACK STALLION (1979)
THE BLACK STALLION RETURNS (1983)
BLOW (2001)
BULL DURHAM (1988)
CHATTAHOOCHEE (1990)
CHERRY 2000 (1988)
CON AIR (1997)
THE CRAZIES (2010)
CRAZY HEART (2010)
CRIMSON TIDE (1995)
CUJO (1983)
THE CURSE (1987)
DAYS OF HEAVEN (1978)
DEAD MAN WALKING (1995)
THE DUNGEONMASTER (1985)
EARTH TO ECHO (2014)
ERIK THE VIKING (1989)
FLIGHTPLAN (2005)
FOUR WEDDINGS AND A FUNERAL (1994)
FRIDAY THE 13TH (1980)
HER SMELL (2018)
HIDE AND SEEK (2005)
HOLLOW MAN (2000)
HOLY MAN (1998)
HORTON HEARS A WHO! (2008)
HUSTLERS (2019)
I LOVE YOU, BETH COOPER (2009)
JAGGED EDGE (1985)
KING KONG (1976)
LOVE FIELD (1992)
MAKING MR. RIGHT (1987)
THE MANCHURIAN CANDIDATE (2004)
MY BEST FRIEND'S WEDDING (1997)
OCEAN'S ELEVEN (2001)
OCEAN'S TWELVE (2004)
OCEAN'S THIRTEEN (2007)
THE PRINCESS BRIDE (1987)
THE RAID 2 (2014)
REGARDING HENRY (1991)
RIO (2008)
SERENDIPITY (2001)
SHANGHAI NOON (2000)
SHE'S OUT OF MY LEAGUE (2010)
SHERLOCK HOLMES (2009)
SHERLOCK HOLMES: A GAME OF SHADOWS (2011)
THE SIEGE OF FIREBASE GLORIA (1989)
SILVERADO (1985)
SKY CAPTAIN AND THE WORLD OF TOMORROW (2004)
SODA CRACKER (1989)
SOME KIND OF WONDERFUL (1987)
SOMETHING'S GOTTA GIVE (2003)
STEPHEN KING'S GRAVEYARD SHIFT (1990)
STEPHEN KING'S THINNER (1996)
SUPERBEAST (1972)
TROLL (1986)
THE WARRIORS (1979)
YOUNG GUNS (1988)
YOUNG GUNS II (1990)
Available December 2
It's Always Sunny in Philadelphia: Season 15 Premiere (FXX)
Godfather of Harlem: Complete Season 1 (Walt Disney Television)
Kelly Clarkson Presents: When Christmas Come Around: Special (NBC)
Trafficked with Mariana van Zeller: Complete Season 2 (National Geographic)
Vice Versa: HIV: The Neglected Pandemic: Complete Season 1 (Vice)
THE EAST (2021)
Available December 3
Pen15: New Episodes of Season Two (Hulu Original)
The New York Times Presents: To Live and Die in Alabama: New Episode (FX)
Annie Live!: Special (NBC)
Trolls Holiday in Harmony: Special (DreamWorks Animation)
WE NEED TO DO SOMETHING (2021)
THE WORLD OF KANAKO (2014)
Available December 6
Real Housewives of Atlanta: Complete Season 13 (Bravo)
Available December 7
Michael Buble's Christmas in the City: Special (NBC)
WORLD WAR Z (2013)
Available December 8
People's Choice Awards: Special (NBC)
Available December 9
Trolls: TrollsTopia: Complete Season 5 (Hulu Original)
Bloods: Complete Season 1 (Sky Studios)
Creamerie: Complete Season 1 (Kevin & Co, Flat3 and TAP)
SWAN SONG (2021)
Available December 10
Crossing Swords: Complete Season 2 (Hulu Original)
MATERNA (2021)
Available December 13
70th Miss Universe Competition: Special (Fox) BRIGHTON BEACH (2021)
Available December 14
Gordon Ramsay's Road Trip: European Vacation: Special (Fox)
American Auto: Series Premiere (NBC)
Available December 15
Gordon Ramsay's Road Trip: Christmas Vacation (Fox)
Grand Crew: Series Premiere (NBC)
RISING WOLF (2021)
Available December 16
DEAD ASLEEP (2021) (Hulu Original Documentary)
CRYPTOZOO (2021)
TED BUNDY: AMERICAN BOOGEYMAN (2021)
Available December 17
MOTHER/ANDROID (2021) (Hulu Original Film)
THE NOWHERE INN (2021)
Available December 23
Dragons: The Nine Realms: Complete Season 1 (Hulu Original)
Available December 26
Letterkenny: Complete Season 10 (Hulu Original)