John Krasinski Refused To Shoot The Office Scene Where Jim Cheats On Pam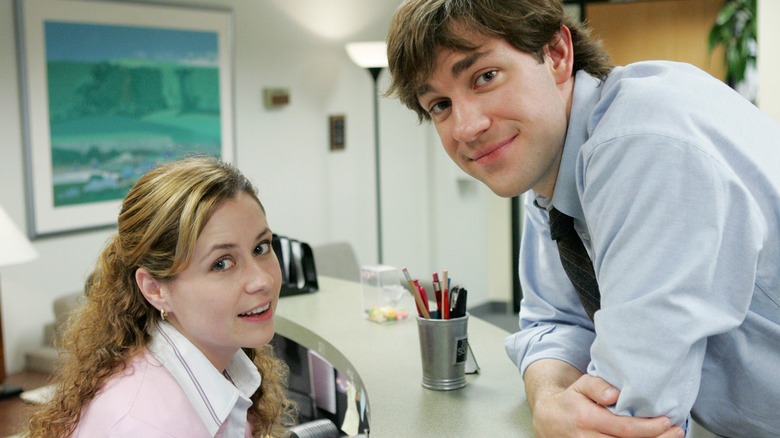 NBCUniversal
If you're just now tuning in to John Krasinski's career, then you may know him best for his starring role in Amazon's "Jack Ryan" series, or for his film work as the director, star, and co-writer of "A Quiet Place." However, many TV viewers and Peacock binge-watchers will forever associate him with the role of Jim Halpert from "The Office." Krasinski co-starred in 201 episodes of the show, which still enjoys great popularity and was, in fact, the most-streamed show of 2020.
Jim and Pam (Jenna Fischer), the receptionist and later administrator of the Scranton branch of the Dunder Mifflin Paper Company, had a relationship that started out as a flirtatious friendship before blossoming into a full-on office romance and eventually marriage. They lived happily ever after on the show, but when the character Cathy (Lindsey Broad) joined "The Office" in season 8, Krasinksi had to take a stand to keep Jim from cheating on Pam.
At the time, Pam was back in Scranton, and the writers' room devised a scenario whereby Jim and Cathy would have kissed on a business trip to Florida. Krasinski, however, was having none of it.
Dwight vs. the Overgrown Bed Bug
In the book, "Welcome to Dunder Mifflin: The Ultimate Oral History of The Office" (via Uproxx), Krasinski recalls how he rejected the ill-conceived kiss with Cathy, saying:
"That's the only time I remember putting my foot down. I remember saying things that I never thought I'd say before, like, I'm not going to shoot it.

"My feeling is there is a threshold with which you can push our audience. They are so dedicated. We have shown such great respect to them. But there's a moment where if you push them too far, they'll never come back. And I think that if you show Jim cheating, they'll never come back."
Creator Greg Daniels wanted to worry the audience that he "was going to give them a bad ending so they were happy when they got a good ending." However, Krasinki's rationale swayed him, and ultimately — though she did work her way into Jim's Florida hotel room and try to seduce him — the show never treated Cathy as any real threat to Pam. Instead, it had Dwight (Rainn Wilson) come to the rescue, as Jim called him and convinced him that there were bed bugs in his room.
Cathy, herself an overgrown bed bug of sorts, would leave with Dwight's chemical spray in her face, and Jim and Pam would stay together without any shark-jumping kisses between him and other women. All's well that ends well.