DMX: Don't Try To Understand Trailer: The Music Box Series Celebrates The Late Rapper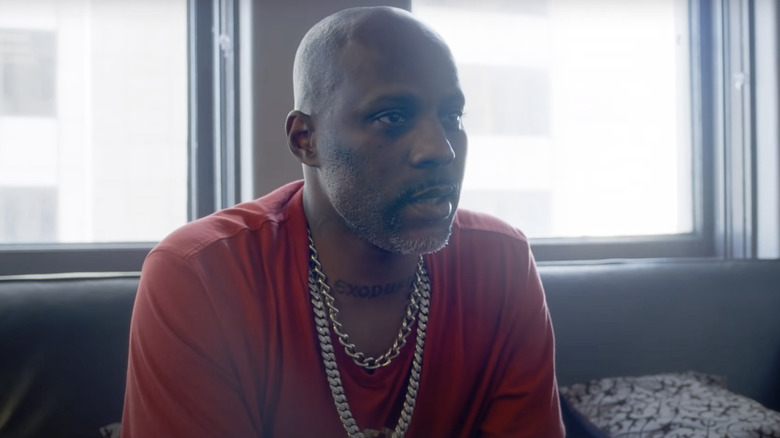 HBO
Born Earl Simmons, DMX was known first and foremost as a hip-hop artist, but he also had a number of acting credits to his name, including crime dramas and action films like "Belly," "Romeo Must Die," and "Exit Wounds." Now, the platinum-selling, Grammy-nominated rapper, who died earlier this year, is the subject of "DMX: Don't Try to Understand," the latest documentary in HBO's ongoing Music Box series.
The film follows a year in the life of DMX, starting in January 2019, when he's released from prison "after serving a 12-month sentence for felony tax evasion." It shows some of the people he came into contact with while planning his next world tour, and some of the personal challenges he faced before his untimely death.
DMX struggled with various problems over the course of his life and career, including bipolar disorder, drug addiction, and jail time for multiple offenses. However, the trailer below indicates that he also sought to make a difference in people's lives and was beloved by fans on the street, who speak highly of him and even liken him to a "prophet." If it seems like there's a religious fervor to any of what they say, maybe it's because DMX was a deacon who did some literal and figurative sermonizing both on and offstage.
"DMX: Don't Try to Understand" aims to keep sharing "the gospel according to X" even after he is gone. Check out the trailer below.
DMX: Don't Try to Understand Trailer
I was first exposed to DMX's music at college in Westchester County, New York, the same place where he grew up. The song "Party Up (Up in Here)" was a fixture in the dorms, and it and the album, "And Then There Was X," both earned Grammy nominations. After "Romeo Must Die," DMX teamed with action star Jet Li again for "Cradle 2 the Grave," and the lead single from that film's soundtrack, "X Gon' Give It to Ya," would find renewed popularity after making its way into an R-rated superhero film, "Deadpool," in 2016.
Here's the official synopsis for "DMX: Don't Try to Understand:"
HBO's DMX: DON'T TRY TO UNDERSTAND, part of the Music Box series, directed by Christopher Frierson and executive produced by The Ringer's Bill Simmons (HBO's "Andre The Giant," "Showbiz Kids"), focuses on a year in the life of rapper Earl "DMX" Simmons as he is released from prison in early 2019 and attempts to rebuild his career in the music industry and reconnect with family and fans. Unfolding in cinéma vérité style and with unfettered access, the film bears witness to a man searching for reinvention and redemption, striving to stay true to himself while reestablishing his roles as a father, an artist, and an icon.
"DMX: Don't Try to Understand" debuts Thursday, November 25, 2021, at 8:00 p.m. ET on HBO, and will be available to stream on HBO Max.