Why Netflix's Cowboy Bebop Changed Faye Valentine's Costume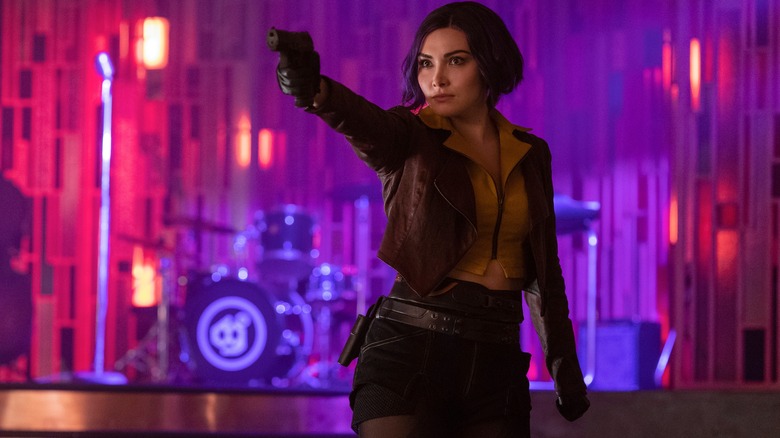 Netflix Studios
Though "Cowboy Bebop" showrunner André Nemec promised in September that "we will never take the original anime away from the purists," some fans — let's be clear here, overwhelmingly male fans — have called foul on the new look sported by their favorite sex object, Faye Valentine. 
Unfortunately for them, the show commits the grave sin of giving the character (who, we should emphasize, is a bounty hunter in a space western) more practical clothing beyond the itsy-bitsy teenie-weenie male gaze threads she sported in the original Japanese "Cowboy Bebop" animated series. Her shorts, which previously threatened a labial wardrobe malfunction in every other frame, are now high-waisted — no bare navel to be seen. Faye's once-bare shoulders now don outerwear that keeps her warm and collected on her space adventures. Apparently, this is unforgivable.
Speaking to Deadline, Pineda talks about the labor-intensive fight scenes she had to train for, and how that informed the costume in a perfectly logical way:
"It was my first time training for a part. I've always liked to workout, but this is not even in the same stratosphere. I started training in Los Angeles with the 87eleven, which is the John Wick stunt team, and that was just so intense. Then we joined Allan Poppleton, our head of stunts, who's incredible. We did rolls. We did sword fighting. We did fist and footwork. It was really rewarding and really intense, and after having gone through that, I have this whole new respect for people who do action film. Thank god for my stunt double, Jayde Rutene.

"Having gone through the training, it makes sense why we made adjustments to the costume. I think it was everyone's intention to keep the original costume, but with that original costume, you can't hide gels and knee pads. You can't have Faye be live-action and a fighter and doing all this incredible crazy stunt work and not have a little coverage. That's the primary reason why adjustments were made to the costume."
The Material May Change, But Unhinged Fanboys Remain the Same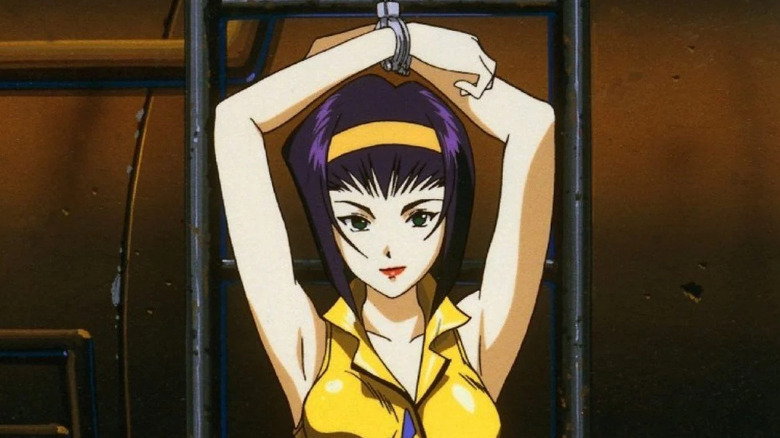 Sunrise
In the twelfth session (episode) of the original animated "Cowboy Bebop" series, "Jupiter Jazz (Part 1)," Faye disappears for a bit, telling Gren:
"They say humans are social animals; they can't live alone. But you can live pretty well by yourself. I tell you ... instead of feeling alone in a group, it's better to have real solitude all by yourself." 
Scrolling through some of the vitriol actress Daniella Pineda has received for wearing ... *checks notes* ... a cropped jacket, it's easy to see why her character rarely wanted to deal with people at all. Pineda, however, opted for Faye's spitfire snark over isolation. In August, Pineda posted a snappy response to the trolls, informing them that Faye's original naughty costume was sadly "slurped up in [her] various crevices, never to be retrieved again." Speaking again to Deadline, the actress further stands her ground:
"It was definitely my first interaction with very, very vocal trolls. Social media gives access to pretty much anyone who wants to say anything. Although I feel like some people would be disheartened, I found a way to clap back. with that video that I gave, which was very cheeky and silly. Rather than stay quiet, which is usually what everybody wants you to do, I just felt so inclined to say something. I felt like that response was definitely in the spirit of Faye. Also I got Steve Blum's blessing, the voice of Spike, who backed me up and I was like, 'All right guys, I don't care what you say, if that guy backs me up, no one can say anything.'"
Long live the new Faye.
"Cowboy Bebop" is available now on Netflix.