The Dark Original Ending To Pretty Woman We Didn't See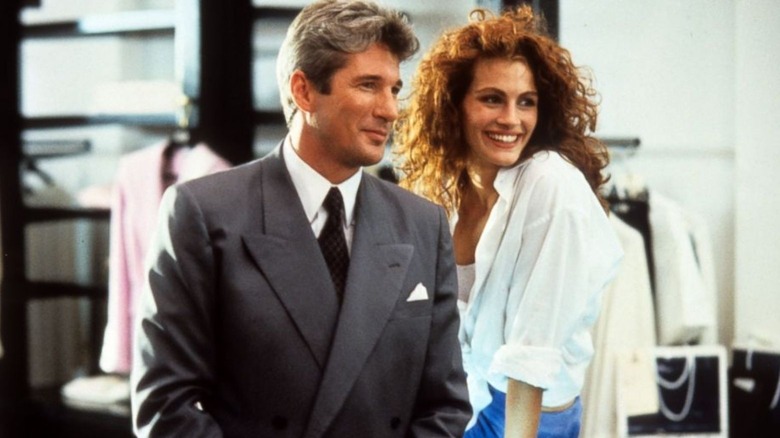 Buena Vista Pictures Distribution
Everyone knows how "Pretty Woman" ends. Richard Gere's rich capitalist character Edward Lewis conquers his fear of heights and climbs the fire escape up to Julia Roberts, AKA Vivian Ward's apartment window. It is a beautiful day in Los Angeles, he has a rose between his teeth, and she looks over at him lovingly. He "rescues" her, and she "rescues" him right back.
It has been 30 years since the movie was released, but it still makes me swoon sometimes. Considering the film's fairy-tale premise, "Pretty Woman" has a very typical rom-com ending. Boy meets girl, they fall in love, brave through their circumstances, and live happily ever after. So, I was beyond surprised when J.F. Lawton, the man behind the film's original screenplay, revealed that "Pretty Woman" was initially written as a dark, gritty film with a harrowing ending.
It isn't rare for writers to edit their screenplay when it is being made into a film, but the story of "Pretty Woman" was massively improved. The movie completely changed the tone and ending of the screenplay, which suggested that Vivian and Edward never end up together. It was nothing like the sweet Cinderella story we've come to know and love over the years. 
It wasn't even called "Pretty Woman."
Pretty Woman Had A Dark Ending
In 2015, Lawton shared in an interview with Vanity Fair that instead of the fire escape ending we saw in the movie, the screenplay concluded with Vivian and her friend Kit on a bus bound for Disneyland. In search of their own fairy tale? Not really.
The girls anticipated a fun day ahead of them, thanks to the money earned by Vivian during her week with Edward. Instead of being excited about the many opportunities she may now have, Vivian "stares out emptily ahead." That's how the movie was supposed to end.
Julia Roberts, whose stardom catapulted after her role in "Pretty Woman," also shared details about the film's original ending, which, if you ask me, was just demoralizing and degrading.
Edward was never meant to rescue Vivian in the movie, in fact, he throws her out of his car, tosses the money on her, and drives away. The actress said that she had "no business" being in a story that treated her that way, and she would refuse such a role even today. Roberts also announced that her character was supposed to be a drug addict in the film.
The Film Was Called 3,000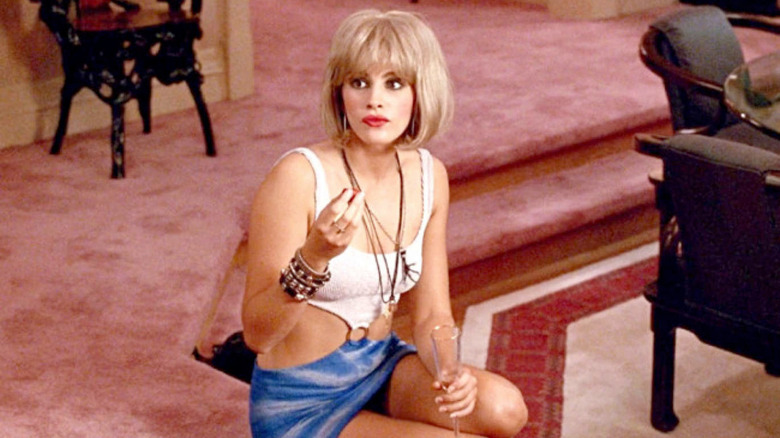 Buena Vista Pictures Distribution
"Pretty Woman" was initially named "3,000" — the amount of money Edward agrees to pay Vivian if she spends a week with him. Later, Lawton spilled darker details about his screenplay, which included a storyline about Vivian being a drug addict. In his script, the pair make a deal for $2,000, but he pays her an extra $1,000 not to use drugs during their week together.
The screenwriter shared with Showbiz Cheat Sheet: 
"Originally they make a deal for $2000. She says, 'I'm going to go back home and get some stuff.' He's like, 'What? I'll buy you everything you need. I don't want you going back. Just stay here and I'll buy anything you need.' She says, 'Well, I want these drugs.' He goes, 'No drugs. While you're here, no drugs.' So they make the deal for $3,000 because she says, 'Well, if I'm going to have to stay here and do no drugs, you're going to have to pay me extra.'"
The fairy tale story "Pretty Woman" is today is credited to the film's director Gary Marshall, who saw the on-screen chemistry between Richard Gere and Julia Roberts and propelled it into its full potential. It turns out, Edward and Vivian weren't the only ones who did the rescuing.