A 'Pretty Woman' Musical Is Walking Down The Street To Broadway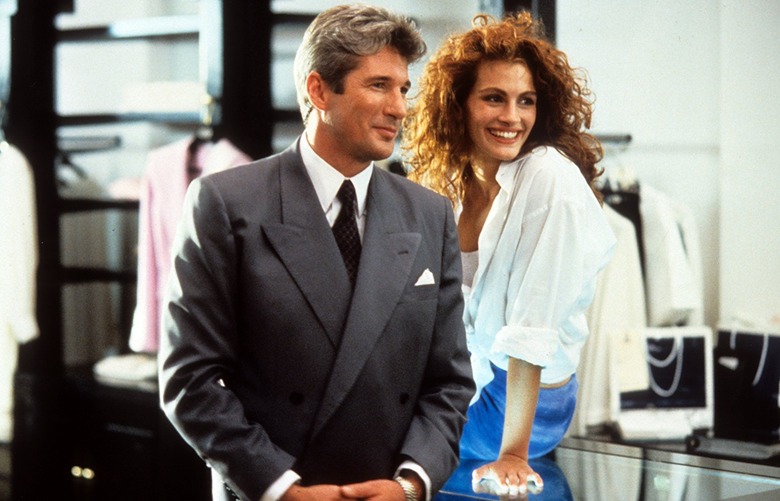 It seems like every beloved romantic-comedy from the last two decades is getting the Broadway treatment, and it looks like it's Pretty Woman's time for a makeover.
Pretty Woman: The Musical is about to be the kind of musical you'd like to meet with Les Miserables' Samantha Barks taking on the role of the prostitute with a heart of gold originated by Julia Roberts and Once musical lead Steve Kazee stepping into Richard Gere's shiny shoes. Bryan Adams is writing the music, and Jerry Mitchell — the writer/director of Kinky Boots, appropriately — will write and direct.
The original Pretty Woman skated by some slightly problematic and escapist depictions of prostitution based on the charisma of their stars: a suave dilettante played by Gere, and the twinkly-eyed, largely unknown Roberts with her signature wide smile. So Barks and Kazee have some big shoes (and shoulder pads) to fill.
Who's to say how Mitchell will adapt the movie for modern times, but the book is written by the film's screenwriter J.F. Lawton and the late Garry Marshall (who directed the movie). It seems that the Pretty Woman musical has already been in the works for a while though, because performances are starting as early as next year.
Producer Paula Wagner announced the musical on Tuesday, and said in a statement (via Coming Soon):
"Pretty Woman will have the heart, humor, warmth and joy of the film, with a stunning original score by Bryan Adams and Jim Vallance. Jerry Mitchell has expanded the narrative and storytelling of this acclaimed romantic comedy, and we found two amazing, charismatic actors with incredible chemistry to play 'Vivian' and 'Edward' – the gorgeous, triple-threat, Samantha Barks, and one of Broadway's most dashing and talented leading men, Steve Kazee."
Mitchell said that he had been working with Marshall on the musical before the director passed away last year, and spoke warmly of Marshall's vision for his original movie and the upcoming musical:
"I got to work with Garry for over a year on this musical adaptation and experienced firsthand his sense of humor, his joy, his uplifting attitude in life, and mostly his love for these characters...I want that to infuse what I am doing with Pretty Woman as he is the true heart of this story."
As for the songs by Bryan Adams and his longtime writing partner, Jim Vallance, well...I got nothing. As long as they don't turn the tongue-in-cheek story into a saccharine musical reminiscent of Adams' greatest and most maligned hit "Everything I Do, I Do It For You," it'll be fine. But I'll take a catty and triumphant pop song about how that one saleswoman made a "Big mistake! Huge!" please, and thank you.
Pretty Woman: The Musical will make its world premiere in Chicago in the spring of 2018, and will move to Broadway's Nederlander Theater in fall 2018.