South Park: Post Covid First Look: Paramount+ Special Gives A Dark Glimpse Of The Future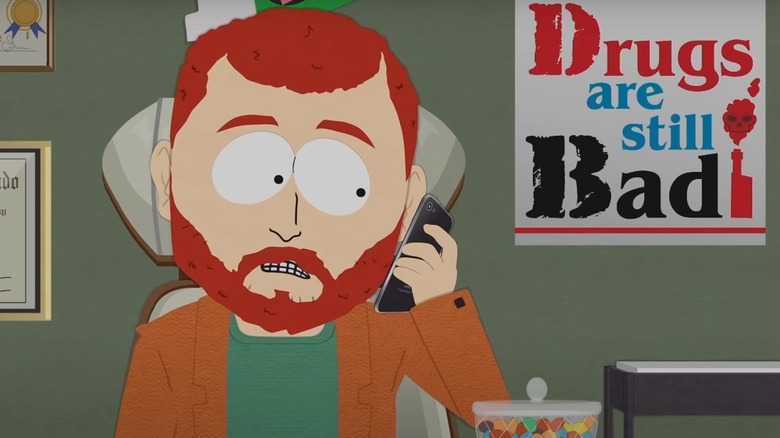 CBS
Here's a hypothetical question for you: how would you spend $900 million if you just happened to have that ridiculous sum just laying around? For "South Park" creators Trey Parker and Matt Stone, the answer's incredibly straightforward: Run to the bank, cash those checks, and invest towards a whole slew of planned "South Park" productions. 
Word first broke in August of 2021 that MTV Entertainment Studios and ViacomCBS Inc. had reached an unimaginably large deal approaching $1 billion that includes provisions for five more seasons of the hit show as well as over a dozen new "South Park" spin-off movies. Just typing that sentence out makes me feel tired, but the franchise has obviously gained its legions of fans over the years for a reason!
We're starting to see the results of that mammoth deal, as Paramount+ has released a first look at a new "South Park: Post Covid" special that will be released as an exclusive for the up-and-coming streaming service. Check it out below.
South Park: Post Covid First Look
It's not a special, it's an exclusive event!
This is certainly one way to stay productive during the ongoing pandemic. Initially announced in October of 2021, the "South Park: Post Covid" film — the first of a whopping total of 14, lest we forget — will serve as a follow-up of sorts to the previous "South ParQ Vaccination Special" in March of this year (which pulled in 3.5 million viewers), which in turn came after the "South Park: Pandemic Special" from August of 2020 (earning the franchise an Emmy nomination and the highest rated scripted broadcast of the year). Clearly, the overall interest level in all things "South Park" remains sky-high. That's great news for this newest spin-off movie, which will see characters like Kyle, Kenny, Stan and Cartman as grown adults in a world still reeling from the affects of the deadly virus.
Thoughtfully, this special will release just in time for the Thanksgiving holiday, giving families a chance to come together around the dinner table and immediately get mad at the usual blend of controversial, off-putting, and provocative "South Park" humor. The "Exclusive Event" premieres only on Paramount+ on November 25, 2021.
In 'South Park: Post Covid,' we'll find out the answer to the question: what happened to the children who lived through the pandemic? Stan, Kyle, Cartman and Kenny survived, but will never be the same post COVID.