Movies Like Requiem For A Dream You Really Need To See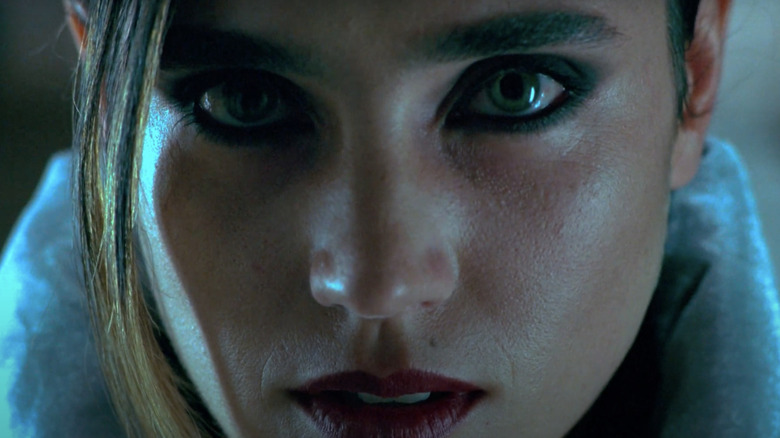 Artisan Entertainment
"Requiem For a Dream" (2000) is not a movie for the faint of heart. The stylish-but-grim psychological drama bleakly portrays the horrors of drug addiction and its devastating effects on the human psyche. Directed by Darren Aronofsky and based on the novel by Hubert Selby Jr., the story follows lonely single mom Sara Goldfarb (Ellen Burstyn) who becomes addicted to diet pills, while her son Harry (Jared Leto), his girlfriend, Marion (Jennifer Connoly), and his friend Tyrone (Marlon Wayans) become heroin addicts.
The characters in "Requiem For a Dream" all have dreams of achieving bigger and better things, but as they become more deeply entrenched in their addictions, their dreams are replaced by delusions, and they begin to fall into utter ruin. It's a brutal film that is tough to watch, but it's also extremely compelling, thanks to Aronofsky's bold direction, Clint Mansell's memorable score, and the committed performances of its cast (Ellen Burstyn was nominated for an Academy Award for her role).
If you're a fan of "Requiem For a Dream" and are looking for worthwhile movies in a similar vein (no pun intended), you've come to the right place, as we've compiled a list of exactly such films for your consideration. 
Trainspotting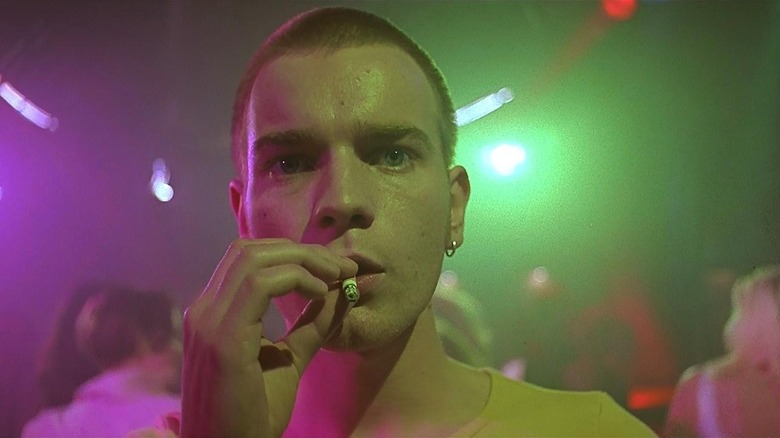 Polygram Filmed Entertainment
"Trainspotting" (1996) is another aesthetically-stylish but utterly brutal portrayal of the harsh realities of heroin use, following the ups and (mostly) downs of a group of Edinburgh-based friends led by Mark "Rent Boy" Renton (Ewan MacGregor) as they try to escape the gravitational pull of their addiction.
Director Danny Boyle employs a pulse-pounding soundtrack and flashy, inventive visuals to immerse viewers in the frenetic underworld that Renton and his pals Sick Boy, Spud, Begbie, and Tommy occupy, and the various physical and emotional states they find themselves in. One particularly memorable scene involves Renton digging around in (and eventually flushing himself down) a filthy toilet in a desperate bid to retrieve opium suppositories.
Based on a novel of the same name by Irvine Welsh, "Trainspotting" shows how drugs can seem alluring to young people in economically depressed areas, while also showing how drug use itself is a dead end. The adapted screenplay by John Hodge won a BAFTA award and was nominated for an Oscar, while the film itself became a cult favorite and spawned a sequel that reunites the characters twenty years on.
Drugstore Cowboy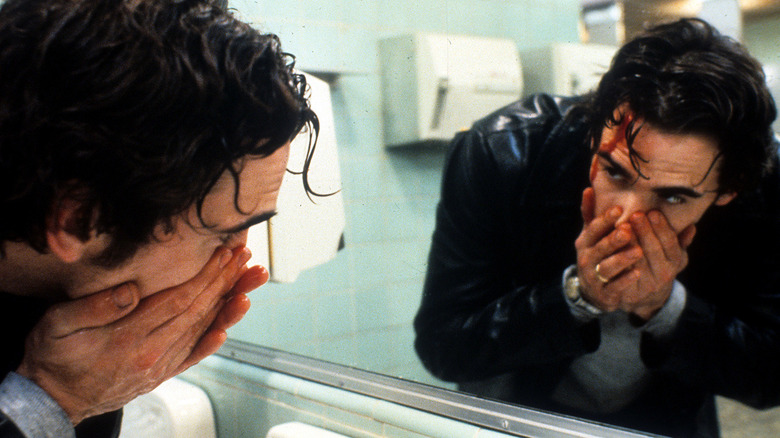 International Video Entertainment
Director Gus Van Sant's sophomore feature, "Drugstore Cowboy" (1989), follows the misadventures of a group of junkies who travel around the Pacific Northwest stealing drugs from drugstores in order to find their next high. Like "Requiem For a Dream," the film does a good job of getting inside the psyche of its drug-addicted protagonists, leading The Guardian to wonder if it might be the "best film ever made about addiction".
Matt Dillon plays Bob Hughes, the de facto ringleader of the would-be nuclear family — which includes his wife, Diane (Kelly Lynch), and another couple, Rick (James LeGros) and Rick's teenage girlfriend, Nadine (Heather Graham). It's only a matter of time until tragedy befalls the group, leading Bob to try and clean up his life, which is of course, not exactly an easy task.
"Drugstore Cowboy" is based on the autobiographical novel by James Fogle, who was in prison at the time of the film's release. The movie was well-received by critics, and, as of this writing, maintains a 100% critics score on Rotten Tomatoes.
Leaving Las Vegas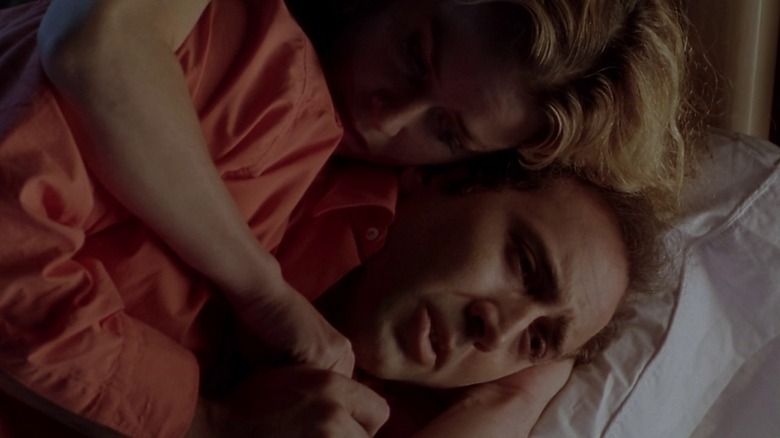 MGM/UA
By the time we meet Ben Sanderson (Nicholas Cage) in "Leaving Las Vegas," he is already deep into his addiction, which in this case is booze. The former Hollywood screenwriter, having lost his family and his career, decides to go to Las Vegas and drink himself to death. There he meets a prostitute, Sera (Elisabeth Shue), and the two develop a tender but doomed relationship.
Like "Requiem For a Dream," "Leaving Las Vegas" is a movie in which addiction leads to ruin, but its focus is less on the cause of Ben's alcoholism and more on the way its two broken main characters, offer, as Roger Ebert put it, "a measure of grace" for one another.
Mike Figgis wrote, directed, and produced the film, which was based on a semi-autobiographical 1990 novel by John O'Brien, who died of suicide four years after its publication, and shortly after signing off on the movie contract. "Leaving Las Vegas" garnered four Academy Award nominations, including best director, best adapted screenplay, best actress, and best actor (which Nicholas Cage won).
The Basketball Diaries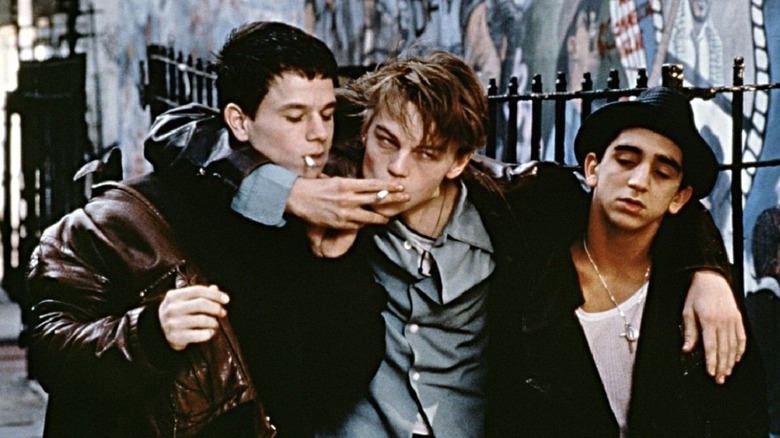 New Line Cinema
"The Basketball Diaries" follows the high school exploits of American poet, author, and punk musician Jim Carroll, portrayed in the film by Leonardo DiCaprio.
Directed by Scott Kalvert, and drawing from Carroll's real-life diary entries, "The Basketball Diaries" depicts Carroll's experiences as a promising writer and Catholic high school basketball star whose life descends into freefall thanks to heroin addiction. His habit eventually leads him away from the basketball court and into the streets with his friends Mickey (Mark Wahlberg) and Pedro (James Madio), where he resorts to prostituting himself for drugs.
"The Basketball Diaries" offers its protagonist a bit more redemption than "Requiem For a Dream," since Carroll eventually became sober. He would go on to form The Jim Carroll Band, whose single, "People Who Died," would be used not only in the soundtrack for "The Basketball Diaries," but also in notable films like "E.T." (1982), "Dawn of the Dead" (2004), and most recently in James Gunn's "The Suicide Squad" (2021).
Sid and Nancy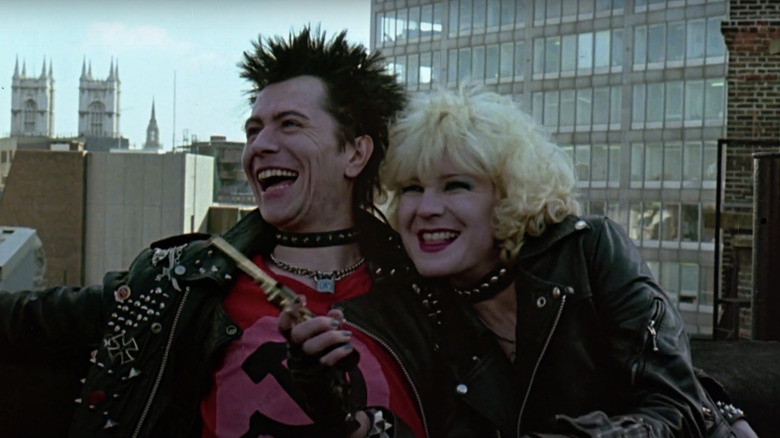 The Samuel Goldwyn Company
Continuing this list's trend of movies based on real people, "Sid and Nancy" (1986) is a fictionalized account of the downward spiral of The Sex Pistols' bassist, Sid Vicious (Gary Oldman), and his girlfriend, Nancy Spungen (Chloe Webb), both of whom were heroin addicts.
Charting their chaotic relationship from its beginning through to their untimely deaths, "Sid and Nancy" showcases the lovers' intense romantic bond, as well as their self-destructive, codependent tendencies. In October of 1978, Nancy was found dead of a stab wound in their hotel room in New York. At one point, Sid admitted to stabbing her during a drug-fueled argument, but it was never proved precisely what happened. Vicious would die himself of an overdose four months later.
Like Harry and Marion in "Requiem For a Dream," Sid and Nancy are a couple whose drug use ultimately leads them to ruin. While surviving band members such as John Lydon (aka Johnny Rotten) didn't love the movie, critics praised director Alex Cox's vision and the film's visceral depiction of love gone wrong.
The Panic in Needle Park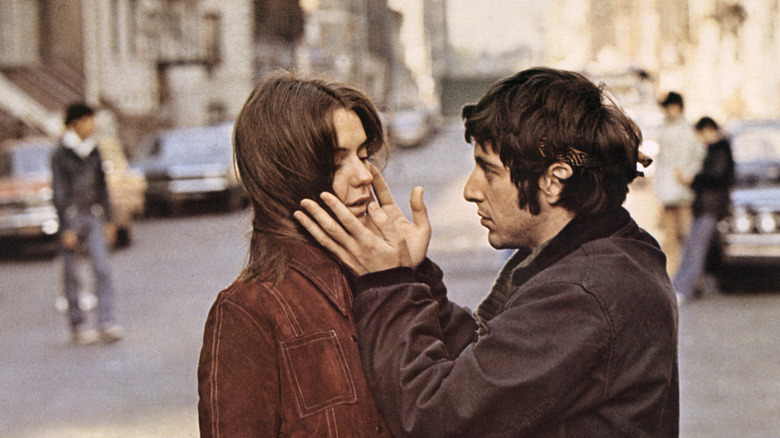 20th Century Fox
Yet another film in which a New York couple's heroin addiction leads to ruin, "The Panic in Needle Park" (1971) stars Al Pacino and Kitty Winn as Bobby and Helen, two down and out young lovers whose lives begin to spiral downward as they descend into heavy drug use.
The titular Needle Park was the real-life nickname of Sherman Square in NYC's Upper West Side, and the film's screenplay, written by Joan Didion, was based on a James Mills novel inspired by a 1965 pictorial he did for "Life" magazine.
Directed by Jerry Schatzburg, "The Panic in Needle Park" is notable for being one of the earliest feature films to depict heroin addiction with such harrowing realism, including shots of needles going in arms. It also marked Pacino's first starring role in a feature, as well as Raul Julia's film debut, while Kitty Winn won Best Actress at the Cannes Film Festival for her role as Helen.
Pi
"Requiem For a Dream" may have put Darren Aronofsky on the map, but his first feature, "Pi," shares some of the same themes and techniques he would employ again in that film. "Pi" isn't about drug addiction, but it is about obsession, and — as was the case in "Requiem" — the protagonist's fixation sends him into a downward mental spiral.
Sean Gullette (who co-wrote the film with Aronofsky) stars as a brilliant but paranoid mathematician, Maximillian Cohen, who comes to theorize that mathematics contains the answers to the universe, and that if he can just figure out certain patterns, he can not only game the stock market, but also find order in chaos ... and perhaps even God.
Max's obsession eventually leads to madness, and to a particularly bleak scene involving a power drill. It's clear even from this early work that Aronofsky had obsessive behaviors on the brain. Shot in black and white by Matthew Libatique, "Pi" also features a nerve-jangling score by Clint Mansell. Both Libatique and Mansell would continue to work with Aronofsky on several of his future films, including "Requiem For a Dream."
The Wrestler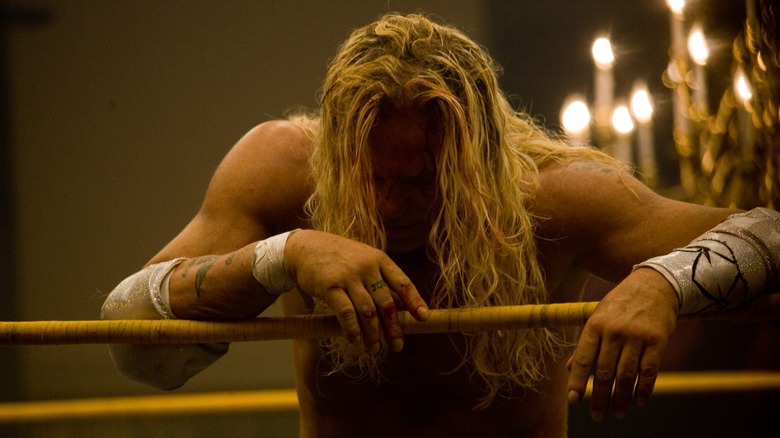 Fox Searchlight
Aronofsky's filmography continued to explore themes of self-destruction, obsession, and addiction in 2008's "The Wrestler." Here, the protagonist — aging professional wrestler Randy "The Ram" Robinson (Mickey Rourke, in a role almost played by Nic Cage) — is addicted to, well, wrestling itself.
The film follows Randy as he attempts to return to the sport in an effort to recapture the former glory of his earlier career, which peaked in the '80s. Similar to the way Sara Goldfarb in "Requiem For a Dream" takes uppers to help her prepare for an appearance on her favorite show, Randy takes steroids to help beef himself up for his return to the ring. Unfortunately, he has a heart attack, prompting doctors to warn him that he must quit both steroids and wrestling if he wants to live. However, after being rejected by a love interest (Marisa Tomei) and his own daughter (Evan Rachel Wood), Randy decides to return to the ring once again, as it's the only place he feels loved.
"The Wrestler" was released to wide critical acclaim, with Mickey Rourke receiving a best actor Oscar nomination, and winning both a BAFTA and a Golden Globe for his iconic performance.
Mulholland Drive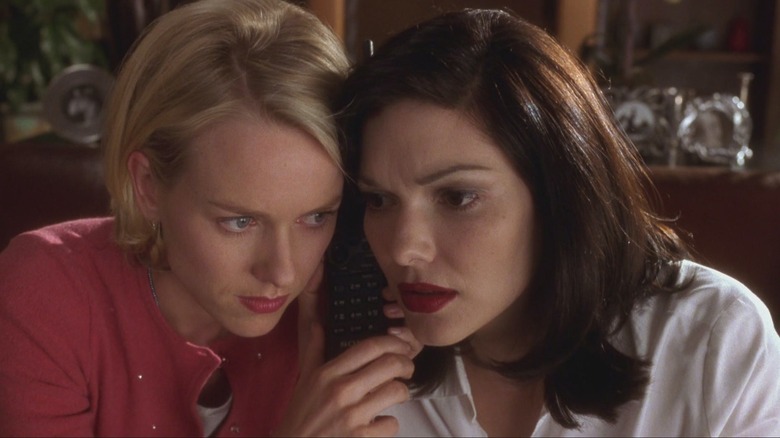 Universal Pictures
David Lynch's "Mulholland Drive" (2001) isn't about addiction, per se, but it is a dark, anxiety-inducing psychological thriller about dreams, delusions and cracked psyches.
Naomi Watts stars as Betty Elms, a cheerful, starry-eyed aspiring actress who returns home one day to discover a dark-haired amnesiac, Rita (Laura Harring), who has found her way there after being involved in a car accident. The two women then work together to try to unravel the mystery of who Rita is.
"Mulholland Drive" has many surrealistic elements, and like much of Lynch's work, elements of the plot (and the film's overall meaning) are open for interpretation. Revealing too much more would spoil the movie, but it can be said that — as in "Requiem For a Dream" — the protagonist's starry-eyed dreams don't work out exactly as she has planned, and the desperation associated with her goals leads to an upsetting outcome.
"Mulholland Drive" has been hailed by critics as a masterpiece. It competed for the Palme d'Or and earned Lynch the best director award at the Cannes Film Festival, as well as an Oscar nomination.
Perfect Blue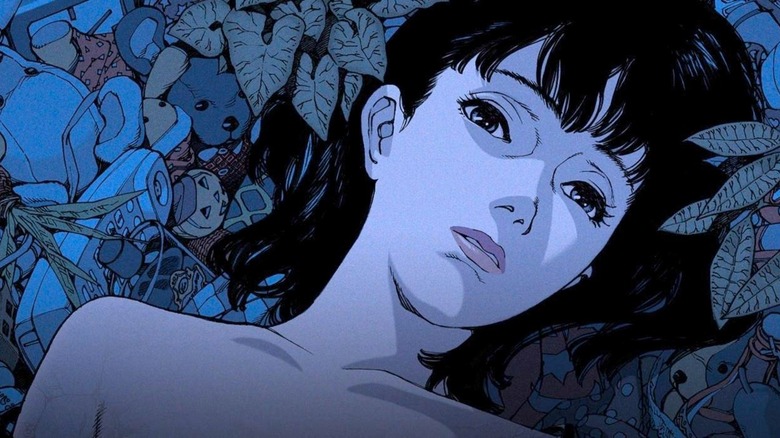 Rex Entertainment
Speaking of masterpieces, Satoshi Kon's animated psychological thriller, "Perfect Blue" (1997), was his first feature as a director, and it marked the arrival of a major cinematic talent. The influential film about a J-Pop idol named Mima, who leaves her group behind to pursue acting dreams, shares similarities with both "Requiem For a Dream" and "Mulholland Drive," in addition to Aronofsky's "Black Swan" (2010).
Like the aforementioned films, "Perfect Blue" is about shattered dreams and shattered psyches. Aronofsky was so taken by "Perfect Blue" that he bought the rights to the film, with apparent intentions to do a live-action remake. Though that project never materialized, Aronofsky did do a shot-for-shot recreation of a bathtub sequence from "Perfect Blue" within "Requiem For a Dream."
Satoshi Kon would go on to direct four other critically-acclaimed features before he sadly passed away from pancreatic cancer at the age of 46, though his work has clearly left a mark on not only his fans, but other filmmakers.
Black Swan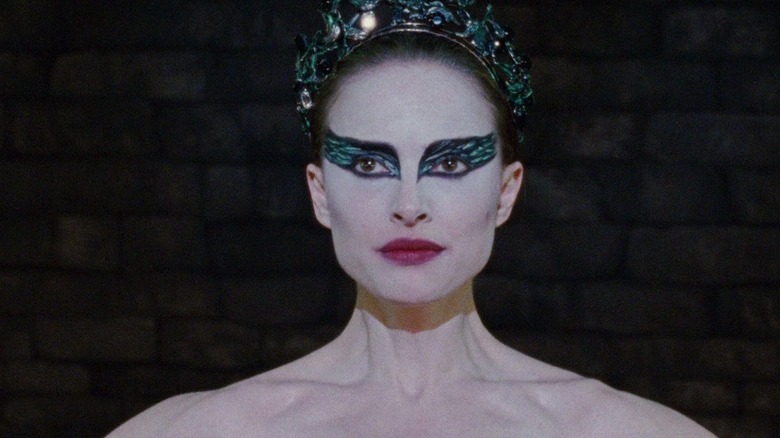 If one were to combine "Requiem For a Dream," "Mulholland Drive," and "Perfect Blue" in a blender, one might end up with something resembling "Black Swan." It's — you guessed it! — another Aronofsky-directed psychological thriller in which obsession leads to destruction, delusions, and a fractured sense of self.
"Black Swan" stars Natalie Portman as Nina, a member of a New York City ballet company who becomes obsessed with landing the lead, dual roles in her company's production of "Swan Lake." However, although Nina encompasses the role of the innocent White Swan well, she becomes threatened by another dancer, Lily (Mila Kunis), who better encompasses the seductive Black Swan. This starts an unhealthy mental decline for Nina, and as she desperately works to perfect her routine she begins hallucinating and becoming consumed by paranoia, all of which culminates in a truly shocking ending.
"Black Swan" was nominated for five Academy Awards, and the best actress nod for Natalie Portman let directly to a win.
Uncut Gems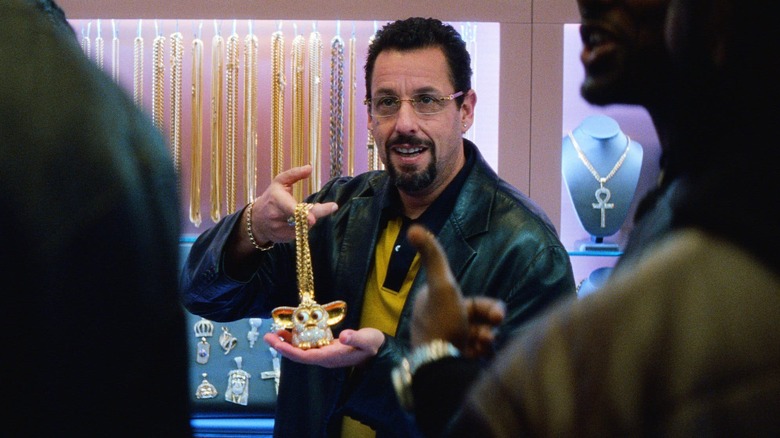 A24
The Safdie Brothers' "Uncut Gems" (2019) is the most recently-released movie on this list, and its similarities to "Requiem For a Dream" are many. Most notably, it follows its protagonist, a New York City jeweler named Howie Ratner (Adam Sandler), on an anxiety-inducing, addiction-fueled descent into ruin.
For Howie, his addiction is gambling, and by the time we meet him, we realize he's been chasing the next big win and just barely outrunning his debts for a long time. Howie smuggles in a special opal from Africa, which attracts the attention of basketball star Kevin Garnett, who borrows the gem for good luck. Meanwhile, Howie places a series of increasingly larger and riskier bets that ultimately backfire on him, digging him deeper and deeper into trouble.
Much like Harry Goldfarb in "Requiem For a Dream," Howie's always just one move away from achieving his goals and kicking his habit for good — or so he thinks. Unfortunately, he's also always one move away from devastation, as well. 
Adam Sandler's performance as the self-destructive Howie earned critical acclaim and garnered an Independent Spirit Award, while Josh and Benny Safdie were likewise lauded for their direction. "Uncut Gems" also became one of A24's biggest hits to date, and, as a side note, has the seventh most f-bombs in cinema history.