'T2 Trainspotting' Featurette: Danny Boyle And Cast Discuss The Sequel 20 Years In The Making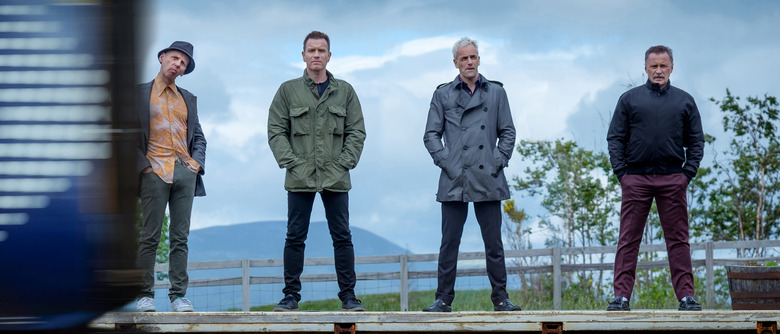 Earlier this year, Danny Boyle brought back the drug-addled characters of his cult favorite Trainspotting for a sequel that took 20 years to get off the ground. T2 Trainspotting caught up with Ewan McGregor, Ewen Bremner, Jonny Lee Miller, and Robert Carlyle as Renton, Spud, Sick Boy, and Begbie at a drastically different time in their lives.
T2 Trainspotting is coming to Blu-ray and DVD next week, and in honor of the film's home video release by Sony Pictures, we have an exclusive clip from one of the special features with director Danny Boyle sitting with his cast to talk about returning to these characters two decades later. It looks like a fascinating, casual chat.
Watch the T2 Trainspotting featurette after the jump.
That's just a taste of the special feature "20 Years in the Making: A Conversation with Danny Boyle and the Cast" that you'll find on the home video release of T2 Trainspotting. There are also some deleted scenes you can watch, as well as a commentary from director Danny Boyle and screenwriter John Hodge.
It's not often that sequels that aren't rebooting blockbuster franchises get made this many years after the original, but the time between the movies made this follow-up that much more meaningful. 20 years is a long time, and to rejoin these characters after we met them during such a destructive time in their lives is truly a fascinating and grounded story to tell.
First there was an opportunity... then there was a betrayal. Twenty years have gone by. Much has changed but just as much remains the same. Mark Renton (Ewan McGregor) returns to the only place he can ever call home. They are waiting for him: Spud (Ewen Bremner), Sick Boy (Jonny Lee Miller), and Begbie (Robert Carlyle). Other old friends are waiting too: sorrow, loss, joy, vengeance, hatred, friendship, love, longing, fear, regret, diamorphine, self-destruction and mortal danger, they are all lined up to welcome him, ready to join the dance.
T2 Trainspotting was written by John Hodge (The Beach, Trainspotting), based on the novels by Irvine Welsh. It was produced by Andrew Macdonald (Ex Machina, Trainspotting), Danny Boyle, Christian Colson (127 Hours, Slumdog Millionaire) and Bernard Bellow (Steve Jobs, 127 Hours). Executive producers are Irvine Welsh and Allon Reich.
T2 Trainspotting hits digital download on June 13 followed by 4K Ultra HD/Blu-ray/DVD on June 27.