And Kids, How I Met Your Father Is Premiering On Hulu In January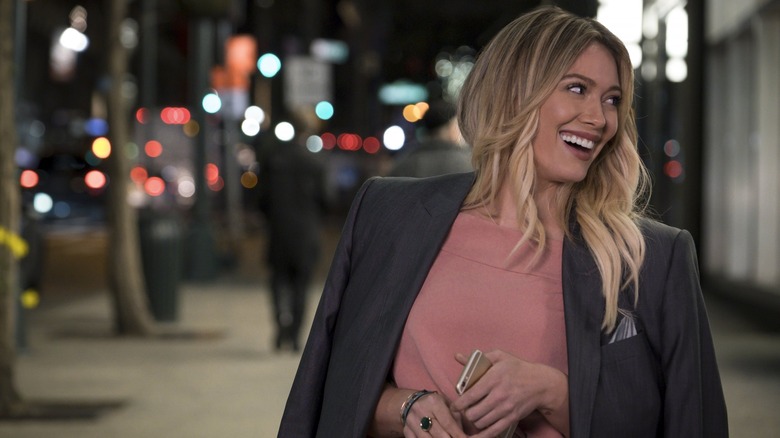 Paramount+
Kids, I'm going to tell you an incredible story. The story of how "How I Met Your Mother" got a sequel series less than a decade after wrapping up its original run. That's right, "How I Met Your Father" is not only on the way, it finally has an official air date! We still have to wait for it of course, but the legendary premiere is now set for January 18, 2022. The big announcement came via Twitter, doubling as an excellent way to meet the cast of the upcoming series.
We couldn't keep you waiting any longer... 🤐 How I Met Your Father is coming January 18, only on @Hulu! #HIMYF pic.twitter.com/lfK6sVrQJQ

— How I Met Your Father (@HIMYFonHulu) November 17, 2021
Much like the original series, the spin-off sees an older version of our lead character, retelling the relationship drama of her young-adult life. This time around, we're following Hilary Duff's Sophie, telling her son how she met his father. If she's a better storyteller than Ted Mosby — and who isn't? — then it should take anywhere less than 9 seasons to get through. Here's a brief synopsis:
In the near future, Sophie (Hilary Duff) is telling her son the story of how she met his father: a story that catapults us back to the year 2021 where Sophie and her close-knit group of friends are in the midst of figuring out who they are, what they want out of life, and how to fall in love in the age of dating apps and limitless options.
'How I Met Your Father' is written by "Love, Simon" writers Isaac Aptaker and Elizabeth Berger. Executive producers include Aptaker, Berger, Pam Fryman, Adam Londy, and "How I Met Your Mother" creators, Carter Bays and Craig Thomas. The first season is set for 10 episodes, coming exclusively to Hulu. As fans of the show likely know, a spin-off has been in the works for some time now, with a pilot (starring Greta Gerwig!) shot back in 2014 for the series, originally titled "How I Met Your Dad." Eventually, Aptaker and Berger came aboard to rewrite the pilot, creating new characters on a different story path.
The Characters of How I Met Your Father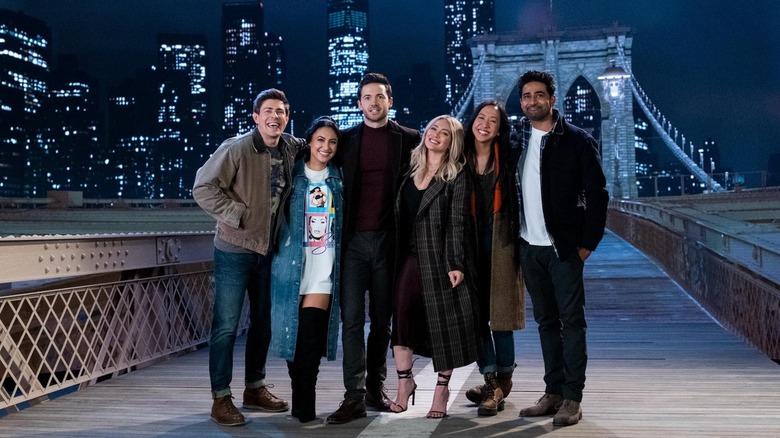 Hulu
Suit up! Or, maybe don't, since Barney Stinson (Neil Patrick Harris) is nowhere to be seen. As far as we know, the spin-off series shares nothing in common with the original, beyond the premise and location, since it tells an entirely new story for a new core cast of characters. Will we see the suit-clad Barney Stinson wandering in the background of a bar? There's no way to know for sure, but we'll keep our fingers crossed. For now, here's a look at the characters centering this new story.
In "How I Met Your Father," Hilary Duff's Sophie has an even bigger friend group than Ted: it includes Francia Raisa ("Grown-ish") as Valentina, Sophie's roommate and the group's adventurous spirit; Tom Ainsley as Charlie ("Versailles"), a model and child of British aristocrats who followed Valentina back to New York after falling in love with her in London; Chris Lowell's ("Veronica Mars," "Glow") Jesse, an aspiring musician who currently works as an Uber driver; Tien Tran ("Candyman") as Ellen, Jesse's adopted sister who just moved to the city after separating from her wife; and Suraj Sharma ("Homeland") as Sid, Jesse's roommate and best friend. The series also features recurring stars Kim Cattrall, Daniel Augustin, Ashley Reyes, and Josh Peck.
"How I Met Your Father" arrives to Hulu on January 18, 2022.