Reno 911 Special The Hunt For QAnon Gets A Paramount+ Release Date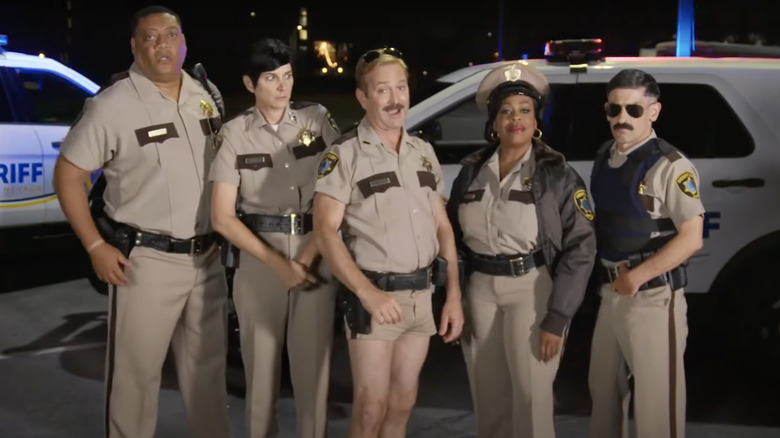 Paramount+
What better way to spend Christmas than by hunting for QAnon with the bumbling cops of Reno 911? Have yourself a merry little conspiracy, amirite?
Over the summer, we reported that "Reno 911" was headed to The Roku Channel for an eighth season. The revived Comedy Central program had found a home on Quibi for its seventh season, but no sooner did Quibi renew the show for an eighth season than it was announcing its own shutdown. Currently, there's no one-stop shopping option for "Reno 911;" you'll have to bounce around a little if you want to see every episode (not to mention the movie, "Reno 911: Miami.") However, all six seasons of the original series are currently streaming on HBO Max and Paramount+, and it's the latter platform where you'll be able to see the new special, "Reno 911: The Hunt for QAnon."
Variety reports that "Reno 911: The Hunt for QAnon" "follows the deputies of the Reno Sheriff's Department as they hunt for Q, the one behind all the QAnon conspiracies. Their efforts cause them to get stuck at a QAnon convention at sea, ultimately escaping only to discover that they've landed at Jeffrey Epstein's old island."
Below, you can see series creators and stars Thomas Lennon, Robert Ben Garant, and Kerri Kenney-Silver announcing the special with their co-stars, Cedric Yarbrough and Niecy Nash. Original cast members Carlos Alazraqui and Wendi McLendon-Covey will also be back for "Reno 911: The Hunt for QAnon."
Reno 911: The Hunt for QAnon Teaser
"The only cop show they forgot to cancel is back." These words on the part of Lennon's character, Lt. Jim Dangle, allude to the cancellation of reality shows like "Cops" and "Live PD" after the George Floyd protests in 2020. "Reno 911" employs a mockumentary style to spoof those shows, but now it's practically the only game in town.
Having the cops of "Reno 911" set sail with a QAnon convention, full of people who view former president Donald Trump as the hero in a battle against Satanic child sex traffickers, is certainly a choice. In real life, Qanon supporters recently made headlines for descending en masse on Dealey Plaza, the site of president John F. Kennedy's assassination in Dallas. They were expecting his son, John F. Kennedy Jr., who died in a plane crash in 1999, to appear and (via The Washington Post) become "Trump's vice president when the former president is reinstated."
Needless to say, JFK Jr. never appeared, but the incident highlighted the growing epidemic of delusional, conspiracy-filled beliefs across America, which also played a part in the storming of the U.S. Capitol back in January of this year.
If viewers can get past the uncomfortable real-world overtones and just let down their guard and laugh a little, there's surely some comedic potential there for the cops of "Reno 911" to skewer conspiracy culture. After all, one of their finest contemporaries, Borat, didn't shy away from real-world political issues when he made his comeback in Amazon's "Borat Subsequent Moviefilm"—and his film was rewarded for it with Oscar nominations for writing and acting.
"Reno 911: The Hunt for QAnon" premieres on Paramount+ on December 23, 2021.