Red Notice Featurette: Go Behind The Scenes On The Next Big Heist Movie [Exclusive]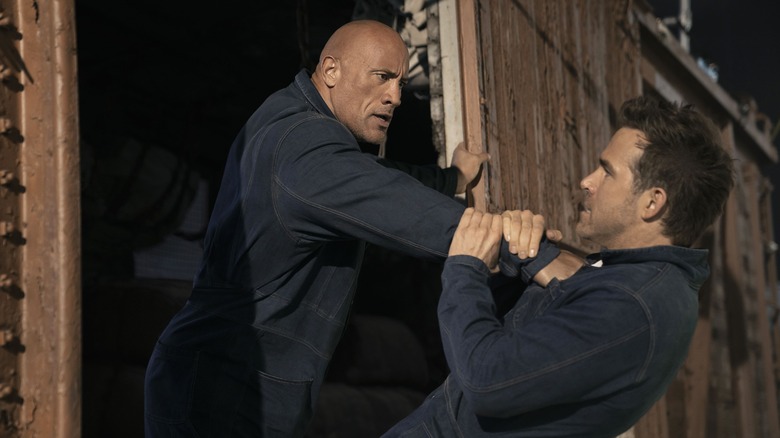 Netflix
Take away the three leads who just happen to be some of the most popular movie stars in the world, the enormous amount of resources poured into this buzzy project, and the complicated, pandemic-affected production that forced some major outside-the-box thinking, and "Red Notice" is just like any other movie out there! Of course, you can't exactly separate any of those integral aspects from the massively popular Netflix title, nor should you. As it turns out, the streaming giant's latest blockbuster heist film boasts a behind-the-scenes experience to match any of the thrills that ended up being put on screen. /Film exclusively brings you an extended look behind the curtain at the making of "Red Notice," which you can watch below.
Red Notice Featurette
What brought each of the three main leads to sign on to this story? How did the production team deal with the pandemic completely overturning their plans from filming all over the world to shooting in Atlanta, Georgia? Did you pay attention to just how much visual effects were required to bring the film to life, from the most action-heavy set pieces to simple dancing sequences set indoors? All of these questions and more are answered within this 8-minute video, with Gal Gadot, Ryan Reynolds, and Dwayne Johnson walking viewers through all sorts of fascinating tidbits and details that went into the making of "Red Notice." From daring drone shots to digitally inserting background crowds to figuring out how to keep viewers on their toes throughout the many twists and turns of the narrative, this is your chance to hear unique perspectives and invaluable insights straight from the mouths of many of the behind-the-scenes crew along with the stars themselves.
Written and directed by Rawson Marshall Thurber ("Dodgeball: A True Underdog Story," "Central Intelligence," "Skyscraper"), "Red Notice" stars Dwayne Johnson, Gal Gadot, and Ryan Reynolds on a globetrotting adventure involving an FBI profiler and two infamous art thieves. You can read /Film's review by Chris Evangelista here along with our in-depth and spoilery look at several moments in the film, as well. "Red Notice" is currently streaming on Netflix.
When an Interpol-issued Red Notice — the highest level warrant to hunt and capture the world's most wanted — goes out, the FBI's top profiler John Hartley (Dwayne Johnson) is on the case. His global pursuit finds him smack dab in the middle of a daring heist where he's forced to partner with the world's greatest art thief Nolan Booth (Ryan Reynolds) in order to catch the world's most wanted art thief, "The Bishop" (Gal Gadot). The high-flying adventure that ensues takes the trio around the world, across the dance floor, trapped in a secluded prison, into the jungle and, worst of all for them, constantly into each other's company.