Won't You Say You Love Peacock For Giving Us The Barney The Dinosaur Documentary We've Always Wanted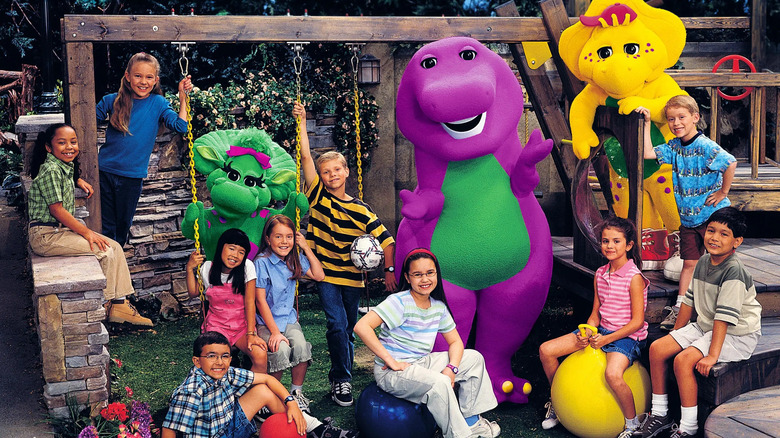 HIT Entertainment
If you're happy and you know it, "Add to List." A three-part documentary about beloved (and loathed) childhood staple Barney the Dinosaur has begun production at Peacock, the streamer announced. The project is said to concern itself with the rise and legacy of Barney, the purple anthropomorphic T-rex who sang and danced his way into the hearts of school-aged children everywhere throughout the '90s. Singing nauseatingly catchy songs (but the kids love them) like "The Green Grass Grows All Around" and "Mr. Knickerbocker," the perpetually optimistic creature was an easy target for cynics who would spoof the show's good nature and influence on young children. The currently untitled doc will premiere on Peacock in 2022.
The documentary is produced by Scout Productions (Netflix's "Queer Eye"), with Tommy Avallone directing and executive producing. Rob Eric, David Collins, Michael Williams, Amy Goodman Kassm, and Joel Chiodi of Scout Productions executive produce alongside Raymond Esposito. Wendy Greene is co-executive producer, and Trent Johnson also produces.
"Barney the Dinosaur was a ubiquitous character for children and parents alike and we are thrilled to work with the Scout Productions team to bring this three-part series to Peacock," said Rod Aissa, executive vice president of unscripted content for NBCUniversal Television & Streaming. "This documentary is bound to captivate audiences like Barney has over the years."
"When he's tall, he's what we call a dinosaur sensation"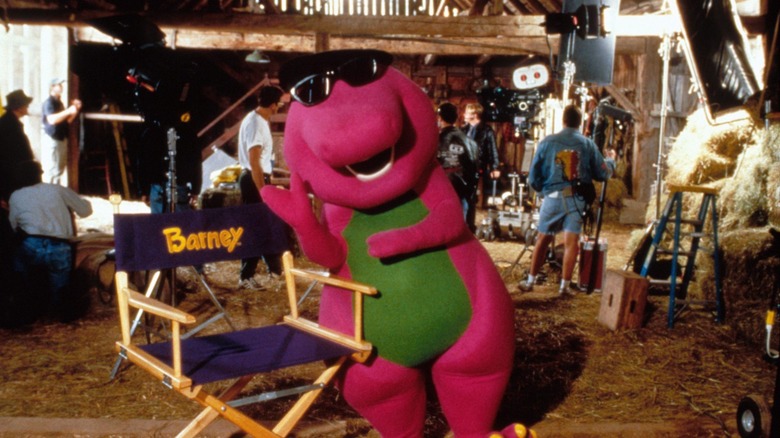 Polygram Filmed Entertainment / Courtesy Everett Collection
Making use of exclusive interviews and archival footage, the doc will offer first-hand accounts of the Barney phenomenon from those who were there — both the lovers and the haters. The character was created by Sheryl Leach, who debuted Barney in 1988 in the "Barney and the Backyard Gang" home video series, which was picked up by Connecticut Public Television and funded by PBS. PBS later came in with the series "Barney & Friends," which aired until 2010. 
The music featured on the show was popular with schoolchildren but not so much with adults, a fact that American interrogators used for some light torture of Iraqi prisoners in the early aughts. So according to Amnesty International, playing Barney for days at a time is a human rights violation. I hope that makes it into the doc.
The documentary isn't the only Barney content we're anticipating. Last we heard a year ago, "Judas and the Black Messiah" star Daniel Kaluuya was (along with toy company Mattel) producing a live-action take on the purple dinosaur, citing a childhood love for the "misunderstood" carnivore to Entertainment Weekly:
"Barney taught us, 'I love you, you love me. Won't you say you love me too?' That's one of the first songs I remember, and what happens when that isn't true? I thought that was really heartbreaking. I have no idea why but it feels like that makes sense. It feels like there's something unexpected that can be poignant but optimistic. Especially at this time now, I think that's really, really needed."