Clips Round-Up: Jungle Cruise Has Bite, Boiling Point Simmers, And Feast Raises Hair [Exclusive]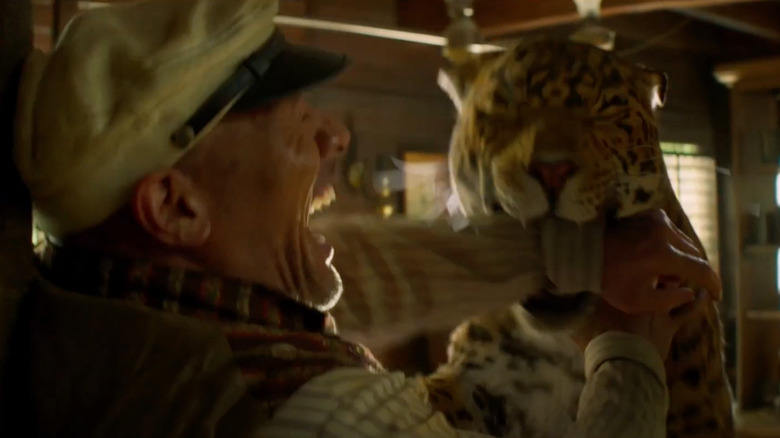 Walt Disney Pictures
(Welcome to SlashClips, a series where we bring you exclusive clips from hot new Digital, Blu-ray and theatrical releases you won't see anywhere else!)
In this edition:
Jungle Cruise 
Boiling Point
The Feast
Jungle Cruise
In this super cool clip from the behind-the-scenes features, ace director Jaume Collet-Serra ("Non-Stop") talks about how the visual effects geniuses at WETA Digital brought the tiger Proxima to life. Disney's big budget adventure, which debuted in theaters and on Disney+ earlier this year, arrives on 4K Ultra HD, Blu-ray, and DVD today, November 16, 2021. We are also currently holding a 4K giveaway, which you can read all the details for here!
Here is the official synopsis:
"Seeking an ancient tree with healing abilities, Dr. Lily Houghton and wisecracking skipper Frank Wolff team up for the adventure of a lifetime on Disney's 'Jungle Cruise,' a rollicking ride down the Amazon. Amidst danger and supernatural forces lurking in the jungle, secrets of the lost tree unfold as their fate – and mankind's – hangs in the balance."
Boiling Point
The pressure cooker environment of a high-end London restaurant leads to a standoff between a chef named Andy (Stephen Graham) and his sous chef Carly (Vinette Robinson) in this exclusive clip. Directed by Philip Barantini ("Villain"), "Boiling Point" hits select theaters on November 19, 2021 before arriving on digital and on demand November 23, 2021.
Here is the official synopsis:
On the busiest night of the year at one of the hottest restaurants in London, charismatic, commanding head chef Andy Jones (Stephen Graham) balances along a knife's edge as multiple personal and professional crises threaten to destroy everything he's worked for. A surprise visit from a health and safety inspector sets the staff on edge as the overbooked hotspot begins to fill with guests. Jones alternately berates and cajoles his diverse staff, trying his best to diffuse tensions between management and his crew, while catering to the ridiculous demands of customers.
The Feast
Not to spoil anything, but this clip is, quite literally, hair raising! The chilling Welsh folk horror film from first-time feature director Lee Haven Jones will hit theaters and on demand/digital this coming Friday, November 19, 2021.
Here is the official synopsis:
Filmed entirely in the Welsh language and entrenched in traditional folklore, 'The Feast' follows a mysterious young woman who arrives to serve affluent guests at a dinner party in a remote house in the Welsh mountains. What the privileged guests do not realize is that they are about to partake in their last supper. As the tension mounts, you'll be left on the edge of your seat until the film's final minutes. 'The Feast' is a horrifyingly captivating fable that grapples with themes of greed, class, and privilege. The film was shot amidst the breathtaking Welsh countryside, allowing for a deep contemplation of the film's eco-horror message: who is truly entitled to the Earth and all of the resources it provides?