Ahead Of Ghostbusters: Afterlife, Alamo Drafthouse Dedicates New Manhattan Theater To Ivan Reitman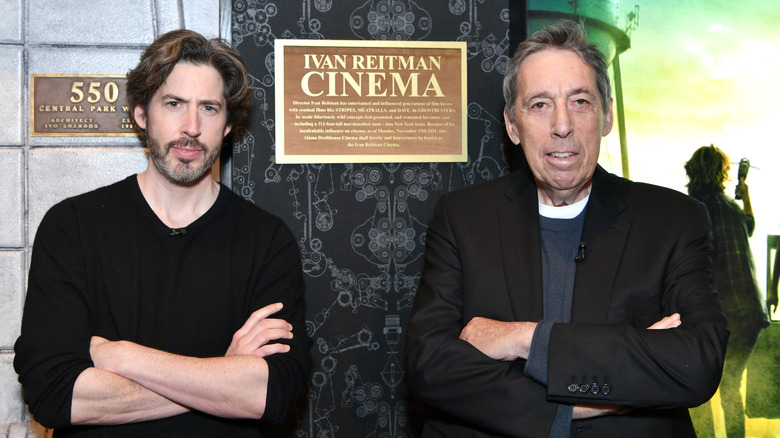 Slaven Vlasic / Getty Images for Alamo Drafthouse
The Alamo Drafthouse Cinema has renamed its new Lower Manhattan theater location in honor of "Ghostbusters" director Ivan Reitman. On Monday, the cinema-eatery chain made it official, holding a dedication ceremony for the Ivan Reitman Cinema, with Ivan and his son, Jason Reitman — the director of "Juno," "Up in the Air," and this weekend's "Ghostbusters: Afterlife" — both in attendance.
Also in attendance? The Stay-Puft Marshmallow Man. A nearly 12-foot-tall statue, depicting him from marshmallow head and sailor's cap to collar, stands at the venue and will provide a photo op for fans. Alamo Drafthouse founder and Executive Chairman Tim League is one of those fans. He had this to say:
"Ivan Reitman's movies have made a big impact on my life and maybe just maybe helped to forge my sense of humor. I am humbled to be able to share his legacy with our guests in New York."
While "Ghostbusters: Afterlife" is set in Oklahoma, the original "Ghostbusters" was a quintessentially Manhattan movie, and Reitman was instrumental in grounding it there. Dan Aykroyd's script first took place in outer space before Reitman brought the late Harold Ramis on board as a co-writer, and they reworked it as a Manhattan tale. So it makes sense for Alamo to honor Reitman this way. The plaque dedicated to him at the venue reads:
Director Ivan Reitman has entertained and influenced generations of film lovers with seminal films like "Stripes," "Meatballs," and "Dave." In "Ghostbusters," he made hilariously wild concepts feel grounded, and cemented his entire cast — including a 112-foot-tall marshmallow man — into New York icons. Because of his incalculable influence on cinema, as of Monday, November 15th 2021, this Alamo Drafthouse Cinema shall hereby and forevermore be known as the Ivan Reitman Cinema.
Blocks from the Ghostbusters Firehouse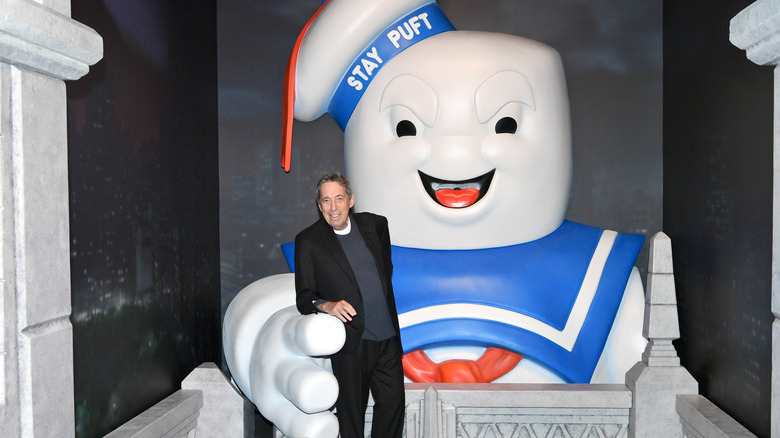 Slaven Vlasic / Getty Images for Alamo Drafthouse
The Alamo Drafthouse opened its new Lower Manhattan location last month at the 28 Liberty building in New York's Financial District. That's about an 8-minute drive from the Firehouse, Hook & Ladder Company 8, the New York City Fire Department station that provided the exterior for the headquarters of the Ghostbusters in 1984. Ivan Reitman acknowledged its proximity in his own remarks, saying:
"As a wide eyed five-year-old breathlessly watching my first film in a packed theater of kids, I could only dream that this might be the magical path that my life would follow. Thank you Alamo Drafthouse for naming this theater after me, and more importantly, thank you for clearly demonstrating belief in the future of this art form by building a great movie palace — just blocks from the firehouse that the Ghostbusters occupy!"
The Alamo Drafthouse hosted a screening of "Ghostbusters: Afterlife" for select members of its loyalty program, Alamo Victory, on Monday after the dedication ceremony. Beginning this Friday, it will provide guests at all "Ghostbusters: Afterlife" shows with a free letterpress postcard featuring original promo art. It has also announced via press release that guests will be able to enjoy "a 'Ghostbusters'-themed drink menu, featuring an 'Ectoplasmic Residue' cocktail and 'Ecto-Cooler' juice, and a custom pre-show featuring a kaleidoscope of nostalgia-inducing pop ephemera that fans of the 1984 'Ghostbusters' will appreciate."
"Ghostbusters: Afterlife" opens nationwide on November 19, 2021.