Movies Like Pig That Are Definitely Worth Watching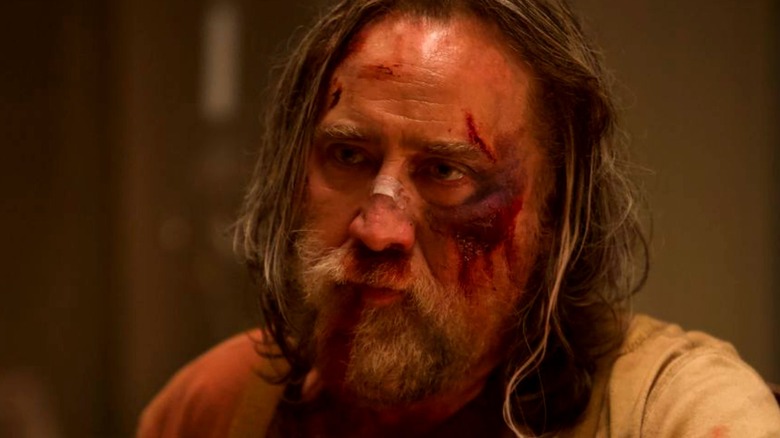 NEON
"Pig" was one of the most surprising movies of summer 2021, and the beautiful film still stands as one of the best of the year. While it's not always the case that independent dramas keep the momentum going as Hollywood enters the fall festival season, "Pig" earned early buzz with its Gotham Award nomination for best feature, giving hope that critics' groups will remember the captivating, emotionally devastating drama as the end of the year awards ceremonies begin to arrive.
"Pig" follows former top chef Robin Feld (Nicolas Cage), who has abandoned his life in the metroplexes of Portland to live in the woods. His only companion is a truffle pig that aids him as he collects ingredients for his buyer, Amir (Alex Wolff). Amir, the son of one of Portland's wealthiest food retailers, Darius (Adam Arkin), knows Robin's history and seeks his expertise in selecting the best ingredients, but he's fearful of bringing the reclusive man into public. Robin has no reason to return to the city and the painful personal memories that go along with it, but in the middle of the night a band of scavengers break into his meager home and kidnap his pig. It's devastating for Robin, and he immediately seeks out Amir's help in getting his best friend home safely.
It's not always the case that a first film is this impactful, but writer-director Michael Sarnoski establishes himself as a filmmaker to watch with his directorial debut. If you loved "Pig," these other great movies are also worth watching.
Joe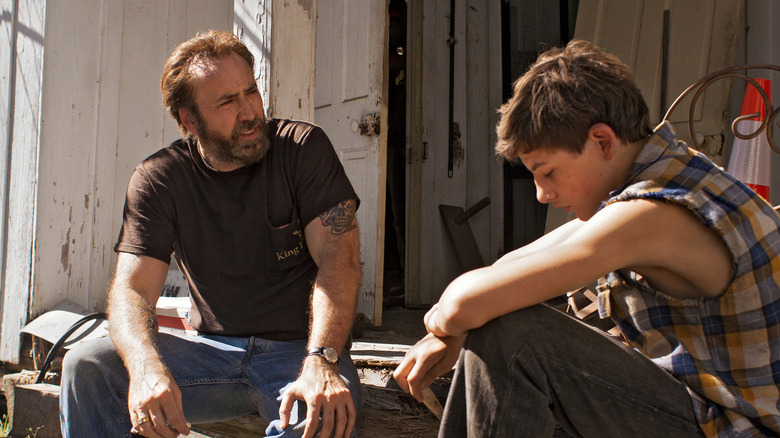 Roadside Attractions
"Pig" is notable for its sensitive depiction of loneliness and heartbreak, but it became a shocker for featuring one of the greatest performances of Nicolas Cage's career. Cage is a brilliant actor, and from the early '80s throughout the early 21st century, he consistently appeared in great films from notable auteurs. Cage even took home the Academy Award for best actor for his gripping performance in "Leaving Las Vegas."
However, in the last decade, Cage's career has taken a different direction. He began appearing in mostly direct-to-VOD films that were poor in quality, and often exaggerated his persona. He became better known for his eccentricities than his performances, so "Pig" was a great reminder of just how devastating Cage can be when delivering a low-key, sensitive performance.
But "Pig" isn't the only great role Cage has played in the last few years. In 2014's "Joe," he appears as a character who is dealing with similar personal torments as Robin in "Pig." David Gordon Green's independent drama follows a mountain man suffering from extreme alcoholism who operates his own tree-poisoning crew in the woods of Texas, and who has isolated himself from most human connections out of fear he'll lash out in anger. Joe is sympathetic towards his 15-year-old employee Gary (Tye Sheridan), who is beaten by his alcoholic father. He works to mentor the boy, while also learning to reintegrate himself into society.
Okja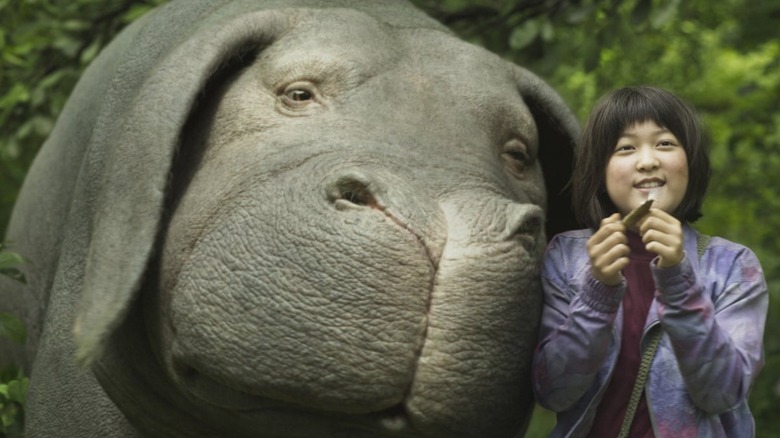 Netflix
Much of the impact of "Pig" comes from its sensitive depiction of the relationships between humans and animals. Robin's early scenes scouring the forests for the perfect ingredients are quite touching, thanks to his emotional bond with his pig, and the film treats their earnest relationship with respect. There's nothing ironic about their dynamic, but the film is also not heavy-handed in its message. When Robin confronts a leading Portland chef over his treatment of animals, his monologue doesn't beat the audience over the head with its morals, but rather allows the character to have a genuine and honest emotional moment.
Bong Joon-ho's 2017 Netflix drama "Okja" shows a similar sensitivity to these close human-animal relationships, but does so with a science fiction premise. The film is set in an alternate version of reality where a dishonest "environmentalist" company grows genetically altered pigs to alarming sizes. These "super pigs" are subjected to grueling laboratory experiments, during which they're mistreated and forced to bear children. The radical environmentalist Animal Liberation Front, led by Jay (Paul Dano), aims to expose the company's misdeeds, putting him at odds with its eccentric CEO Lucy Mirando (Tilda Swinton) and wacky children's television host Johnny Wilcox (Jake Gyllenhaal).
But the emotional core of "Okja" lies in the relationship between the titular super pig and its owner, the 12-year-old South Korean farm girl Mija (Ahn Seo-hyun). Mija raises Okja as a pet, and she's devastated when her beloved best friend is kidnapped, forcing her to embark on an epic adventure to recover Okja as corporate battles rage in the background.
Leave No Trace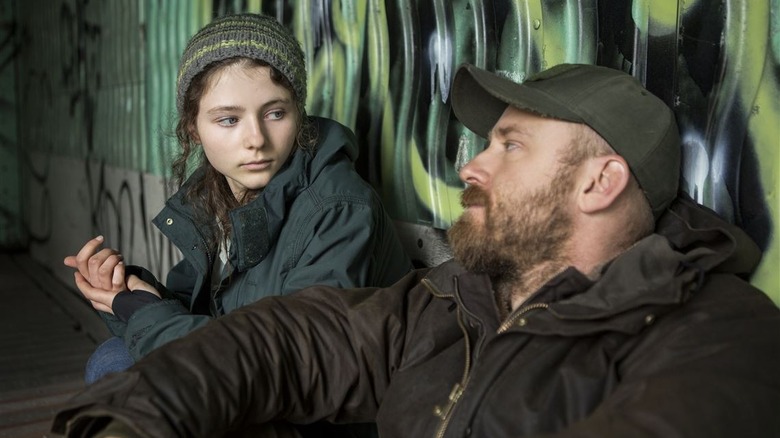 Bleecker Street
"Pig" is very sensitive in its depiction of a character who lives outside of normal society and does not interact with others on a regular basis. Sarnoski pays careful attention to the details of Robin's daily life and the meticulous process he uses to gather items for his daily meals and future employers. Cage shows how, while some may consider this lifestyle to be psychologically damaging, Robin finds it to be quite comforting.
Debra Granick's emotional 2018 drama "Leave No Trace" shows characters with a similar sense of isolation, and, like "Pig," the low-budget atmosphere helps make its environments feel more realistic. The film centers on Will (Ben Foster), a U.S. military veteran suffering from post-traumatic stress disorder who chooses to live in the wilderness. Like "Pig," it's set on the outskirts of Portland, Oregon and captures the natural beauty of its setting. Will raises his 13-year-old daughter Tom (Thomasin McKenize) and the two are happy together. However, their existence is discovered by park rangers, and they are forced to return to society.
Like Robin in "Pig," Will struggles with the transition. He's haunted by his experiences and is awkward during social exchanges, and his behavior can seem off-putting. Tom becomes slightly better adjusted to their new living conditions, and although the government-oriented programs don't appeal to her, she finds a place within a small community as she grows interested in learning about beehives.
The Electrical Life of Louis Wain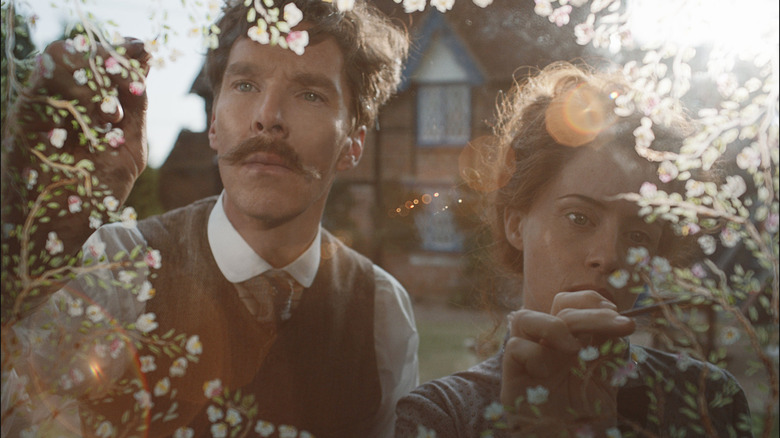 Amazon Studios
"Pig" has a chance to make a serious dent this awards season, but it's not the only 2021 film to feature an emotional bond between humans and animals. The biographical film "The Electrical Life of Louis Wain" explores the titular 19th-century artist through a memorable performance by Benedict Cumberbatch. Similar to what Cage does in "Pig," Cumberbatch makes his character's idiosyncrasies endearing, and gives a clear reason for why he's more comfortable talking to his new obsession: cats.
Cats were not generally thought of as house pets in 19th-century London, but Wain began to keep his own felines after traumatic circumstances made him anti-social. Wain lost his father when he was a child, and attempted to support his struggling mother and five younger sisters with his artistic career. Unfortunately, paintings that were similar to his contemporaries' faced a tough market, so Wain began creating surrealist images of cats. Initially, Wain was mocked for his work, but while many dismissed him as crazy, Wain found the natural grace and personality in these furry creatures.
Each of the cats that Wain takes home serves as both a muse and a pet, and enters the story at a key point in his life. He adopts Peter, for example, during the period when he marries his sisters' new governess, Emily Richardson (Claire Foy), binding the three of them together. Foy is also delightful as she supports her husband's new endeavors.
The Midnight Sky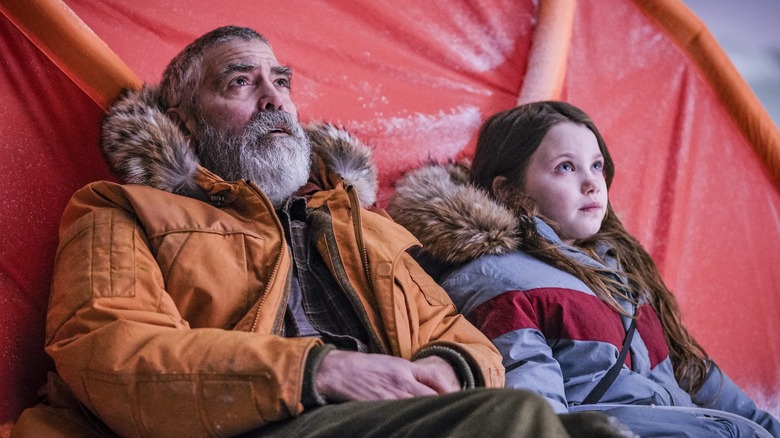 Netflix
The central relationship between Robin and his beloved pig may initially seem strange, but the film treats their interactions sincerely. It doesn't seem strange at all that Robin would be interacting with the animal, and ultimately their conversations are very heartwarming; Cage sheds his typically eccentric behavior and delivers a very sensitive, earnest performance. George Clooney, a movie star renowned for his charisma, took on a similarly unconventional role with his science fiction epic "The Midnight Sky."
Like "Pig," "The Midnight Sky" presents a central character dynamic that carries more emotional weight than it initially seems. The film centers on the scientist Augustine Lofthouse (Clooney), who spent his life exploring the potential of life on other planets. He falls in love with fellow scientist Jean Sullivan (Sophie Rundle), and they have a young daughter named Iris (Caoilinn Springall), but Augustine chooses not to meet her. When mankind begins embarking on interstellar missions to find a new home, Augustine is left alone at an arctic research station, where he communicates with a team of astronauts. He initially thinks that he's destined to live the rest of his life alone, but he discovers a young girl hiding in the station who he befriends.
Like Cage, Clooney subverts his standard onscreen persona and plays as a man who fears the company of others. His relationship with the child is very touching, particularly after a key plot twist reveals a surprising connection between the girl and the team of astronauts.
At Eternity's Gate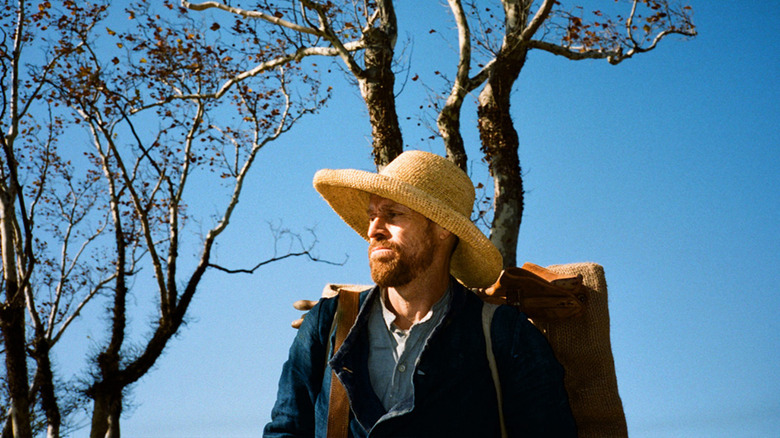 CBS Films
"Pig" does a great job of exploring the beauty of the natural world. Michael Sarnoski uses realistic details to show Robin and his pig in their natural state, and the images of the Portland wilderness are simply breathtaking. The stillness of the trees contrasts sharply with the bustle of the cities, as Robin visits a seedy fight club and the back alley behind a restaurant and sees the excesses of wealth.
As a painter, Vincent van Gogh was renowned for his ability to create gorgeous still life paintings of landscapes. However, while van Gogh is now considered one of the fixtures of the post-Impressionist era, his avant-garde brushing technique proved to be controversial, and he suffered from severe mental health struggles later in life, experiencing frequent delusions and, at one point, cutting off his own ear. Julian Schnabel's 2018 biographical film "At Eternity's Gate" explores van Gogh's final days as he reflects on his career and mortality.
The film stars Willem Dafoe in one of the best performances of his career. Dafoe has many distinguishing hallmarks as a performer that have led him to be labeled as a "character actor," but, like Cage, he can also generate empathy for unusual characters. Van Gogh is mocked by his contemporaries, and his brother Theo (Rupert Friend) worries about him, but he forms a close working relationship with fellow artist Paul Gaguin (Oscar Isaac) nonetheless. Similar to Robin's interactions with Amir, these relationships tie van Gogh to a connected world that he doesn't want to be part of.
Robot & Frank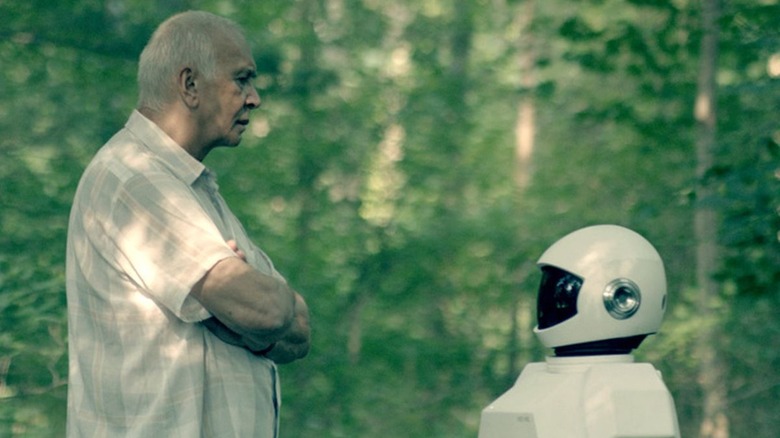 Robot & Frank
"Pig" does an excellent job showing how Robin's untraditional friendship with his pig allows him to heal from the tragic events earlier in his life. Their relationship is both amusing and heartfelt, and as a result their eventual separation feels even more heartbreaking. Sarnoski taps into an emotional authenticity that's rare for a directorial debut to find, but filmmaker Jake Schreier pulled off the same impressive feat with his brilliant first film, "Robot & Frank."
The 2012 science-fiction dramedy follows the aging cat burglar Frank Weld (Frank Langella). Frank's days of exciting robberies are now far behind him, and he's now gradually losing his memory. Frank resists joining a retirement community or being hospitalized, even as his son Hunter (James Marsden) grows irritated with the constant visits to his father's home. And so, Hunter purchases a robot (voiced by Peter Sarsgaard) designed to care for Frank as his dementia gets worse. Frank is highly skeptical of technology, but quickly learns that he can reprogram the robot himself and convince his new friend into helping him restart his burglary career.
"Robot & Frank" finds its heart by showing how this pivotal relationship reinvigorates Frank and allows him to open up. He begins a romantic relationship with the local librarian Jennifer (Susan Sarandon), who discovers his secret and helps him steal antique books. Like "Pig," it's quite emotional; when he's caught, Frank reveals that the robot isn't only his accomplice, but his friend.
Trees Lounge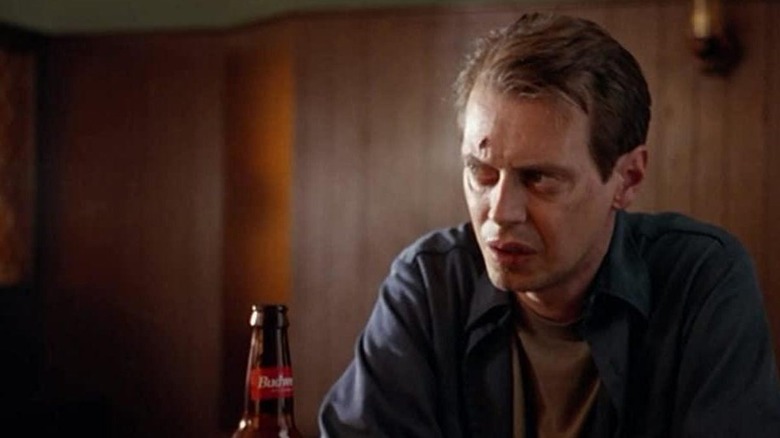 Orion Pictures
Independent films often provide the type of emotional catharsis that is hard to replicate with a larger studio budget. "Pig" may not have been as effective had it been buried by the influence of studio executives and a larger ensemble; thankfully the film was able to find a niche audience that appreciated it for its own merits. Supporting independent films is important — fans of "Pig" should consider checking out Steve Buscemi's underrated 1996 feature debut, "Trees Lounge."
Buscemi wrote, directed, produced, and starred in the film as Tommy Basilio, and his passion for the material is evident in the same way that Sarnoski's is in "Pig." Tommy has become a local fixture at this point in his alcoholism, showing up at local bars on a nightly basis. His condition grows significantly worse after his girlfriend leaves him, his uncle Al (Seymour Cassell) dies of a heart attack, and he's fired from his job as a mechanic. After a late night spent taking cocaine, Tommy realizes he needs to turn his life around and takes over Al's job as an ice cream truck driver.
Like Robin in "Pig," Tommy struggles to adjust to new relationships, especially given his reputation. The local children refuse to buy treats from him, and he undergoes additional stress when his troublesome 17-year-old niece Debbie (Chloe Sevingy) asks him to help her friends buy liquor. It marks the beginning of another slow decline for Tommy.
You Can Count on Me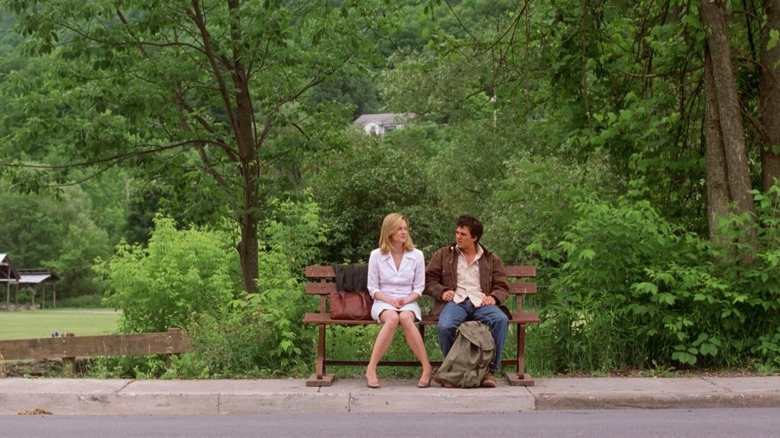 Paramount Pictures
True emotional devastation is very hard to capture on screen. It takes time to develop characters that the audience can invest in, and finding the right balance of tragic events can be a challenge. If a film begins on a traumatic moment, it may be hard to capture and maintain that same level of heightened emotion later in the film. "Pig" does this very well; while the opening kidnapping establishes the stakes, there's a tear-jerking moment later on when Robin prepares a specific meal for Darius that reminds him of a key memory, making him reveal tragic information.
Sarnoski's delicacy is handled with the precision of a stage play, and actual playwright Kenneth Lonergan found a similar tone with his directorial debut, "You Can Count on Me." The film centers on two grown siblings, Terry (Mark Ruffalo) and Sammy (Laura Linney), who lost their parents in a childhood accident. As they mature into adulthood, Sammy struggles to raise her young son Rudy (Rory Culkin) as a single mother while holding a senior position at a leading local bank. The bank's new manager, Brian (Matthew Broderick), imposes strict guidelines on the employees, but is also romantically interested in Sammy.
Terry unexpectedly reunites with his sister, only to reveal that he's become an aimless drifter who struggles with alcoholism, and seeks to make amends by helping to care for Rudy. Terry's difficult relationship with his depressed girlfriend Sheila (Gaby Hoffman) further complicates Sammy's challenging life.
Cast Away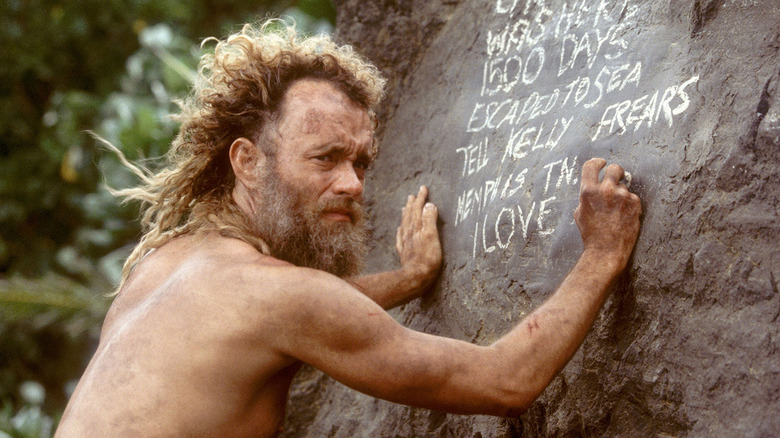 20th Century Fox
Robin's reintegration into society is a major challenge in "Pig." He's purposely chosen to live off the grid, and upon returning to urban Portland, he's faced with memories that he'd rather forget. Robin learns that the lives of top-level chefs have changed dramatically since he left the profession, and he struggles to adjust to a world that's moved on without him.
These same troubles are a key plot point in Robert Zemeckis's 2000 masterpiece "Cast Away." The film follows Chuck Noland (Tom Hanks), who travels on a FedEx cargo plane that suffers a system breakdown in the middle of a deadly storm over the Pacific Ocean. In a gripping sequence, the plane crashes and Chuck is left stranded on a remote island, where he's forced to survive on his own. While the majority of the film centers on his daily struggles and his odd relationship with a volleyball he names "Wilson," the last act focuses on his difficult journey home. Chuck is shocked to find that his wife Kelly (Holly Hunter) has remarried, having assumed he was dead.
About Schmidt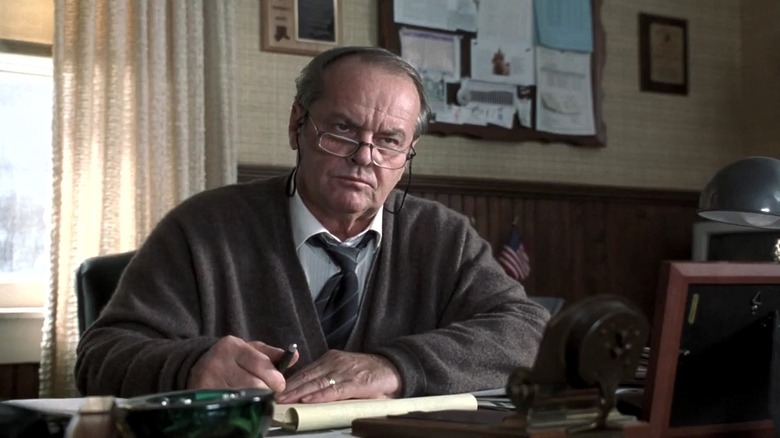 New Line Cinema
Robin is not a standard leading man, as he's very reclusive and his attitude can be off-putting, but Robin's dismissive behavior towards Amir isn't meant to make him unsympathetic, as the audience gradually begins to learn about the events that led him to live alone. Crafting a compelling lead character who's initially rude is something Jack Nicholson does very well, and like Cage he delivered a surprising late career performance in Alexander Payne's 2002 film "About Schmidt." At the time, Nicholson was at a similar point in his career; he hadn't been in a great film in several years, but it only took one role to remind audiences what a talented actor he is.
"About Schmidt" follows retired life-insurance salesman Warren, who struggles to find a purpose when he's not working. Warren considers donating to charitable causes, and he's skeptical about his daughter Jeannie's (Hope Davis) upcoming marriage. Jeannie is set to marry the ambitious salesman Randall (Dermot Mulroney), who Warren instantly distrusts, and he struggles to give Jeannie guidance without stressing her out.
The Station Agent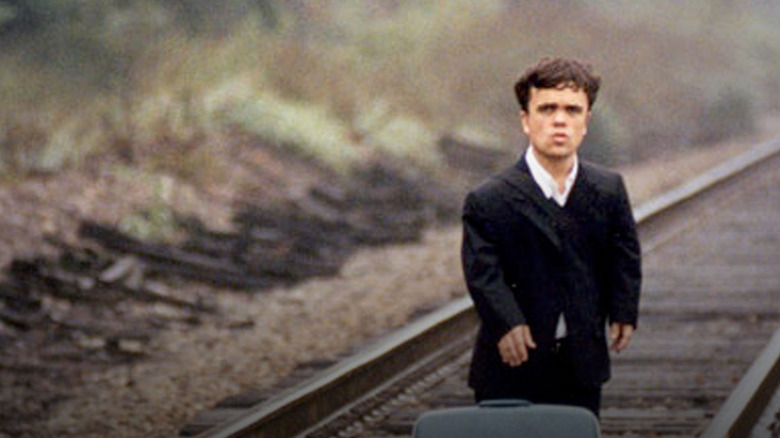 Miramax Films
A surprising friendship blossoms between Robin and Amir in "Pig." Robin is quite skeptical of the ambitious young man, as he deeply distrusts Amir's father and believes he may have been involved within the kidnapping of his pig. Their relationship begins awkwardly, as Robin refuses to keep supplying Amir unless he transports him to the city. However, they learn more about each other during the search for the pig, and Robin even teaches Amir his personal cooking techniques. A simple handshake between the two towards the film's conclusion shows the respect they have for each other.
Tom McCarthy's 2003 dramedy "The Station Agent" explores a similarly surprising friendship between two men who seem like polar opposites. Finbar McBride (Peter Dinklage) is the sole operator of a model train shop in New Jersey, and due to his dwarfism he's more comfortable living alone where he can't be mocked. Finbar has few interests outside of trains, and he's surprised when a hot dog stand is opened right next to his shop. The shop's wisecracking owner, Joe Oramas (Bobby Cannavale), initially annoys him, but they open up to each other after working in close proximity, forging a friendship that resonates long after the credits have stopped rolling.