Here's When You Can Watch Venom: Let There Be Carnage At Home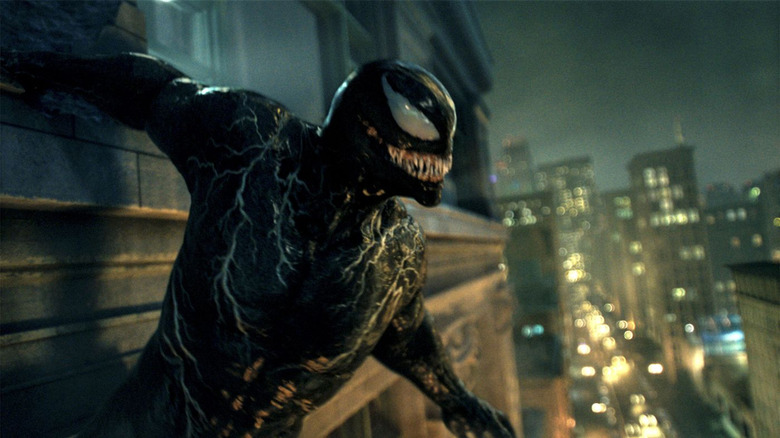 Sony Pictures
We may receive a commission on purchases made from links.
"Venom: Let There Be Carnage" is one of the biggest box office hits of 2021. Currently sitting at over $202 million at the domestic box office, it's the second highest grossing movie of the year, even surpassing Marvel's "Black Widow." But if you're one of the fans who hasn't been keen on returning to theaters while the COVID-19 pandemic is still kicking around out there, you're probably eager to find out when you can watch "Venom: Let There Be Carnage" at home. Thankfully, we've got everything you need to know about the sequel's home video release.
Venom 4K Ultra HD, Blu-ray and DVD Release Date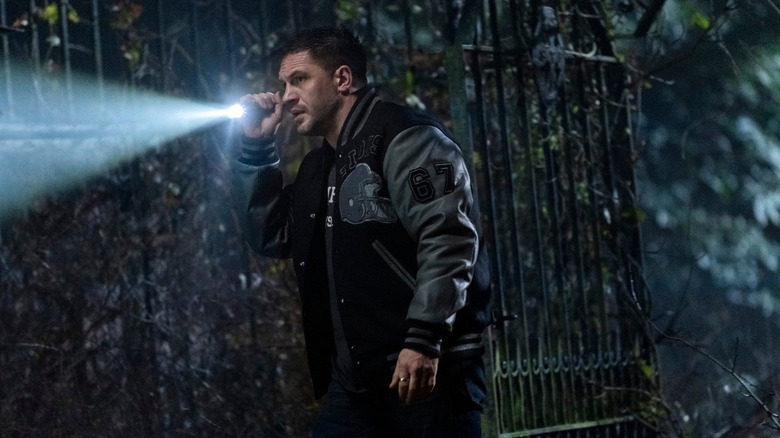 Sony Pictures
"Venom: Let There Be Carnage" has been confirmed to be released on 4K Ultra HD, Blu-ray, and DVD on December 14, 2021, just in time to tuck under the Christmas tree as a gift for the Marvel fan in your life. In addition to the standard release you can pre-order at Amazon right now, there's also a Best Buy Steelbook and a Target exclusive that comes with collectible cards. Any of them will make for a fine Christmas gift for the Marvel fan in your life.
Then again, since this is far goofier than the traditional Marvel Studios movie, maybe it's not everyone's speed. There's certainly a lot of silliness to enjoy, especially when it comes to the bromantic comedy dynamic between Eddie Brock (Tom Hardy) and the loser symbiote Venom. Plus, Woody Harrelson and his Carnage alter ego make for quite a campy adversary, especially when he hooks up with Shriek (Naomie Harris). So maybe you'll have a good time watching it at home. In fact, you might want to watch it with the whole family before then, and you'll be able to when it arrives on digital much earlier.
Venom Digital and VOD Release Date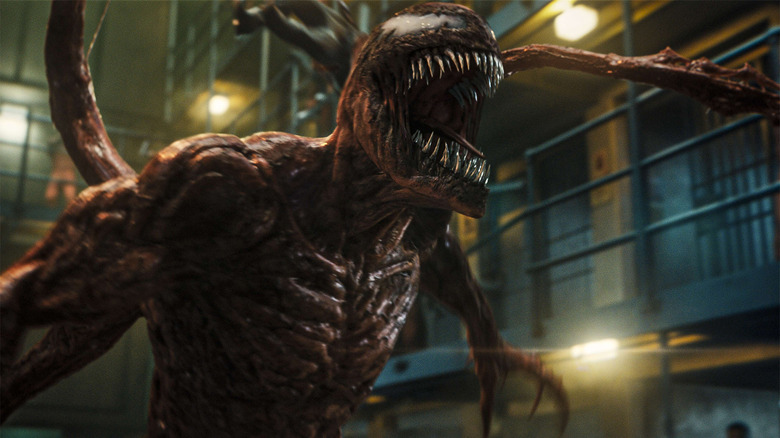 Sony Pictures
"Venom: Let There Be Carnage" will arrive three weeks earlier on digital starting on November 23, 2021. That means you can get it just before Thanksgiving and give the entire family something to watch before the turkey is on the table. However, seeing a serial killer turned dangerous symbiote hybrid who kills a security guard by choking him with his pulsating, thick tongue maybe isn't for everyone in the family. So maybe be selective about who you ask to join in the "Venom" sequel watch party. It's not exactly the most appetizing blockbuster movie, but it's certainly a feast of campy comic book kookiness that will give you plenty of laughs. 
As for VOD, it's likely that the movie won't be available to rent on VOD until the movie arrives on 4K Ultra HD, Blu-ray, and DVD. Traditionally, the rental period for a movie doesn't begin until it's on physical home video, but there have been plenty of premium VOD offerings throughout the year, so it's possible that it might be available to rent when the movie is out for purchase on digital. You'll have to wait and see.
In the meantime, the "Venom: Let There Be Carnage" credits scene offered some enticing food for thought. We won't spoil it here if you haven't seen the movie yet, but if you'd like to read all about it, you can get the details over here.