Frozen Star Josh Gad Is The Voice Of Muncher In Ghostbusters: Afterlife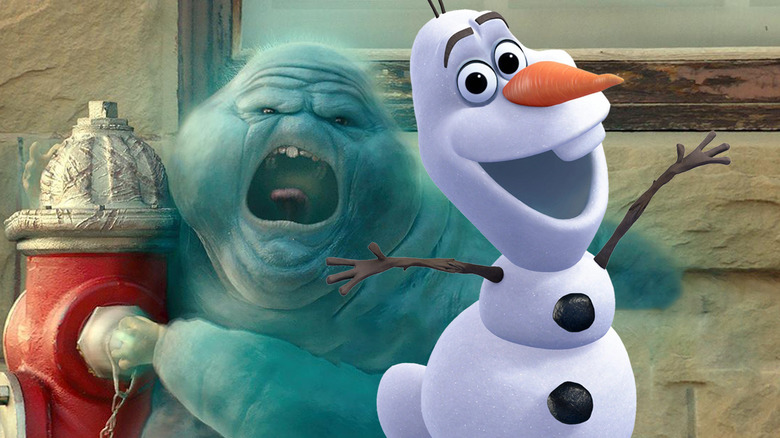 Sony / Disney
The voice (such as it is) of Muncher in "Ghostbusters: Afterlife" is none other than actor Josh Gad, who is best known for voicing the lovable snowman Olaf in the "Frozen" movies. The casting was confirmed by Gad himself on Twitter, who said, "Happy to be a part of the #Ghostbusters family."
Muncher is the spiritual successor to Slimer, the gooey ghost from the original 1984 movie directed by Ivan Reitman. "Ghostbusters: Afterlife" was helmed by Reitman's son, Jason Reitman, and promises a return to the franchise's roots. Muncher has a similarly blobby physique to Slimer but is set apart by his six limbs, which make him look like a giant ghostly tardigrade (tardigrades actually have eight legs, but maybe Muncher lost two of his legs in whatever tragic accident killed him.)
There wasn't exactly an extensive casting process for Muncher, who doesn't have any dialogue per se, but instead makes general ghost noises. In an interview with IGN, Jason Reitman called how a random encounter with Gad led to Muncher finding his voice:
"Josh and I ran into each other on the Sony lot and I was like, 'Hey, do you want to come voice this ghost?' And he was like 'Yes!' And he literally just walked in the room, he started doing sounds ... and that is where the sound of Muncher came from."
Now, I'm not saying you should go around Hollywood production lots, walking into rooms, and making random sounds in the hope that you'll get to play a CGI ghost. But apparently that is sometimes how casting happens.
Gadzooks!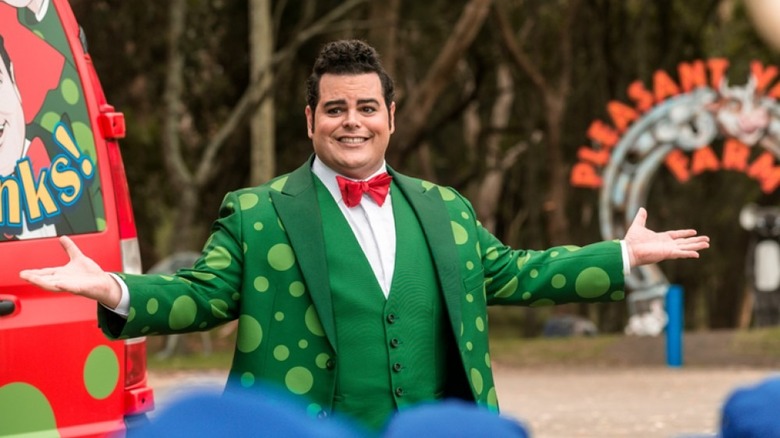 Neon
Before "Frozen" landed in theaters and doomed parents across the world to infinite replays of "Let It Go," Gad was known for his appearances on "The Daily Show" and for starring in NBC's "1600 Penn" (which he also co-created and produced). Since the massive success of "Frozen" he's returned as Olaf for "Frozen 2" and several short films, as well as the YouTube series "At Home With Olaf." 
Outside of voice-acting roles, Gads played the dwarf Mulch Diggums (albeit under heavy make-up) in "Artemis Fowl" and starred alongside the late Chadwick Boseman in the 2017 biopic "Marshall." He also played kids show personality Teddy McGiggle (pictured above) in Hulu's horror-comedy film "Little Monsters." Now, it's his turn to be a little monster.
"Ghostbusters: Afterlife" releases in theaters on November 19, 2021.