Tales From The Box Office: How Harry Potter And The Sorcerer's Stone Conjured A Massive Franchise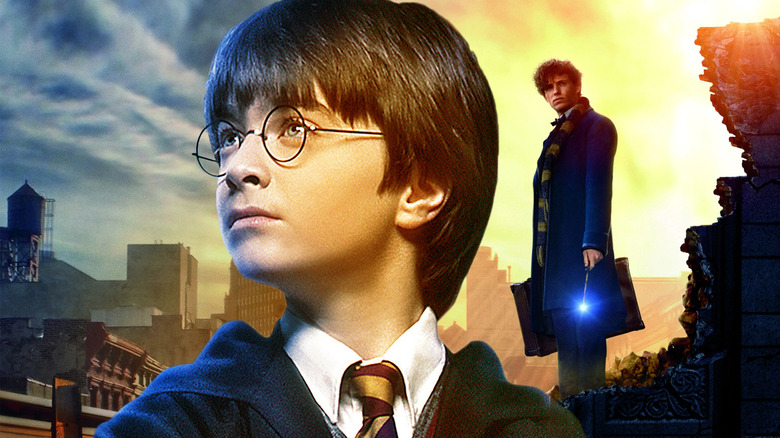 Warner Bros.
(Welcome to Tales from the Box Office, our column that examines box office miracles, disasters, and everything in between, as well as what we can learn from them.)
There are several truly massive cornerstone franchises in the pop culture landscape. I'm not talking about the likes of "Teenage Mutant Ninja Turtles" or "Rambo," which have certainly cemented themselves as enduring. I'm talking about the once-every-few-generations, lightning-in-a-bottle type franchises. There exists perhaps only a handful, such as "Star Wars," "Batman," and now the entirety of the Marvel Cinematic Universe. But the most recent addition to this canon is "Harry Potter," which first came to life back in 1997 when a book by the name of "Harry Potter and the Philosopher's Stone" was published by relatively unknown author J.K. Rowling. Who knew that little wizard boy would go on to inspire a multi-billion-dollar, multi-generation, multi-media franchise.
The books alone would have cemented Harry and the Wizarding World as a cornerstone of pop culture, but it was when Warner Bros. brought Mr. Potter to the big screen 20 years ago in "Harry Potter and the Sorcerer's Stone" that the path was laid out for one of the biggest franchises in history to be conjured. To celebrate the movie's 20th anniversary, we decided to look back at how this film jumpstarted a box office behemoth.
Note: I am aware that J.K. Rowling's comments on the trans community have reshaped the conversation around this franchise, and have certainly tainted things in the eyes of many fans. While I won't be focusing on that in this piece, you can check out some of our previous coverage of the topic here and here.
The Movie: Harry Potter and the Sorcerer's Stone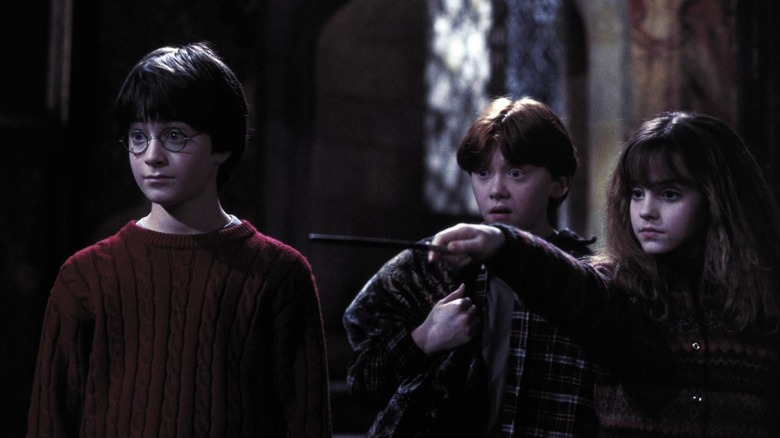 Warner Bros.
Let's go back to the late '90s. "Star Wars" was getting ready to make a comeback with "The Phantom Menace," "Blade" was providing Marvel with its first respectable box office hit while "X-Men" was waiting in the wings, and Warner Bros. was looking for a children's book to produce that could turn into a possible franchise. It could have been "The Ogre Downstairs" if producer David Heyman had gotten his first choice, but when that fell through he was brought the first "Harry Potter" book instead. The idea was then pitched to Warner Bros., with the studio ultimately optioning the first four books in the series for around $1.3 million. And thus, began development on what would ultimately be the first in a series of eight obscenely profitable adaptations of J.K. Rowling's work.
Several books of behind-the-scenes details from this movie's production alone could be produced, so we won't go into all of that today. But lots of A-list directors were considered for the gig, including none other than Steven Spielberg. However, things ultimately fell through on that front because Spielberg wanted to make an animated movie with an American actor, specifically Haley Joel Osment ("The Sixth Sense"), as Harry. Instead, after the likes of Terry Gilliam ("Twelve Monkeys"), Rob Reiner ("Stand By Me"), and even Jonathan Demme ("The Silence of the Lambs") were considered, it was Chris Columbus ("Home Alone") who landed the gig and ended up behind the camera.
Working from a screenplay by Steve Kloves ("The Fabulous Baker Boys") and filling out the massive cast with British stars — as per Rowling, who did not want to see American actors taking these roles — production kicked off in late September of 2000. A then-unknown Daniel Radcliffe was leading the way as Harry Potter, along with Rupert Grint as Ron Weasley, and Emma Watson as Hermione Granger. Little did anyone know they would be spending the next decade of their lives on movie sets churning out blockbusters within an unexpectedly massive franchise.
The Financial Journey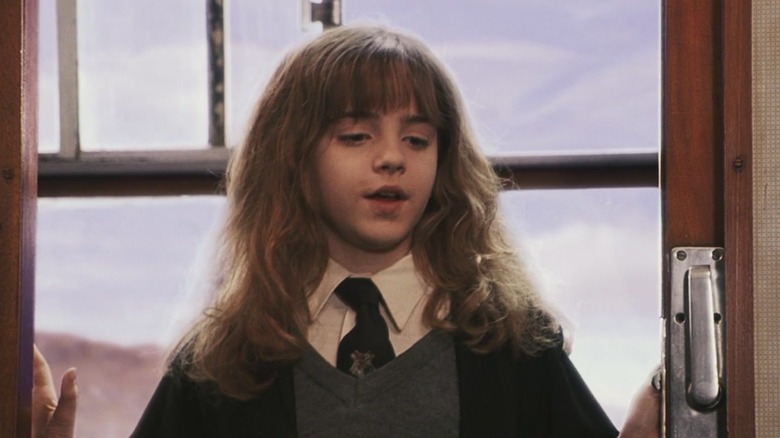 Warner Bros.
"Harry Potter and the Sorcerer's Stone" was released in theaters in the U.K. on November 10, followed by a rollout in the U.S. on November 16 of 2001. It managed to become a wintertime blockbuster that would go on to become an annual tradition for a full decade, as people around the world turned out in droves to see The Boy Who Lived on the big screen. Domestically, the movie nabbed a massive $90.2 million domestic opening weekend. Mind you, this was 20 years ago. That would be incredible even in 2019 before the pandemic. Back then? It was truly rare, and that helped make the $125 million budget seem like a safe bet. Thus began a truly magical run at the box office.
To date, given that it has been re-released several times, "Harry Potter and the Sorcerer's Stone" has earned a truly huge $317.5 million domestically, to go with a staggering $657.1 million overseas. Its total stands tall at $974.7 million. Not bad for a movie that could have been (no disrespect) "The Ogre Downstairs." But this was just the start. Given that Rowling had already published the first four books in the series up to that point, with three more on the way, Warner Bros. stumbled into a golden goose the likes of which may never be seen again. 
A near-annual tradition emerged, with new "Harry Potter" movies being released between 2002 and 2011. All told (not counting the "Fantastic Beasts" films), the studio earned more than $7 billion at the global box office across 8 movies, with "Harry Potter and the Deathly Hallows: Part II" ($1.33 billion) ranking as one of the highest-grossing movies in history.
The Lessons Contained Within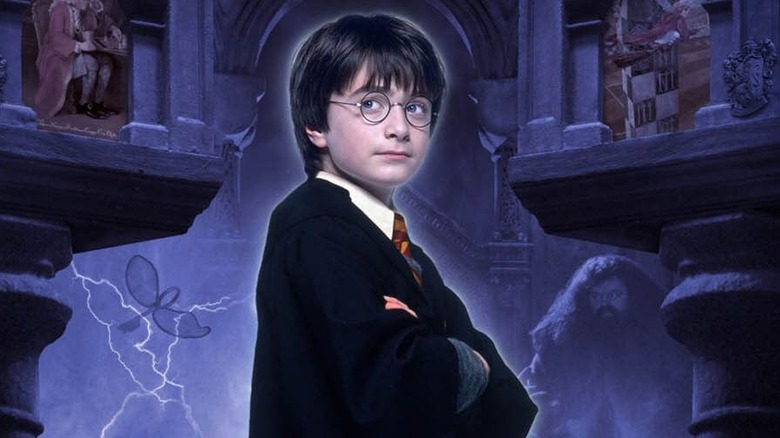 Warner Bros.
As we approach the release of "Fantastic Beasts 3," with "Harry Potter" taking over theme parks all over the world, and countless items of merchandise in every corner of the marketplace, it's worth remembering that this was never a guarantee. So many big book series have tried and failed miserably to make it to the big screen. "The Dark Tower," "Eragon," "The Golden Compass," and "Divergent," just to name a few. The fact that Warner Bros. managed to capture lightning in a bottle was nothing shy of a Hollywood miracle. So many things could have gone wrong, yet everything seemed to go right, from casting, to directing choices, to not having anything totally dismantle any of these productions along the way.
I'm not a creative person. There's a reason I like to write about movies and not try to make them. I'm a fan and I love that "Harry Potter" turned out to be something that so many people can love the way that I love "Star Wars." That was made possible by the fact that the people who ended up being in charge of this ship creatively had a deep respect and love for the thing they were bringing to life. There are no guarantees in the movie business, but in a Hollywood that is more franchise-obsessed than ever, it's worth remembering that maintaining the spirit of the thing at the center of a business venture can (and should) be the key to its success.