Trivia: Steven Spielberg Wanted To Animate The 'Harry Potter' Movies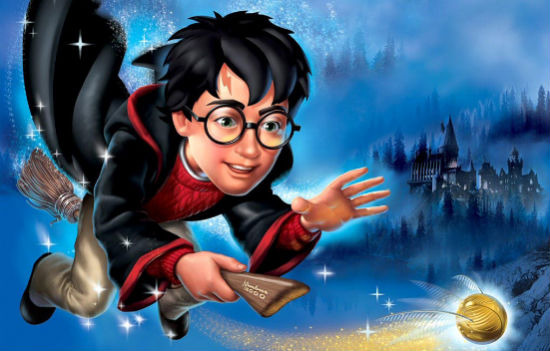 Sunday's Los Angeles Times has a fantastic article about the legacy of the Harry Potter franchise, something we mused about a few weeks ago too. With Harry Potter and the Deathly Hallows Part 1 less than two weeks away, looking back at how Warner Brothers handled what has become one of the biggest franchises ever is a marvel: eight movies in ten years with most of the same cast and very few scandals or speed bumps.
However, when Hollywood first got wind of the franchise, Warner Brothers offered it to Steven Spielberg, who had some radical ideas about adaptation including animating the whole thing. Read all the details, and more, after the jump.
The Los Angeles Times story is a wonderful look back at the history and legacy of the franchise and we highly recommend you check it out. But, this Spielberg excerpt, is of particular interest.
Warner Bros. secured the rights for four 'Harry Potter' novels for about $2 million. At that point, only the first book was on shelves in England and none had reached America. Warner Bros. tried to get a financial partner on the project, reaching out to studios including Steven Spielberg's DreamWorks, which passed.
Once the books became a sensation, greenlighting the first 'Potter' film became a major priority at Warner Bros., where Alan Horn had recently taken over as president and Barry Meyer as chairman (replacing longtime studio chiefs Terry Semel and Bob Daly). DreamWorks circled back and proposed a partnership, but Horn wisely declined. There was one aspect of the DreamWorks talks that did intrigue him, however.
'I did think it would be worthwhile for Steven Spielberg to direct,' Horn said. 'We offered it to him. But one of the notions of Dreamworks' and Steven's was, 'Let's combine a couple of the books, let's make it animated,' and that was because of the [visual effects and] Pixar had demonstrated that animated movies could be extremely successful. Because of the wizardry involved, they were very effects-laden. So I don't blame them. But I did not want to combine the movies, and I wanted it to be live action.'
Spielberg instead took on Warner's 2001 sci-fi film 'A.I.: Artificial Intelligence,' and the Hogwarts post fell to Chris Columbus, director of 'Home Alone' and 'Mrs. Doubtfire,' who was then tapped for the job ...
Horn's confidence in the franchise and decisions to not partner with Dreamworks and not condense the films was probably one of the best in Warner Brothers' long, storied, history. It ended up resulting in what will probably be – after the final two films – a $10 billion franchise, including home video profits.
On the flip side though, when Spielberg came up with his idea to condense and animate the films, not only had the Potter Phenomeon really not exploded, digital effects weren't quite where they are now. You can imagine being nervous if this new, unexperienced writer J.K. Rowling would be able to keep up the quality of the first book in the sequels. Plus, though game changing films like The Matrix and The Phantom Menace were on the way, the world of Harry Potter feels understandable intimidating from a technical stand point. No one could have foreseen how the books would just keep getting better and more popular. So, animating the movies would seem to solve both those problems. Thankfully for Warner Brothers though, they did something very few people do – NOT listen to Steven Spielberg.
I was working at Scholastic Inc. when the first two books were published and though I was aware of them, I wasn't interested in reading them until Prisoner of Azkaban hit in late 1999. That was when everyone realized, "Holy crap, these books just keep getting better" and it exploded across the world. I'm sure a year after Spielberg made his suggestion, he would have changed his mind. But by that time, Warner Brothers was already rolling.
Do you think a Harry Potter animated film series would have been as rewarding as the live-action franchise?