Tom Holland Hasn't Given Much Thought To A Potential Spider-Man Versus Venom Showdown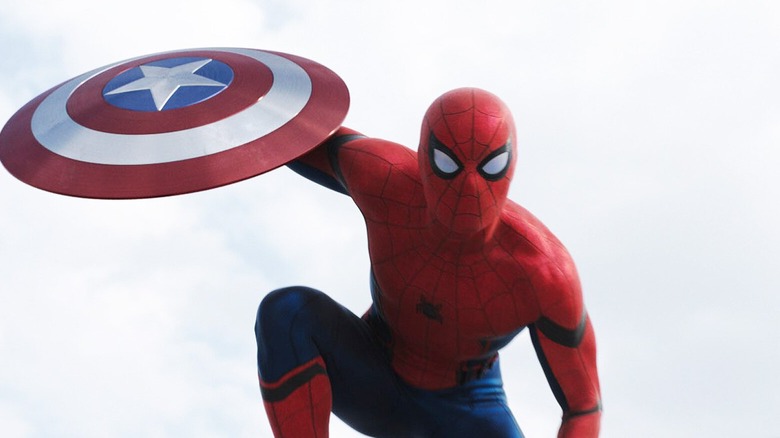 Disney
Spider-Man news is all the rage right now, with "Spider-Man: No Way Home" on the horizon and the internet perpetually abuzz with casting and plot rumors for the multiverse-bridging film. The newest poster reveals a host of baddies challenging our friendly neighborhood arachnid-themed gent, including a very visible Green Goblin and Doctor Octopus tentacles (alongside sand plumes and lightning). It's a far better time to be a Spider-Man fan than it is to be Spider-Man himself.
Following "Venom: Let There Be Carnage" and its end-credits scene (warning, spoilers ahead!) bridging the gap between the Marvel Cinematic Universe and Sony's Spider-Man Universe, there's also been rampant speculation around when we might see our favorite symbiote go toe-to-toe with our favorite web-slinger. In a new interview with Tom Holland himself, the actor reveals ... that he hasn't thought about it much at all.
With Great Villains Comes Great Secrecy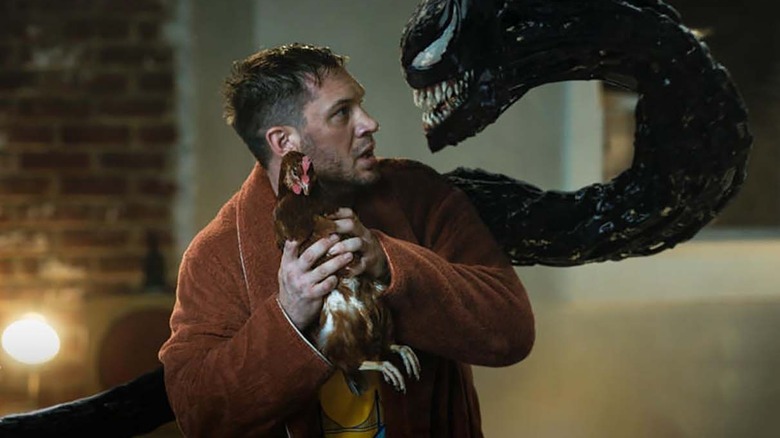 Sony
"Venom: Let There Be Carnage" ends in a post-credits scene that blows Eddie Brock and Venom's world wide open. We see the integrated antihero duo in a lovely beachside hotel room, with Venom teasing Eddie over Venom's vast swath of universal knowledge. Being part of an alien hive mind that spans the universe has its perks, and Eddie wants Venom to share even just a taste of that expansive info. 
Venom reluctantly agrees, but something goes awry: the TV changes, the room feels wrong, and a shockwave unexpectedly passes through the room. Suddenly the TV is showing J. Jonah Jameson, the very same from the MCU, revealing that Peter Parker is Spider-Man (as seen in the post-credits scene from "Spider-Man: Far From Home"). Due to some multiversal shenanigans, Venom and the MCU Spidey are now in the same universe.
In an interview with Total Film (via The Direct), Holland was asked if there's a Spidey-Venom encounter on the docket:
"I genuinely don't know. It was really exciting to be a part of that film. Obviously, Tom Hardy is one of the greatest actors in the world. I'm happy to say that he's a lovely bloke. But I haven't really given it very much thought."
With the exact cameos and appearances in the film being a tightly guarded secret, Tom Holland is certainly careful about giving too much away. Let's dig a little deeper. 
Spider-Man, Spider-Man, Fights Whoever A Spider Can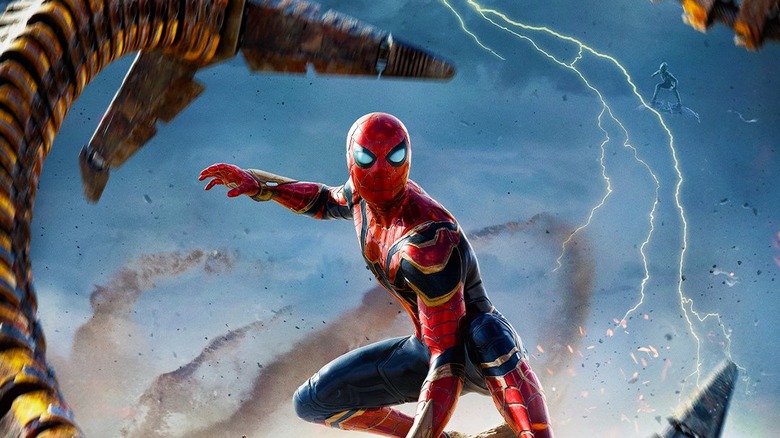 Disney
If there's one thing you can say for sure about the Marvel Cinematic Universe, it's that nothing significant happens without it being intimately tied to their plan for the next few years. With this and Holland's comment in mind, the future of the two fan-favorite characters is almost certain: Venom won't be appearing in "No Way Home" (except perhaps in a post-credits cameo) but some sort of encounter is inevitable.
While much of "Spider-Man: No Way Home" is still a secret, the big news of the moment is that the Marvel Studios has confirmed Doctor Octopus and Green Goblin will return, along with Electro and Sandman. There is thus far no hint of a fifth major villain anywhere in the current marketing or any statements, so it makes sense that Holland hasn't given it much thought: he's already dealing with four villains, he's busy! At the same time, bringing Venom (and by implication, other Sony villains) into the mainstream Marvel Cinematic Universe right before a major Spider-Man release is no accident... it's a sign of what's to come. 
Of course, there's no way to say when that integration may happen or what it would look like. It's clear, though, that both Marvel Studios and Sony are keeping their respective options open as per future villain visits. Sony's "Morbius" trailer mentions Venom, teases Rhino, and we presumably see Michael Keaton's Vulture/Adrien Toomes. In short, we're unlikely to see the Venom/Spider-Man interaction any time soon... but our spider senses are saying it's coming like Flash Thompson's fist.
"Venom: Let There Be Carnage" is in theaters now. "Spider-Man: No Way Home" releases December 17, 2021.