Morbius Trailer Breakdown: Jared Leto Enters The Marvel Multiverse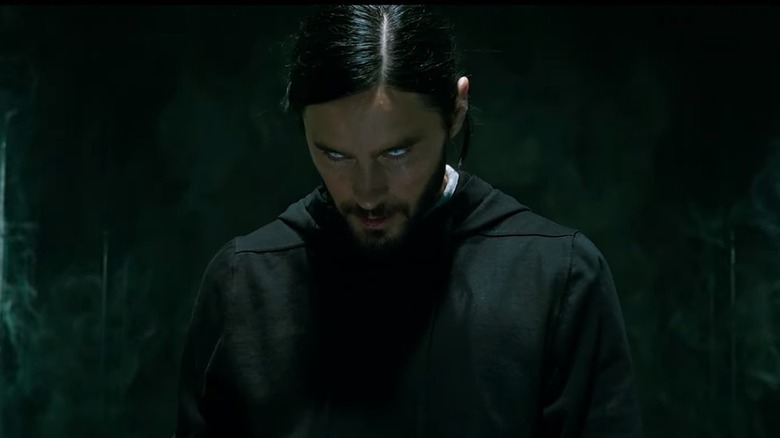 Sony Pictures
Today offered us a new trailer for Sony's "Morbius," the latest entry in the studio's Spider-Man spin-off universe. Thanks to the wild success of "Venom" and, more recently, "Venom: Let There Be Carnage," the studio is attempting to make the most of what they've got. Next up is Oscar-winner Jared Leto taking on the title role in this one, which has been delayed significantly by the pandemic. But it's set to arrive early next year and, if this trailer is to be believed, it will be quite consequential for Marvel fans. 
Let's take a look at the trailer in more detail and attempt to break it all down, shall we?
Jared Leto Is a Sick Bat Man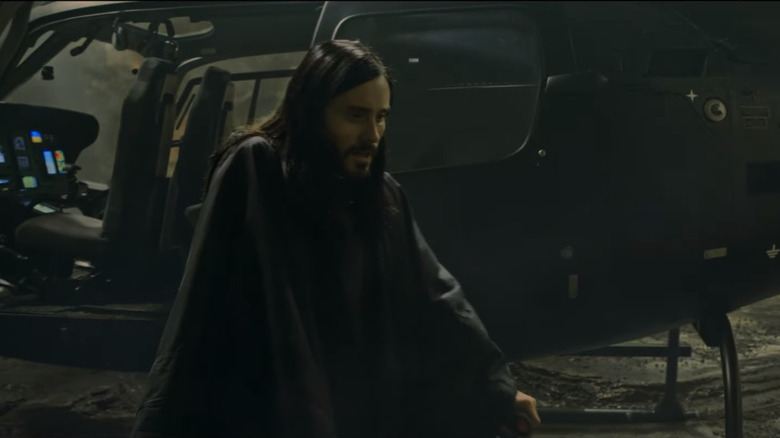 Sony Pictures
The trailer kicks off with Michael Morbius (Jared Leto) heading to a mysterious cave to cure his chronic disease, which prevents him from walking on his own power, among other things. This leads him to a cave with lots and lots of bats in it. He then cuts himself to draw their attention and is bathed in bats, which seemingly gives him his powers in the movie version of this Marvel Comics adaptation. Movies tend to take liberties with the source material, and this appears to be no exception.
We get glimpses of his life as a doctor, trying to save lives and improve the lives of others, but clearly, he just wants to fix his own issues. Unfortunately, this bat-heavy solution comes with consequences. Case in point, after Michael was left for dead, he was rediscovered aboard a tanker ship and, unfortunately for the crew, he's got a taste for blood now. Some blood drips on this poor guy's hand and the armed guards are dispatched with ease. 
As we can see above, Tyrese Gibson's character, lawman Simon Stroud, is questioning Mr. Morbius about the situation. We see much of Stroud throughout the trailer alongside Al Madrigal's Agent Rodriguez, positioning him as an important character in the movie.
The Living Vampire Emerges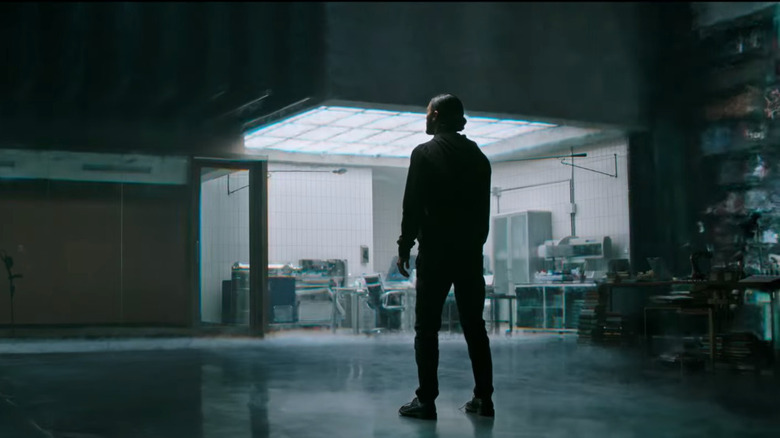 Sony Pictures
Here we get into "exploring newfound powers" territory, with Michael realizing he now has some fancy new upgrades to his body, gifting him bat-like abilities. He has echolocation of sorts, which we can see him using in the above image. Also of note: we see a shot of Horizon Labs, headed up by Max Modell in the pages of Marvel Comics, who is a hero to Peter Parker. Some connective tissue, perhaps? Not coincidentally, Michael Morbius also works there in the comics and is the creator of the Anti-Spider virus serum. Certainly worth noting.
As far as his powers go, he's got super-strength, as we see him lifting a vampire-like tomb of sorts, as well as the ability to kind-of fly. We see the sequence of him floating in front of a train in the subway, with his eyes getting all wacky, seen below.
Now we have another intriguing easter egg in the form of an Oscorp building in the skyline. It's a brief appearance, but a crystal clear one, with the logo bright and certainly visible in this shot.
What does this mean, precisely? Dear reader I assure you I don't know. What I can tell you is that this implies the existence of Norman Osborn, and perhaps Harry Osborn, in this universe. It's just a matter of which version, be it one we've already met, or one we've yet to meet. It raises some interesting questions, that much is clear.
It's All Connected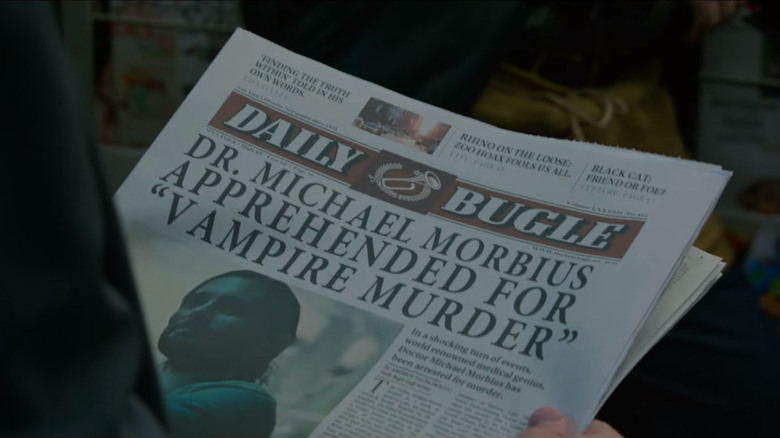 Sony Pictures
Naturally, Morbius begins to lose control, which makes sense since he is known as "the Living Vampire" after all. We get a montage of these urges getting the best of him, and you can see some of those shots below. But much of the back end of the trailer is focused on providing connections to other Marvel projects, namely "Venom" and, quite possibly, the Marvel Cinematic Universe. See the clip of the Daily Bugle above. Also, there is a "rhino" mention on that page, which could be taken as a reference to Paul Giamitti's character from "The Amazing Spider-Man 2," but probably not.
Here we get an interesting shot of Stroud holding up a newspaper bat with some blood on it at a crime scene, which appears to be a calling card of sorts, presumably left by Michael during one of his vampire fits. Around this time we also get a look at Matt Smith's character, who doesn't say anything during the trailer. But we do know he is playing Loxias Crown, aka Hunger, the villain of this tale.
Now we enter multiverse territory again with a couple of intriguing shots that are, more or less, things that were revealed in the previous trailer. First up is the Spider-Man graffiti with "murderer" spray-painted across it. Not only does this confirm the existence of Spider-Man in this universe, but the depiction appears to be Tobey Maguire's version from the Sam Raimi "Spider-Man" trilogy. Make of that what you will for now.
Next, we get a quick glimpse of Michael Keaton, seemingly reprising his role as Adrian Toomes from "Spider-Man: Homecoming," a movie firmly rooted in Disney's Marvel Cinematic Universe. We seem to be getting into full-on multiverse territory here and, given the "Venom" reference later in the trailer, this movie's place within the multiverse is a bit confusing at the moment.
From then on out it's a whole lot of action, with the trailer playing up the anti-hero angle, with the line between hero and villain being blurred. Jared Leto dodges bullets, flashes his claws, and does several slow-mo superhero-like things. Here are a few examples. 
Last, but certainly not least, we get the full-on "Venom" name-drop at the end of the trailer when Michael jokes to a bad guy that he is Venom before interrupting himself by adding, "I'm just kidding. It's Dr. Michael Morbius, at your service." 
It's an arguably cringe-y way to accomplish this, but it does firmly place these two movies in the same universe. And also we get a money-shot of Leto in full-on vampire mode to put a bow on the whole thing. 
And that's about it! What does it all mean? We will have to see what comes of this craziness when "Morbius" hits theaters on January 28, 2022.