And Just Like That, The Sex And The City Revival Wraps Filming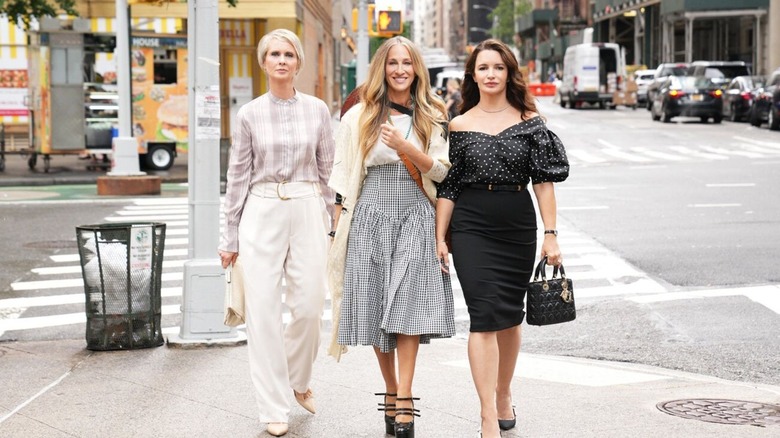 HBO Max
As I sit at my laptop writing about the wrapped production of "And Just Like That...," the "Sex and the City" revival for HBO Max, I can't help but wonder, is it possible for any of us to know when we've finally wrapped or do we all just continue spinning off?
Sarah Jessica Parker's time as Carrie Bradshaw has finally come to a close, as the actress shared that she's completed filming "And Just Like That...," the HBO Max "Sex and the City" revival, to her Instagram. SJP noted that she was "feeling sentimental," closing the chapter on a character she's been playing since 1998. "This is my last walk, for now, as Carrie," she said behind the camera in her Instagram story video. "And that's it — wow." In the clip posted to her story, SJP recorded her final walk towards Stage 4 of the studio where "And Just Like That..." was produced.
The new series will focus on Carrie (Sarah Jessica Parker), Miranda (Cynthia Nixon), and Charlotte (Kristin Davis), while Samantha (Kim Cattrall) will not be returning. Fortunately, the show has brought on new faces like Sara Ramírez ("Grey's Anatomy"), Sarita Choudhury ("The Green Knight"), Nicole Ari Parker ("Empire"), Karen Pittman ("Luke Cage"), and a return from some favorites like Aidan Shaw (John Corbett), and of course, Mr. Big (Chris Noth).
What And Just Like That... Is About and When We Can See It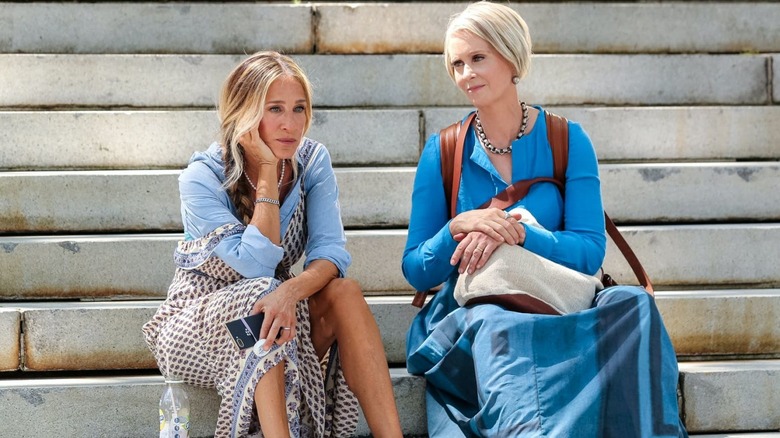 HBO Max
The 10-episode revival of "Sex and the City" focuses on three of the four iconic characters now learning how to navigate life, friendship, love, and parenthood in their 50s. SJP and showrunner Michael Patrick King first thought of the idea for the show after discussing the possibility of a "Sex and the City" podcast during the early months of the pandemic, and felt inspired to explore how the pandemic and all of the health, political, environmental, and social ramifications that come along with it would impact the core group of characters. "And Just Like That..." will be set in the current era, through the lens of the pandemic and subsequent fallout.
"Sex and the City" is considered one of the best television series of all time, earning 54 Emmy nominations (winning seven) and 24 Golden Globe nods (winning eight) over the show's six season run. Chris Noth who plays Carrie's longtime love interest Mr. Big took to Instagram to share his own celebration of the show's wrap, with an adorable photo of him and SJP with the caption "Late night finish in the park- love every minute we get to be together."
"And Just Like That..." is dropping on HBO Max sometime in December 2021.