Eternals Check-In Posts Are Being Flagged By Facebook And It's Unclear Why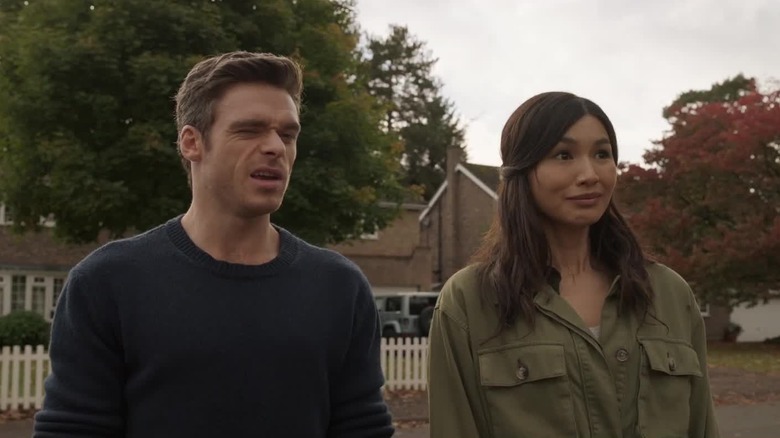 Marvel Studios
Something very strange is happening over in Facebook land in regards to Marvel's "Eternals." Specifically, for currently unknown reasons, the social media giant is flagging posts about the movie for violating community standards. People have been sharing their experiences about it on other social media sites such as Twitter and Reddit. Have a look.
Why is Facebook considering posts about seeing #Eternals as breaking community standards and taking them down? pic.twitter.com/zyPMcwmc8X

— Slice of Paisano 🍕 (@dominicsjr) November 6, 2021
Good to see #Facebook taking down my very hurtful post regarding #Eternals Zuckerberg must either really hate or love it pic.twitter.com/ZQUG4rwiaP

— ThirdWinchester 🍑 (@3WinchesterGMG) November 8, 2021
Even yours truly had his completely harmless post about seeing the movie at my local AMC in IMAX taken down for reasons that have yet to be made clear. Check it Out.
The commonality here is that the posts being flagged are ones where people are checking in to see the movie on Facebook at the movie theater of their choosing. It's not just any old post about "Eternals," or ones talking about specific elements of director Chloe Zhao's film. For whatever reason, the check-ins are prompting these flags. Facebook, as of this writing, has yet to address the issue. To further illustrate how widespread the issue is, a Reddit thread emerged a few days ago revealing that this is also happening to people in Australia. This is, in a word, bizarre.
So What the Heck is Going On?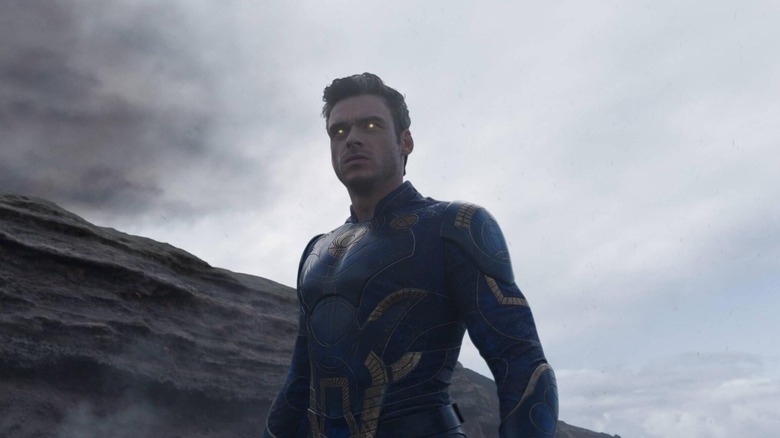 Marvel Studios
Aside from the fact that Facebook appears to be flagging run-of-the-mill social media posts about the biggest movie in the world right now seemingly without reason, this may have large ramifications. Social chatter is a big way to help drive people to see a movie. While "Eternals" has been critically divisive, audience reaction could help persuade moviegoers to give it a shot. People checking in and sharing their reactions with other friends on Facebook is one way that undoubtedly can influence those within one's inner circle to see — or not see — a movie.
With that in mind, as so many of these "Eternals" check-in posts are being flagged, that will result in a lot less chatter following the movie's opening weekend. That could, and we stress could, have an effect on the bottom line. This is no small thing. Should Facebook respond to the matter, we'll be sure to update you.
This is the third Phase 4 MCU movie following "Black Widow" and "Shang-Chi and the Legend of the Ten Rings." Its massive cast includes Angelina Jolie, Gemma Chan, Richard Madden, Kumail Nanjiani, Lauren Ridloff, Brian Tyree Henry, Salma Hayek, Lia McHugh, Don Lee, and Kit Harrington.
"Eternals" is in theaters now.
Marvel Studios' Eternals features an exciting new team of Super Heroes in the Marvel Cinematic Universe, ancient aliens who have been living on Earth in secret for thousands of years. Following the events of Avengers: Endgame, an unexpected tragedy forces them out of the shadows to reunite against mankind's most ancient enemy, the Deviants.