Everything We Know About Butcher's Crossing So Far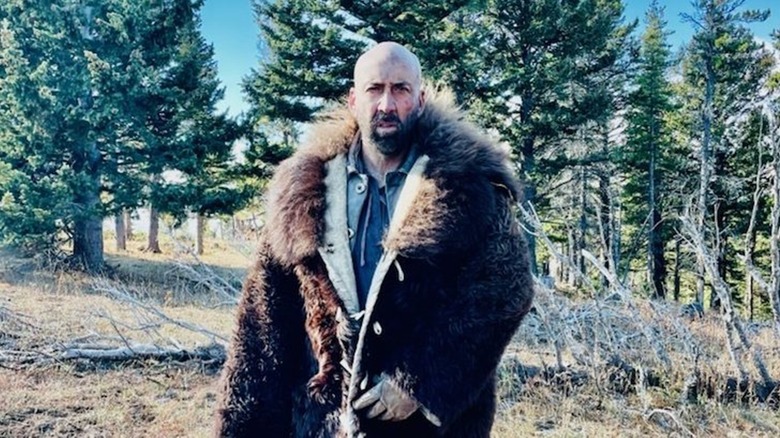 Saban Films
By now, we should know enough not to judge a Nicolas Cage movie by its cover. The stunningly melancholy and introspective "Pig" still stands tall as one of my favorite movies of the year so far, despite featuring a premise that had most people giggling about "another ridiculous Cage movie." His widely celebrated voice role as Spider-Man Noir in "Spider-Man: Into the Spider-Verse" proved that the actor had no trouble adapting to entirely different mediums as well, with "Mandy" proving much the same but for the genre of fantasy/horror. 
In that same nonjudgmental spirit, allow yourself to be refamiliarized with "Butcher's Crossing" as we dive into everything we know so far about the latest film in the unparalleled Nicolas Cage Experience.
When And Where To Watch Butcher's Crossing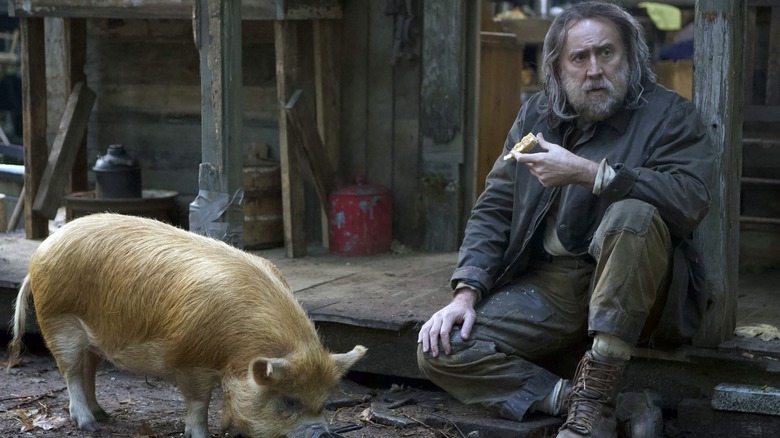 Neon
"Butcher's Crossing" has yet to receive an official release date, though it was acquired by Saban Films for theatrical distribution in North America, Australia, New Zealand, South Africa, France, Germany, Austria, Switzerland, and Scandinavia. Production on the film began in the Fall of 2021 in Montana, so expect to receive more concrete details in the coming weeks and months for a release date sometime in the latter half of 2022 or even in early 2023. Altitude will handle distribution in the U.K. and Ireland.
What Butcher's Crossing is About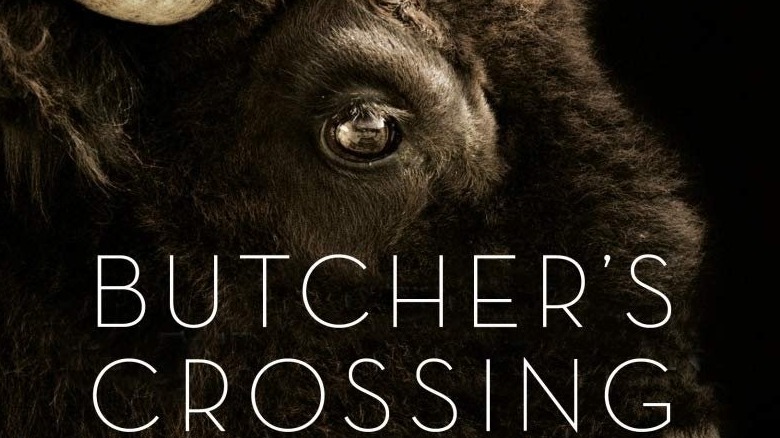 Macmillan Inc.
"Butcher's Crossing" is an adaptation of a novel of the same name, published by author John Williams in 1960. The story follows "...a young Harvard dropout who seeks his destiny out West by tying his fate to a team of buffalo hunters led by Miller. Together, they embark on a harrowing journey risking life and sanity. The title refers to the small Kansas town where the two intersect in the novel's story, which is set in the 1870s." 
The Goodreads synopsis provides a much more in-depth look at the plot:
It is the 1870s, and Will Andrews, fired up by Emerson to seek "an original relation to nature," drops out of Harvard and heads west. He washes up in Butcher's Crossing, a small Kansas town on the outskirts of nowhere. Butcher's Crossing is full of restless men looking for ways to make money and ways to waste it. Before long Andrews strikes up a friendship with one of them, a man who regales Andrews with tales of immense herds of buffalo, ready for the taking, hidden away in a beautiful valley deep in the Colorado Rockies. He convinces Andrews to join in an expedition to track the animals down. The journey out is grueling, but at the end is a place of paradisal richness. Once there, however, the three men abandon themselves to an orgy of slaughter, so caught up in killing buffalo that they lose all sense of time. Winter soon overtakes them: they are snowed in. Next spring, half-insane with cabin fever, cold, and hunger, they stagger back to Butcher's Crossing to find a world as irremediably changed as they have been.
What We Know About the Butcher's Crossing Cast and Crew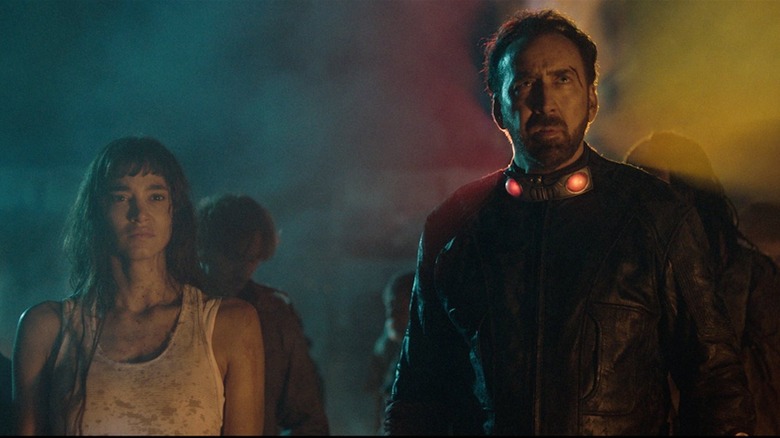 RLJE Films
Nicolas Cage, of course, portrays the main buffalo hunter Miller and is joined by Fred Hechinger ("News of the World," "The Underground Railroad," the "Fear Street" trilogy) as Will Andrews, Gabriel Clark as Clerk, and Miles Auckland as an unnamed hunter. "Butcher's Crossing" is co-written and directed by Gabe Polsky, known primarily as a producer and for directing documentaries previously. He co-writes the script along with Liam Satre-Meloy, based on the original novel by John Williams.