The 15 Best Amazon Prime Original Series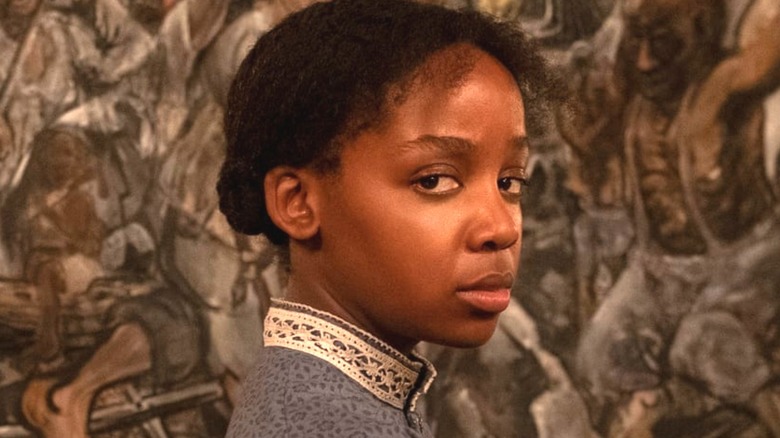 Amazon Prime
Amazon Prime was not the first streamer to produce original content, but over the years it has developed a solid block of programming that can go toe-to-toe against anyone else in the game. Since 2013, when the first original shows began to stream on Amazon Prime, its reputation has only risen. 
In the beginning, many of Amazon's shows were underrated gems that flew under the radar, struggling to compete with the larger efforts from network and cable television, to say nothing of competitors like Netflix and Hulu. And in terms of awards recognition, it maintains underdog status. In 2021, Netflix received 129 nominations at the Emmys, while Amazon Studios received just 18. 
But the tides have begun to change in recent years, albeit slowly, beginning with the victory of "Fleabag" in the outstanding comedy series category, a win that would signal Amazon Studio's status as a power player amongst the streamers. Regardless of its awards prospects, however, Amazon Prime has been producing excellent television for several years now. Here are its best shows.
15. Britannia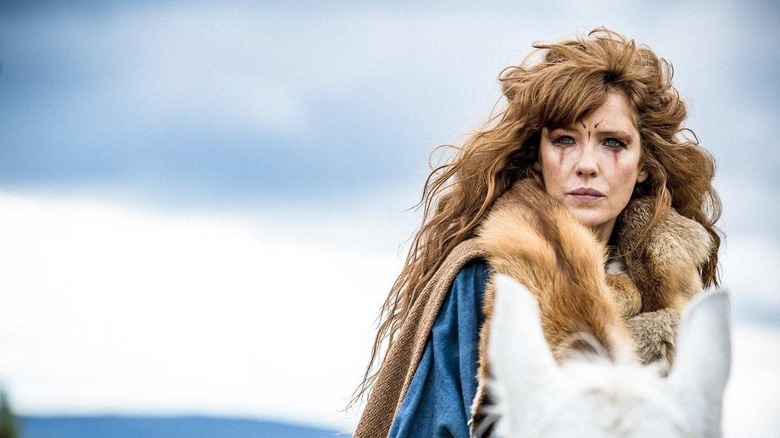 Amazon Prime
In the grand tradition of "Vikings," "Rome," and "The Last Kingdom," "Britannia" brings to life the inherent drama of ancient civilizations at war. It pits Roman invaders against the native Celts of Britain in the first century AD, following both the female warriors and the mysterious Druid spirituals who would define the period in myth and legend. Starring David Morrissey as Roman general Aulus Plautius, and Zoe Wanamaker and Kelly Reilly as the leaders of two distinct Celtic tribes, it combines fantasy and historical fiction in a way that would likely endear it to "Game of Thrones" fans, if only more people had heard of it. 
"Britannia" represents the first collaboration between Amazon Studios and the UK network Sky, although Amazon would ultimately abandon the production — it was produced solely by Sky for the second season, with fledgling streaming network Epix signing on for the upcoming third season.
14. Hanna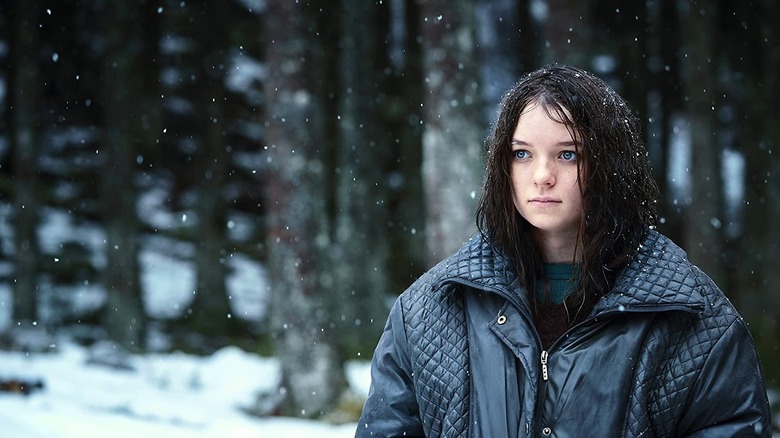 Amazon Prime
With "John Wick" and its many imitators, the market for content about adult assassins is pretty much saturated, but there's always room for a show about a pint-sized operative who has been trained to kill, and that's what we get with "Hanna." Based on the Saoirse Ronan film of the same name, "Hanna" stars Esmé Creed-Miles as a girl born into a CIA super-soldier facility and raised in the forest under the watchful eye of a defector, who must fight to stay alive when the program's subjects are ordered to be eliminated. 
In a cultural landscape where these types of characters are often given the most perfunctory of backstories, it's an interesting change of pace to have an entire series devoted to establishing a narrative that details who they are and where they come from. It's even rarer to find one that, despite featuring all the grit and violence viewers expect from the genre, is perfectly willing to run on a slow burn, luxuriating in the character and world-building processes.
13. Upload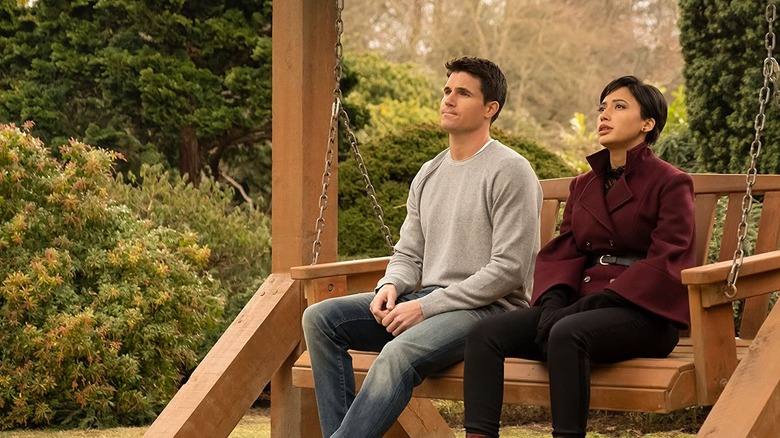 Amazon Prime
Things are getting pretty sticky here on Earth, so it kind of makes sense that comedies with a heavy dose of existential dread are having a moment. It started with "The Good Place," a show that grounded itself in philosophical musings about the nature of Heaven and Hell, and continues here with "Upload." The central conceit of the show is a world where you are uploaded to a virtual afterlife of your choosing after death, and it follows the exploits of a young, recently deceased computer programmer (Robbie Amell) as he adjusts to his new reality. 
Amell proves once again to be a much more adept comic performer than anyone has given him credit for, and "Upload" is packed full of oddball charm. Its technologically driven vision of the afterlife is one that feels particularly in tune with our current society: you can easily imagine Elon Musk building a system like this in a desperate bid to cheat death.
12. The Boys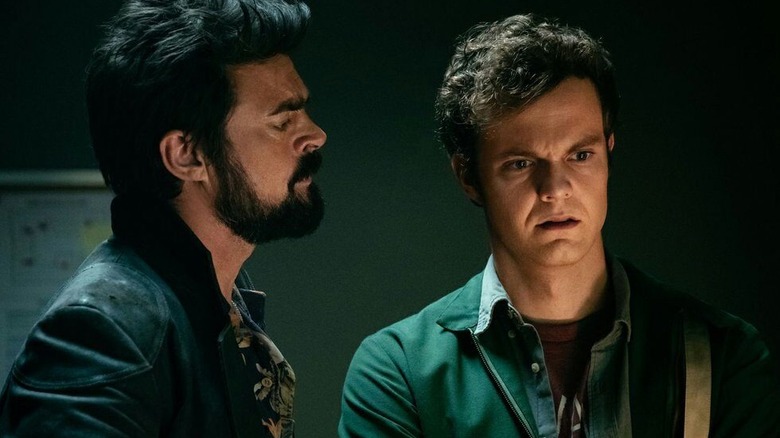 Amazon Prime
Given how superhero films and television shows have dominated the cultural zeitgeist for the past 20 years, audiences would be forgiven for assuming that every approach to the genre has already been covered. But somehow, "The Boys" manages to slip in and fill an underserved niche: the snarky, cynical show that uses satirical humor to question a society that worships superheroes as gods. 
"The Boys" features a massive conglomerate that functions as the ultimate PR organization for superheroes, hyping them up when they've been good and desperately trying to hide skeletons in their closets when they've been naughty. The titular Boys are on a mission to expose the company's lies and secrets, and by extension the superheroes who are allowed to get away with various misdeeds. In many ways, it operates in a similar space as "Watchmen," only "The Boys" doesn't take itself nearly as seriously.
11. A Very English Scandal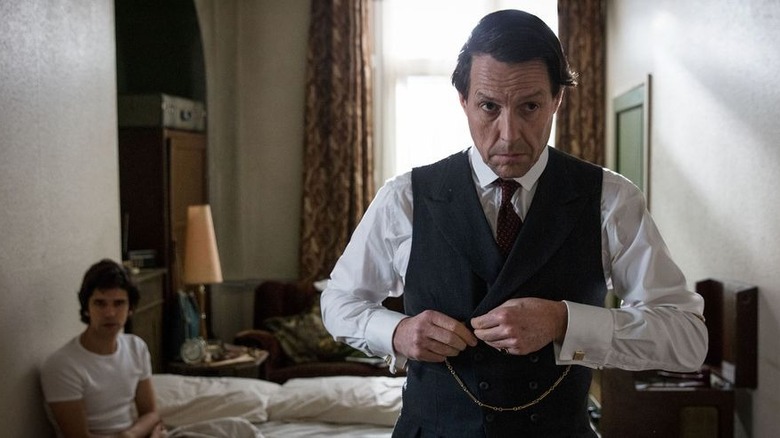 Amazon Prime
A key part of Hugh Grant's career renaissance, "A Very English Scandal" is the project that the formerly floppy-haired '90s heartthrob would use to further develop his credibility as a serious actor. He appears here alongside his "Paddington 2" costar Ben Whishaw, bringing to life the sordid exploits of Jeremy Thorpe, a Liberal Member of Parliament accused of conspiring to murder his ex-lover Norman Scott in the 1970s. 
Despite criticism from major players in the real-life story (Norman Scott was unhappy with his portrayal on the show), "A Very English Scandal" garnered widespread acclaim, receiving four Emmy nominations, including one win for Ben Whishaw in best supporting actor. Although originally conceived as a three-episode miniseries, it has since been renewed for a second season, this time starring Paul Bettany and Claire Foy as the Duke and Duchess of Argyll, whose acrimonious divorce rocked English society in the 1960s.
10. Good Girls Revolt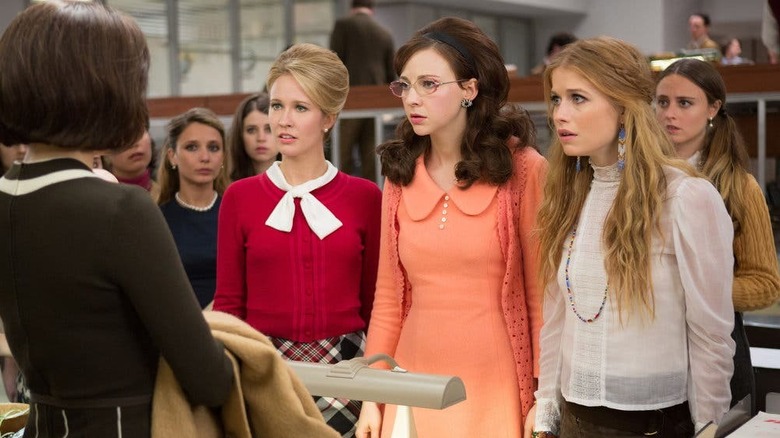 Amazon Prime
One of the great travesties of Amazon's early original programming efforts was the cancellation of "Good Girls Revolt" after just one season. Attempting to capitalize on the success of shows like "Mad Men," "Good Girls Revolt" is steeped in the toxic office culture of the late 1960s. It highlights the efforts of Patti Robinson and her female colleagues at "News of the Week" as they advocate for equal rights in a deeply misogynistic, male-dominated newsroom. Its period details are note-perfect, as is its depiction of a historical feminist movement that had a massive impact on women's ability to exist in the workplace. 
With a strong cast of female leads and generally positive reviews from critics, it came as something of a shock when Amazon declined to renew the series. It's hardly a reflection on the show's quality, though; we can probably chalk this one up to growing pains, as Amazon struggled to carve out a path for itself as a producer of original series.
9. The Tick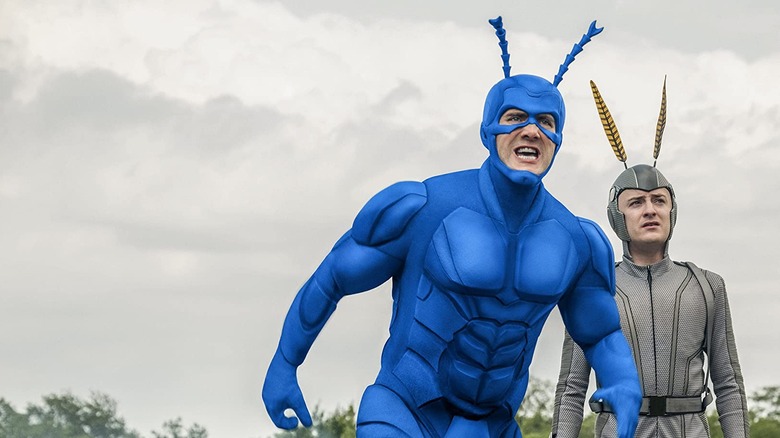 Amazon Prime
Superhero properties tend to exist in black and white. They're either achingly earnest or brooding and cynical, with very little space to operate outside those two extremes. "The Tick" is a prime example of a show that falls somewhere in between, opting for a sort of knowing wink at the superhero genre rather than taking a fully satirical approach. It has a cult following, but also something of a doomed legacy: "The Tick" has been adapted multiple times over the years, but while the animated kids' show proved fairly popular, the first live-action comedy was cancelled quickly, and only became appreciated long after it went off the air. 
Sadly, this iteration of "The Tick" fared much the same. The exploits of the bemused amnesiac, the Tick (Peter Serafinowicz), and his human sidekick Arthur charmed audiences enough for the show to last for two seasons, after which it was unceremoniously cancelled by Amazon. Despite the best efforts of cast and fans to stage an eleventh-hour rescue mission, the last episode aired in 2019. "The Tick" is unlikely to return.
8. Undone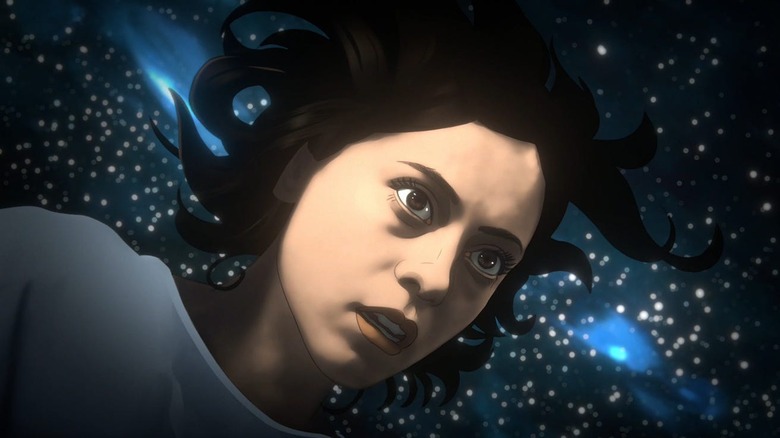 Amazon Prime
One of Amazon Studios' rare animated efforts (and the first to use rotoscoping, a technique of animating that uses live-action footage almost as a stencil), "Undone" is intriguingly abstract. When Alma (Rosa Salazar who, with her performance in "Alita: Battle Angel," has begun to make a career out of playing characters who look almost human) gets into a serious car accident, she discovers to her amazement that her relationship with time is not what it was before the crash. 
As Alma maneuvers through what is essentially a metaphysical existential crisis, traveling haphazardly through space and time in an attempt to discover the truth about her father's death, "Undone" finds itself unbound by the constraints of traditional storytelling, opting instead to embrace an atmosphere that is delightfully surreal. It's certainly not the most conventional follow-up for Raphael Bob-Waksberg and Kate Purdy, the creators of Netflix's "Bojack Horseman," but it is an entertaining, thoughtful entry into the genre of adult animation nonetheless.
7. Good Omens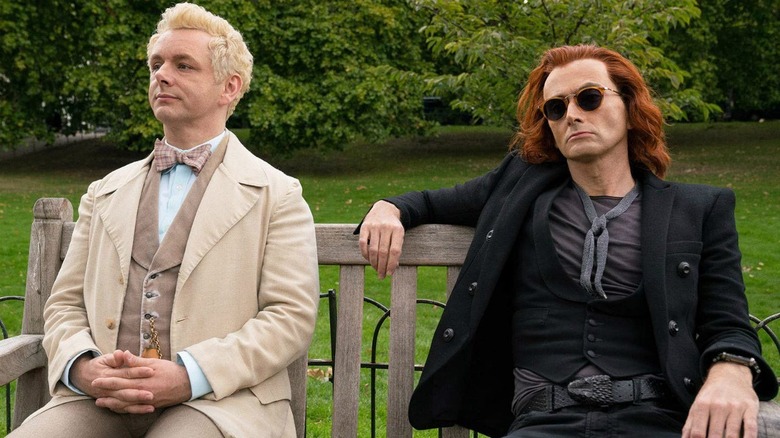 Amazon Prime
Based on a collaboration between fantasy and science fiction legends Neil Gaiman and the late Terry Pratchett, a film or television adaptation of "Good Omens" had been kicking around for quite a while before being optioned by Amazon. To be fair, it's not the most filmable of stories — it stretches all the way back to the Garden of Eden and features angels, demons, hellhounds, the Four Horsemen of the Apocalypse, and the son of Satan himself. There's a lot going on.
But somehow, this miniseries makes it work. This is in large part thanks to the incredible chemistry between Michael Sheen and David Tennant in the lead roles of Aziraphale and Crowley. They play an angel and demon who, having grown rather attached to Earth after spending several thousand years among humanity, team up to thwart the impending apocalypse. It's imaginative and wildly funny; think "The Odd Couple" meets "The Omen."
6. The Man in the High Castle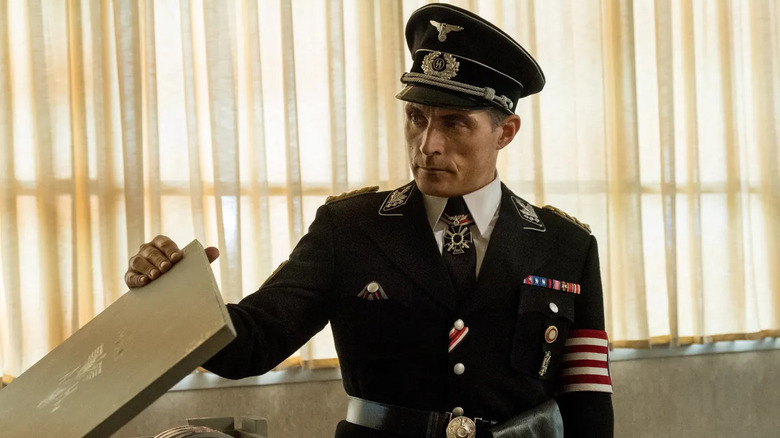 Amazon Prime
"The Man in the High Castle" operates in a similar space as "The Handmaid's Tale," both reflecting a fictional fascist dystopia that feels disconcertingly nonfictional to many 21st century audiences. Based on a novel by Philip K. Dick, the show depicts an alternate timeline in which Germany developed the atomic bomb first and won World War II. The former United States is split into spheres of influence, with a Nazi government occupying the East Coast and Japanese forces controlling the west. 
The resistance has been all but crushed, and the only vestiges of it are whispers of the Man in the High Castle, a mysterious figure who has recordings of other worlds, where the events of World War II unfolded differently. "The Man in the High Castle" is incredibly restrained, content throughout the entire series to execute a slow burn. With strong performances from a large ensemble cast, "The Man in the High Castle" blends a science fiction narrative of multiverses with a disturbingly realistic depiction of fascist America.
5. The Marvelous Mrs. Maisel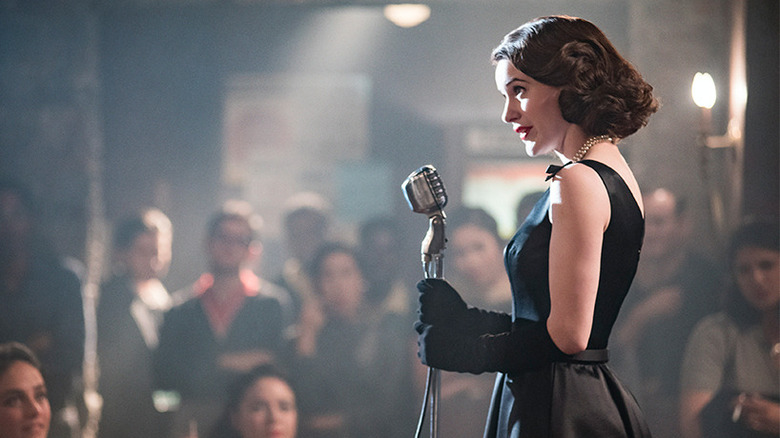 Amazon Prime
Sometimes you want a clever narrative, and sometimes you just want to sit back and enjoy the beauty of a gorgeously designed mid-century throwback. At its best, "The Marvelous Mrs. Maisel" manages to be a little bit of both. Truly, we are living in a golden age for period dramedies. In this Amy Sherman-Palladino offering, Midge Maisel's (Rachel Brosnahan) career as a comedian begins as her marriage ends; stunned by the discovery of her husband's infidelity, she gets drunk and winds up doing a very lewd stand-up routine that makes waves on the Lower East Side. 
What follows is a journey of liberation. Midge defies the expectations of upper-class Manhattan society, finding fulfillment in her career as a performer. You might initially tune in for the sleek, early 1960s production design, but you'll stick around for the incredible chemistry between Midge and her manager, Susie Myerson (Alex Borstein).
4. Small Axe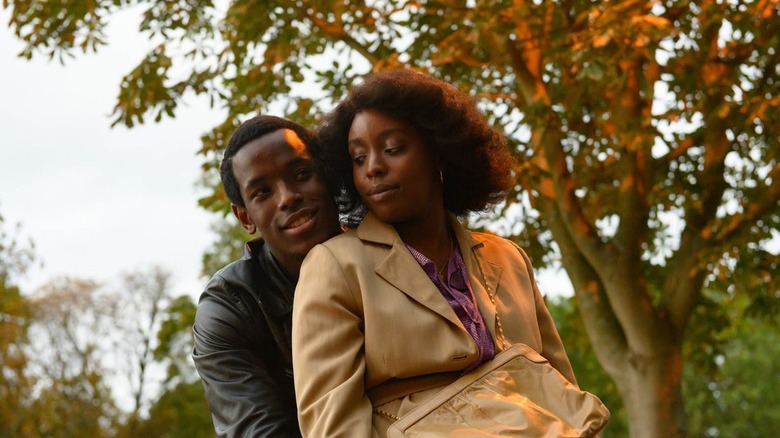 Amazon Prime
Have we finally come to a consensus on what "Small Axe" actually is? Part miniseries, part a collection of television movies, it has occupied an amorphous territory, one that made it feel equally out of place at the Emmys and the Academy Awards (the latter of which it was considered ineligible for). But that in no way speaks to the quality of each of the five episodes of "Small Axe," which are all delightful in their own ways. 
Narratively distinct from one another but linked by their characters' shared heritage, each explores a different moment in 20th century history through the eyes of London's West Indian community. The best is "Lovers Rock," a gentle, rhythmic romance about two young people who fall in love at a house party in the '80s. Its plot is purposefully thin, allowing for relaxed, organic storytelling, culminating in a memorable singalong of Janet Kay's "Silly Games."
3. The Underground Railroad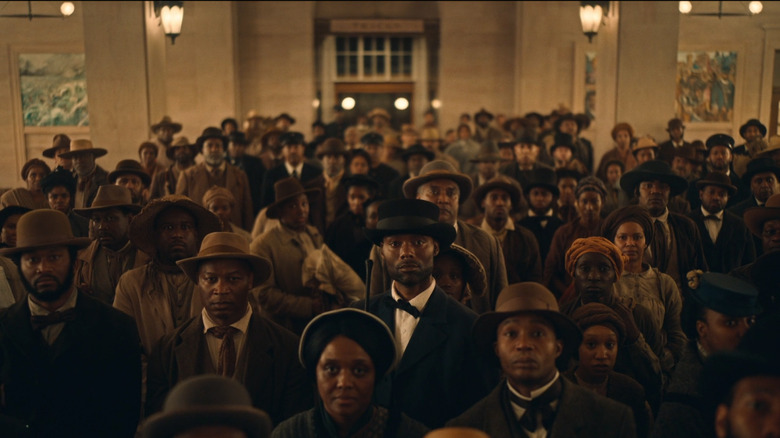 Amazon Prime
The fact that no one watched "The Underground Railroad" is one of the many grave injustices of the 21st century. Barry Jenkins, director of the Oscar-winning "Moonlight," constructs an ode to liberation from slavery with his adaptation of a novel by Colson Whitehead that sees the famous network of abolitionists brought to life as a literal train system. It follows the journey of a young Black woman (Thuso Mbedu) as she makes her way north from Georgia on a perilous journey, continually evading the slave catchers who threaten to deny her freedom. 
Jenkins brings a raw empathy to the production, cultivating a rollercoaster of emotions that keeps the audience engaged, whether his imagery is strikingly beautiful (no one knows how to light a face like Barry Jenkins) or nightmarish. It was nominated for two Emmy awards in 2021, but, thanks to an unusually competitive year in the Limited Series category, wasn't able to take home the awards it so richly deserved.
2. Invincible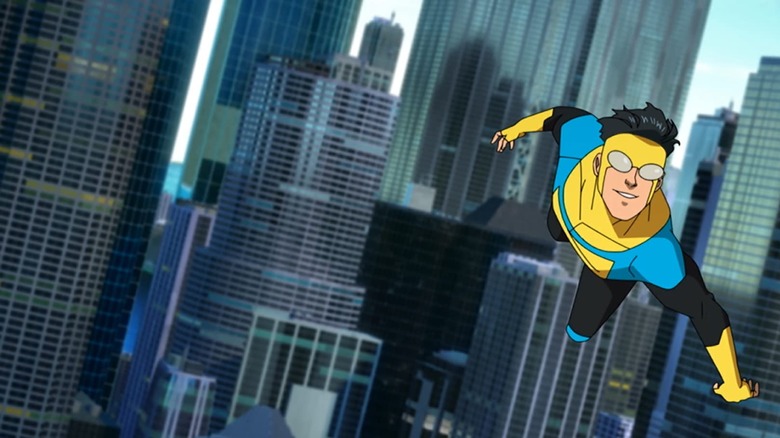 Amazon Prime
You might think that an animated show about superheroes is going to take things a little bit lighter than some of the dour, live-action films we received in the wake of Christopher Nolan's gritty Batman trilogy. But in the case of "Invincible," the bright color palette and offbeat sense of humor are misleading — the series never shies away from gruesome violence and, as it rushes towards its final conclusion, is relentlessly brutal. Steven Yeun plays Mark Grayson, a seemingly ordinary high school student trying to not make a fool out of himself in front of the girls he likes. There's just one thing that makes him a tiny bit different: His father is the famous superhero Omni-Man (J. K. Simmons), and it seems as though Mark has inherited some of his dad's abilities.
Grappling with his new secret identity as a superhero is a minefield for Mark, but as if that weren't enough, a shocking revelation about his family history will shake his entire worldview. Bold, aggressive, and sometimes cruel, "Invincible" takes the traditional superhero origin story into unexpected directions, leaving viewers breathless with its visceral, emotionally devastating finale.
1. Fleabag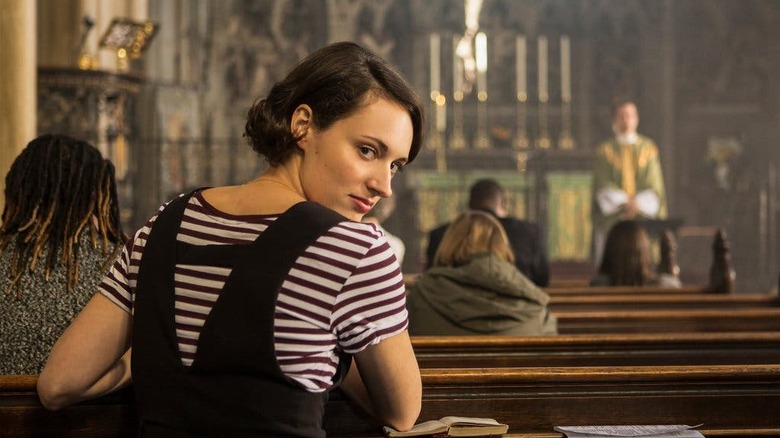 Amazon Prime
Initially based on a popular one-woman show from Phoebe Waller-Bridge, "Fleabag" is a co-production between BBC Three and Amazon Prime that garnered almost instant acclaim. It tells the story of an upper-class woman (played by Waller-Bridge herself) whose life is a complete mess as she determinedly avoids processing residual trauma from her best friend's untimely death. "Fleabag" captures the audience's attention with a ribald sense of humor, the continual breaking of the fourth wall as Waller-Bridge frequently shoots knowing glances to the camera, and occasional moments of deep emotional resonance. 
As good as the first season is, the second is where "Fleabag" earns its place amongst the best shows in television history, with the introduction of an unconventional but incredibly endearing priest, played by the preternaturally charming Andrew Scott. Its efforts would be richly rewarded: "Fleabag" was awarded six Emmys after the second season, including three for Waller-Bridge (outstanding comedy series, outstanding lead actress, and outstanding writing for a comedy series).