5 Things We Learned About Olaf Presents From Josh Gad And Crew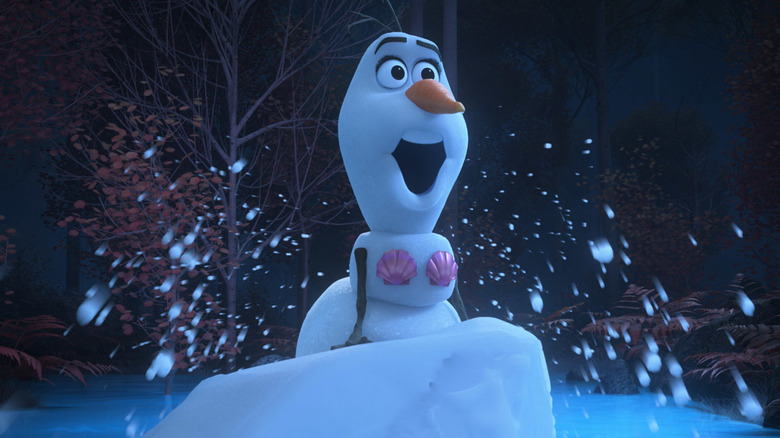 Disney+
Olaf may not know what frozen things do in summer, but he sure knows his Disney stories and is ready to reenact them for all ages. "Olaf Presents" is a new series of short films featuring Olaf the Snowman — the Josh Gad-voiced character from "Frozen" and Frozen 2" — acting out the Disney animated features "The Little Mermaid," "Moana," "The Lion King," "Aladdin," and "Tangled." /Film attended a press conference for the new series featuring Olaf himself, Josh Gad, director Hyrum Osmond, and producer Jen Newfield, all moderated by Patti Murin, the original Princess Anna in "Frozen on Broadway." 
Here are five of our favorite things we learned about "Olaf Presents" from Josh Gad and the rest of the crew.
Josh Gad's Idol is Robin Williams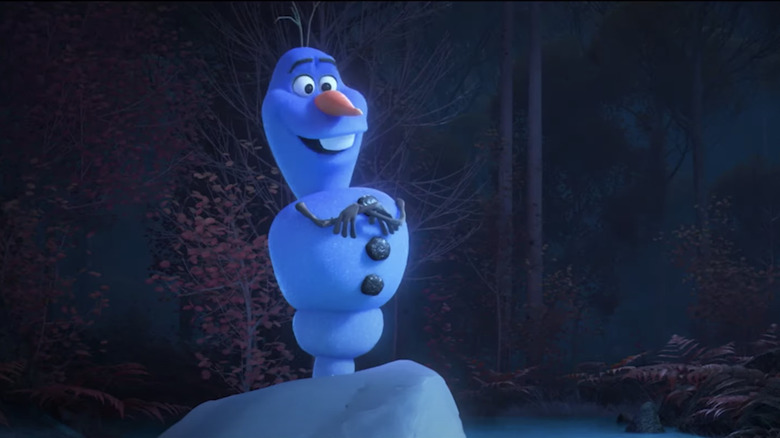 Disney+
For nearly a decade, Josh Gad has been voicing the friendly albeit naive snowman from Arendelle, a true joy for the actor who grew up watching Disney films. "I was at that perfect age during the second golden age of Disney Animation," Gad said. "I remember seeing 'The Little Mermaid' in the theater and being, like, what is this? Why? It feels like a Broadway show on screen ... it was like the first time I can remember applauding in a theatre." Gad said getting to revisit the classic stories was a dream come true, but none more so than getting to tell the story of "Aladdin," and having Olaf do his best impression of The Genie. 
"Getting to sort of play in the footsteps of my idol, Robin Williams, in the world of 'Aladdin,' that was sort of like a pinch myself, very emotional experience for me," Gad said. Producer Jen Newfield echoed the sentiment and said her favorite part of the retelling process was listening to Gad sing "A Whole New World" in Olaf's voice, particularly his dramatic interpretation of the line "Don't you dare close your eyes."
Gad later thanked Newfield and Osmond:
"They really, you know, gave me the opportunity to-to just go crazy ... and Hyrum and Jen, from day one, would just let the mic roll and allow me... and it was just one of those things where it was, like, 45 minutes for a one minute short of just me being an idiot. So that was a dream come true."
Josh Gad Fought For Some of HIs One-Liners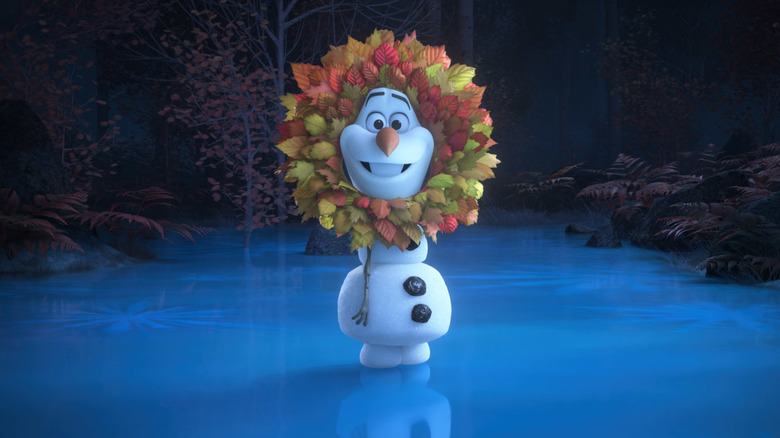 Disney+
I posed a question to the team noting that Olaf's retelling of these stories is very digestible and entertaining for children, but the quick recap style of comedy also feels very much in the wheelhouse for the adults who will likely watch alongside them. I wanted to know what steps were taken from the writing and direction to Olaf's characterizations to find such a great balance that everyone in the family wants to watch. Director Hyrum Osmond said a big part of the process was "taking the liberty to not take ourselves too seriously, especially when you start telling these things from the perspective of this pure, sort of naive Olaf."
Gad interrupted to confess, "There were definitely a lot of moments where Jen and Hyrum said, 'No Josh, no, no, no;' those were my favorite moments early on, figuring out what the boundaries were." However, there were moments when Gad would turn to Newfield and want to fight for the line. "There were a couple of lines that I was like, Oh no, no, I'm going to Bob Iger [executive chairman, chairman of the board, and former CEO of The Walt Disney Company] with this one," he joked. "I'm going to the shareholders with this one," Gad said through a laugh. 
Gad later let us know that during the beginning stages of production, he was recording it all from home, and served as his own sound engineer throughout many of the takes.
Olaf is a Symbol For Growing Up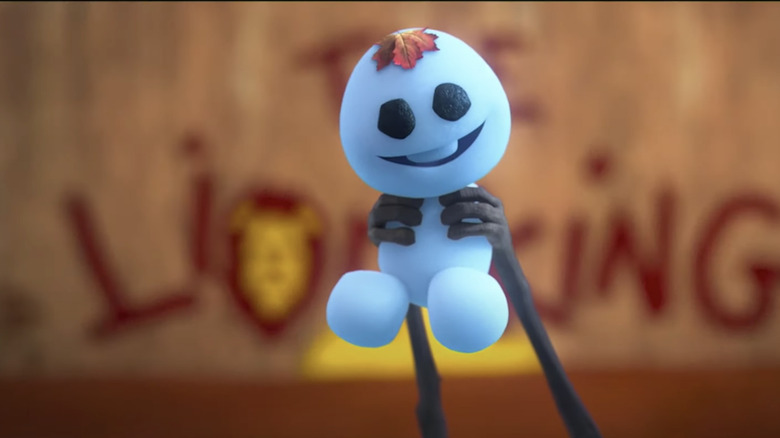 Disney+
Olaf has been around for nearly 10 years, and somehow kids and parents alike still find new things to love about the tap-dancing snowman. In Gad's opinion, Olaf as a character has been growing and evolving over the years, and it's imperative that he never stay stagnant. As Gad said:
"That there's an element of growth and development. So, I like to think of 'Frozen,' in the first 'Frozen,' he's a newborn. He's innocent and-and has so many questions. And then in 'Frozen 2,' he's sort of an adolescent, and he starts to go through this, like, existential kind of crisis. And I think in each of the shorts and-and-and along the way, there's this subtle growth happening in him that I think is important to keeping him interesting and dynamic, so that it never feels like you're just seeing him do the same thing again and again. That there are new wrinkles. As long as we have opportunities for original, developmental, you know, elements to bring him, then I think the sky's the limit with him ... not that anyone wants to see Olaf as, like, an old, angry man screaming at things alone on ice."
Jen Newfield agreed, seeing the art of storytelling as an extension of that growth. As she said, "Using some of the tales that we've told that are so familiar, and which are building off of fairy tales that existed even before the time of Olaf, is that he himself is building on that."
The Hardest Part of Production Was Choosing Which Moments to Feature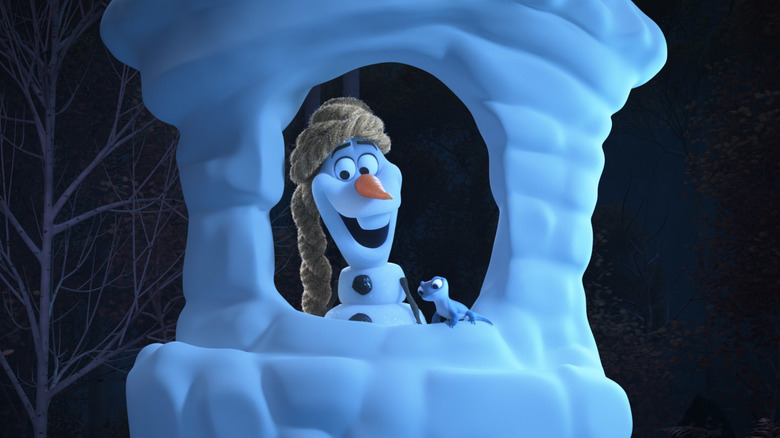 Disney+
With each episode of "Olaf Presents" running less than two minutes, trying to whittle down a feature film into 120 seconds is no easy task. As Newfield said:
"It was very serious business. I mean, whether you decide the genie is gonna ask you if you get three wishes or if Ariel is going to, you know, use a dinglehopper ... I mean, how could you cut out the moment where Maui turns into a shark? I mean, you couldn't. It had to make it in. And, we had so many micro decisions like that. There were a lot of chats about it in the beginning and an insane amount of collaborative ideas that we went through every script together."
For Hyrum Osmond, he wanted to make sure that the focus was Olaf and his buddies, as well as the props used to retell the story. As he said:
"I think my favorite prop is Rapunzel's hair. I kind of imagine Olaf going down by the docks, seeing some length of rope and he's like, 'Ah, perfect!' You know? [laughs] It's just very simple, but just, but-but that's him."
Director Hyrum Osmond is Cool With Snowman Cannibalism ... Sort of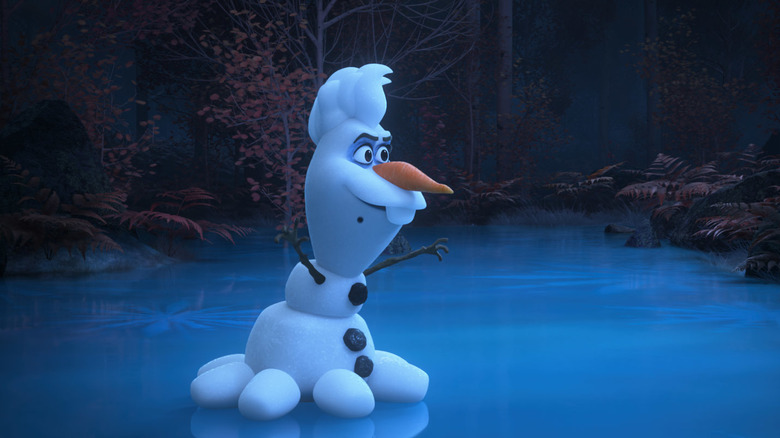 Disney+
A fun question asked at the conference centered on what the creators would do if they were able to spend a day with Olaf, and the answers ranged from charming to incidentally terrifying. Jen Newfield noted that her joy is watching Olaf getting his mind blown, so she'd spend the day showing him things he's never seen before just to see that excitement. "You know that joy too when you have kids, like, you just want everything to blow their mind." For Gad, he said, "I'd ask him to lend me some cash, and then tell him to find his own voice and stop following me around. Like, come on. Awkward." Newfield sat and tried to envision what a day with Gad and Olaf would look like, posing the question, "Like, every time Olaf wants to speak, does he just open his mouth and then [Gad has] to say something for him?"
But it was Hyrum Osmond who playfully said he'd want to spend the day with Olaf hanging out and eating snow cones, until Gad correctly pointed out, "That's a little, that seems a little cannibalistic. That's disturbing, Hyrum." The whole room erupted in laughter at what was clearly a very cute idea that wasn't fully thought through, with Osmond eventually admitting that yes, Olaf eating snow cones or eating snow cones in the presence of Olaf is in fact, super disturbing.
"Olaf Presents" starts streaming on Disney+ Day, which is November 12, 2021.