This West Side Story Teaser Wants To Pretend This Movie Isn't A Musical For Some Reason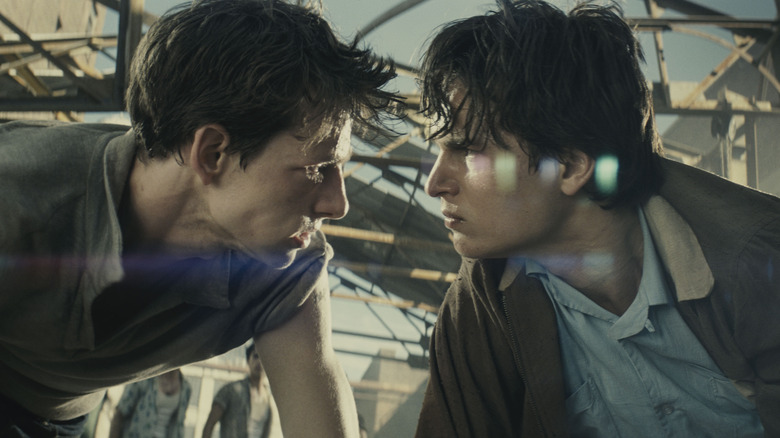 20th Century Studios
When you think of "West Side Story," the first thing that probably pops into your mind are the extravagant musical numbers, the spectacle of colors, the romance and passion between the young couple at the center of this forbidden love story. The upcoming Steven Spielberg remake has treated all of that as a central focus in the footage we've seen so far ... until this amusing black sheep of a television spot, that is. Even the behind-the-scenes sneak peek at the film we recently showed you made sure to strike the proper tone and get fans of the classic story, brought to life in the original 1957 Broadway musical, even more excited for this next adaptation. I'm struggling to think of who this television spot is meant to appeal to, but none of that life and energy is present here whatsoever. It's a bizarrely fascinating choice that I somehow find myself having to respect. At the risk of overselling it at this point, check out the brief footage below.
West Side Story TV Spot
Okay, is it just me or is this clip wildly misrepresenting the film? It's honestly kind of hilarious how this TV spot cherry-picks all the most intense fighting words and visuals in order to make this seem like, I don't know, some sort of gritty crime/drama about a city being plunged into chaos. Last I checked, "West Side Story" was a sweeping and heartfelt romance that embroiled two families from two very different backgrounds into a heightened, melodramatic conflict. This, on the other hand, strips almost all of that away in favor of setting up a disproportionate amount of very non-musical vibes for some inexplicable reason. Reader, I'm baffled! And also highly entertained nonetheless.
Either way, we're just going to assume this one oddball slice of footage doesn't 100% reflect the kind of movie we're in for. "West Side Story" makes its highly-anticipated arrival to theaters on December 10, 2021.
Directed by Academy Award winner Steven Spielberg, from a screenplay by Pulitzer Prize and Tony Award winner Tony Kushner, 'West Side Story' tells the classic tale of fierce rivalries and young love in 1957 New York City. This reimagining of the beloved musical stars Ansel Elgort (Tony); Rachel Zegler (María); Ariana DeBose (Anita); David Alvarez (Bernardo); Mike Faist (Riff); Josh Andrés Rivera (Chino); Ana Isabelle (Rosalía); Corey Stoll (Lieutenant Schrank); Brian d'Arcy James (Officer Krupke); and Rita Moreno (as Valentina, who owns the corner store in which Tony works). Moreno – one of only three artists to be honored with Academy, Emmy, GRAMMY, Tony and Peabody Awards – also serves as one of the film's executive producers.