West Side Story Sneak Peek: Steven Spielberg Takes Us Behind The Scenes Of His Splashy Musical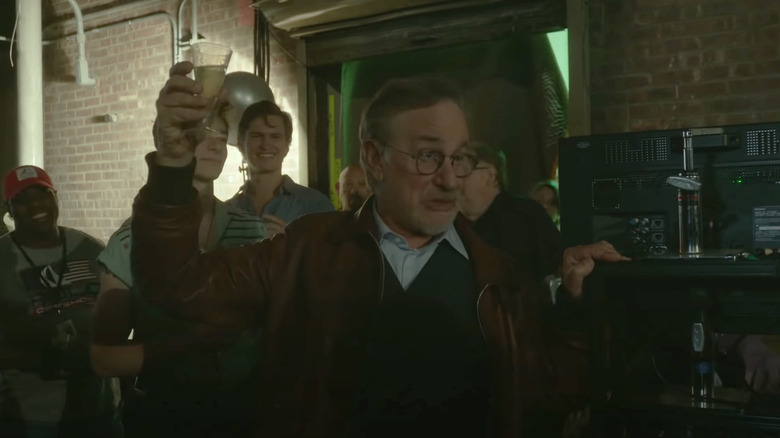 20th Century Studios
Although it was shot way back in the summer of 2019, Steven Spielberg's lavish remake of 1961's "West Side Story" is finally making its way to screens on December 10, 2021. In anticipation, 20th Century Studios has released a brand new behind-the-scenes sneak peek at the movie, which serves as Spielberg's first time at bat helming a musical, despite clearly harboring the instinct for a very long time.
Those who are devotees of the 'Berg know full well that this guy has had a musical in him, especially given the splashy numbers he staged in non-musical films like the USO dance sequence "Swing Swing Swing" in "1941," the opening Busby Berkley "Anything Goes" set piece in "Indiana Jones and the Temple of Doom," his use of the Welsh lullaby "Suo Gânor" in "Empire of the Sun," and John Williams' "When You're Alone" ballad in "Hook."
In 2004 Spielberg told Total Film exactly the kind of musical he hoped to make someday:
"I've always wanted to make a musical. Not like 'Moulin Rouge' though – an old-fashioned, conservative musical where everyone talks to each other, then breaks out into song, then talks some more. Like 'West Side Story' or 'Singin' in the Rain.' Yeah, I want to make a musical. I've been looking for one for 20 years. I just need something that excites me."
Steven Spielberg's West Side Story Sneak Peek
So what kind of musical has the most successful filmmaker of all-time made? Certainly a very lively one that harkens back to the late '50s era it depicts. The colors are super saturated to a spectacular degree, and the dance sequences look lavish and energized. In other words, this is exactly what we hoped Spielberg would deliver and then some. 
The movie has also released two brand-new posters, which you can check out below...
Here is the official synopsis:
"Directed by Academy Award winner Steven Spielberg, from a screenplay by Pulitzer Prize and Tony Award winner Tony Kushner, 'West Side Story' tells the classic tale of fierce rivalries and young love in 1957 New York City. This reimagining of the beloved musical stars Ansel Elgort (Tony); Rachel Zegler (María); Ariana DeBose (Anita); David Alvarez (Bernardo); Mike Faist (Riff); Josh Andrés Rivera (Chino); Ana Isabelle (Rosalía); Corey Stoll (Lieutenant Schrank); Brian d'Arcy James (Officer Krupke); and Rita Moreno (as Valentina, who owns the corner store in which Tony works). Moreno – one of only three artists to be honored with Academy, Emmy, GRAMMY, Tony and Peabody Awards – also serves as one of the film's executive producers."