Eternals Is Heading For A $69.5 Million Opening Weekend At The Box Office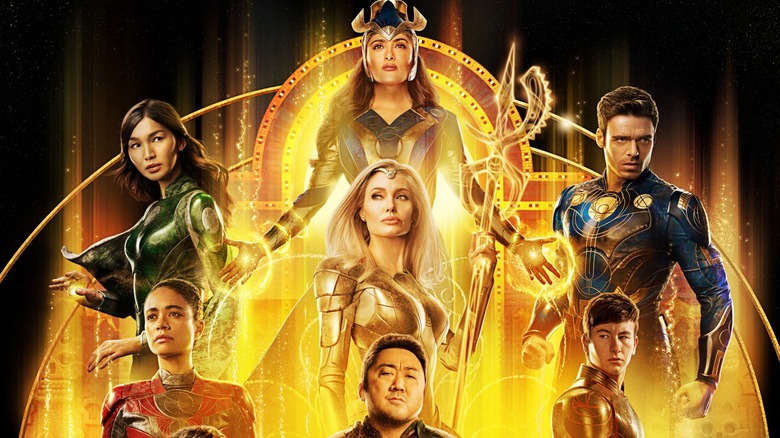 Disney
After 7000 years on Earth, how will the Eternals fare in their first weekend at the box office? Pretty well, if the early numbers are anywhere to go by! Based on Thursday night previews and Friday's ticket sales, "Eternals" is expected to finish out the weekend with a gross of $69.5 million at the domestic box office.
Variety reports that "Eternals" has so far grossed $30.7 million from Thursday and Friday ticket sales, with viewings across 4,090 screens. "Dune" is expected to take the #2 spot this weekend, bringing its domestic total to $83.4 million after three weekends at the box office.
That's lower than the estimates that came in earlier this week, which had the latest movie in the Marvel Cinematic Universe pegged for a $75 million debut. It will also be the lowest opening weekend so far out of the four Marvel Studios movies set for release this year (the fourth and final entry, "Spider-Man: No Way Home," arrives in December.) However, the difference between MCU movie debuts is slim: Black Widow landed biggest, with an $80 million opening weekend; "Shang-Chi and The Legend of the Ten Rings" is a little way behind it at $75 million.
Directed by Oscar-winner Chloé Zhao, "Eternals" features Angelina Jolie, Selma Hayek, Gemma Chan, and Richard Madden among its cast of immortal, superpowered beings who were sent to Earth to protect it from a race of monsters called the Deviants. When the Deviants return, 500 years after the last of them were supposedly destroyed, the Eternals begin to ask difficult questions about the real reason they were sent to our planet.
Reviews and Word of Mouth for Eternals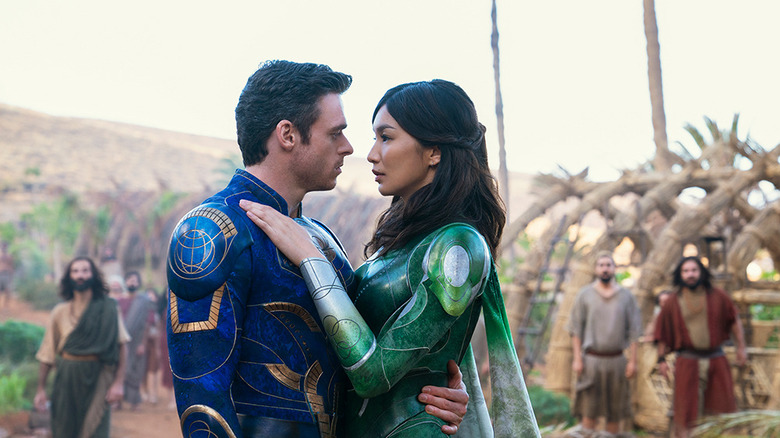 Disney
"Eternals" has the dubious honor of being the first MCU movie to receive a "Rotten" score on Rotten Tomatoes, where (as of the time of writing) it holds a critic score of 48%. General moviegoers are also somewhat divided; "Eternals" has a "B" CinemaScore grade from audiences, whereas "Shang-Chi" received an "A" and "Black Widow" received an "A-" earlier this year.
It's perhaps unsurprising that "Eternals" is getting a mixed response. Aside from the dizzying logistics of "Avengers: Endgame," this might be the most ambitious movie that Marvel Studios has made so far. The storyline spans thousands of years, from the Eternals' first arrival on Earth to their present-day efforts to deal with an apocalyptic crisis. There are ten new superheroes that need to be introduced and have their relationships with one another established. And somehow it also has to find time to weave in shared universe elements like the Snap, and set up future MCU movies in its post-credits scenes.
Compared to a more straightforward solo origin movie like "Ant-Man," "Eternals" had a challenging story to tell and the execution is certainly imperfect. But it's by far the most visually impressive MCU movie so far and, though the trailers were criticized for looking washed-out, features some truly bold and colorful visions of outer space as the Eternals consult with the vast being that created them, a Celestial called Arishem. It also touches on some big ideas on blind faith, family, and how immortality impacts the Eternals' view of humans in different ways. 
There's a good chance that "Eternals" would have bombed at the box office without the MCU brand attached to it, but if its connection to a larger franchise is what it takes to get audiences to see a superhero movie that breaks from the usual Marvel formula, then it's well worth the odd Thanos name-drop.