Star Wars Bits: The Book Of Boba Fett, Disney+ Day, Darth Maul, Crimson Reign, Matt Smith, And More!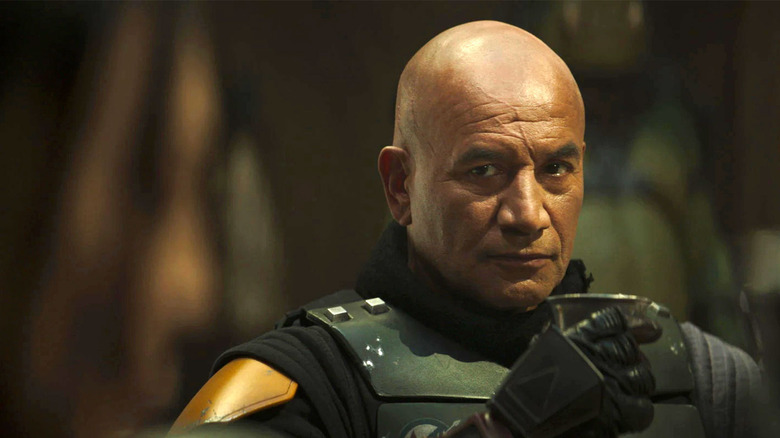 Lucasfilm
In this edition of Star Wars Bits:
"The Book of Boba Fett" Trailer
What to Expect on Disney+ Day
A New "Star Wars" Animated Series?
Marvel's "Star Wars: Crimson Reign" #1
And More!
The Book of Boba Fett Trailer
On November 1, Lucasfilm released the official trailer for the upcoming Disney+ series "The Book of Boba Fett," which you can watch above! Starring Temuera Morrison and Ming-Na Wen, "The Book of Boba Fett" is executive produced by Jon Favreau, Dave Filoni, Robert Rodriguez, Kathleen Kennedy, and Colin Wilson, with Karen Gilchrist and Carrie Beck serving as co-executive producers. While we don't have all the details yet, the series is said to be around nine episodes and "The Mandalorian" vets Favreau, Filoni, Rodriguez, and Bryce Dallas Howard will direct some of the episodes. "The Mandalorian" composer Ludwig Göransson will also return to score the show. 
Here is the official synopsis:
"'The Book of Boba Fett,' a thrilling Star Wars adventure teased in a surprise end-credit sequence following the Season 2 finale of 'The Mandalorian,' finds legendary bounty hunter Boba Fett and mercenary Fennec Shand navigating the galaxy's underworld when they return to the sands of Tatooine to stake their claim on the territory once ruled by Jabba the Hutt and his crime syndicate."
Lucasfilm has also unveiled the new key art poster for the series, which you can see below. "The Book of Boba Fett" begins streaming on Disney+ December 29, 2021.
If you've got Fett Fever™ like me, be sure to check out these /Film articles for more on the galaxy's most notorious bounty hunter:
What to Expect on Disney+ Day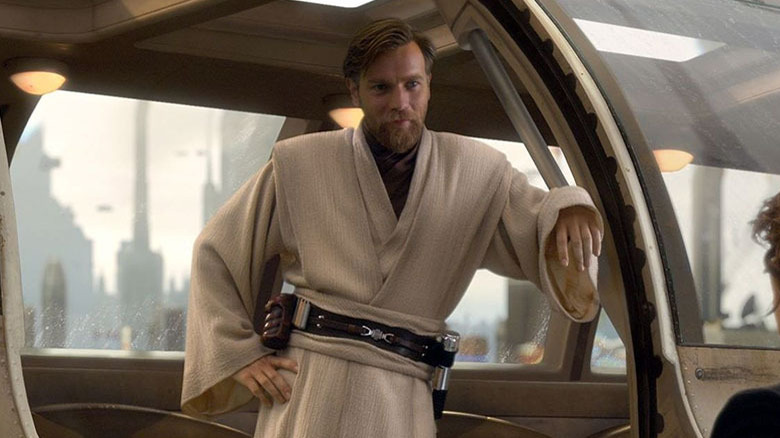 Lucasfilm
On Friday, November 12, The Walt Disney Company will host Disney+ Day, in which subscribers will be treated to new content releases as well as breaking news, trailers, clips, and sizzle reels, and appearances from Disney+ creators and stars. Our friends over at StarWarsNews.Net have some details on what we might expect regarding upcoming "Star Wars" projects and it's all very exciting.
SWNN reports that we'll see a teaser trailer for the upcoming "Obi-Wan Kenobi" series, a sizzle reel for "Andor," behind-the-scenes footage of "The Book of Boba Fett" and "The Mandalorian" season 3, a "Star Wars: The Bad Batch" season 2 teaser, and an announcement regarding a new animated series. In addition, Disney+ subscribers will also have access to a new documentary special, "Under the Helmet: The Legacy of Boba Fett," that celebrates "the origins and legacy" of the legendary bounty hunter.
A New Star Wars Animated Series?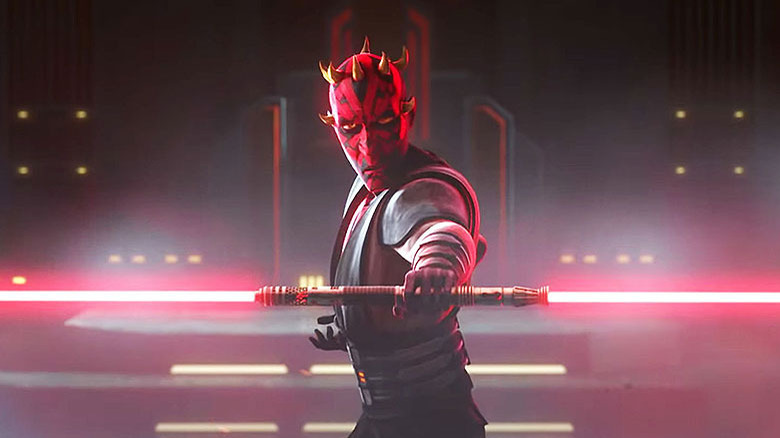 Lucasfilm
Speaking of a new "Star Wars" animated series, Cinelinx is reporting that a series is already in the works that will focus on Darth Maul and Crimson Dawn. The series will be set before 2018's "Solo: A Star Wars Story" and fill in some gaps between Maul's appearances in "Star Wars: The Clone Wars" and "Star Wars: Rebels." Cinelinx's Jordan Maison expects Paul Bettany to return as Dryden Vos and says the show was originally conceived as a live-action series:
"Off and on for years now, I've heard Lucasfilm has been keen to get some sort of Darth Maul series up and running in live-action. For various reasons (*cough* Ray Park *cough*), however, they haven't been able to get it going. As such, this new animated series seems to be what they've decided to go with instead. It also lines up with having heard about Crimson Dawn related plans for a while now; an organization I'm sure will continue to pop up in various projects."
Is this the new animated series SWNN says will be announced on Disney+ Day, or is there another? We'll have to wait until November 12 for more details.
Marvel's Star Wars: Crimson Reign #1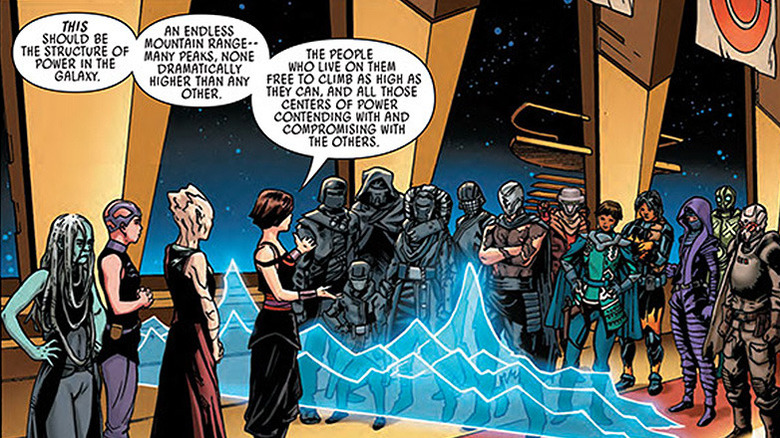 Marvel
Speaking of Crimson Dawn, StarWars.com has an exclusive preview of "Star Wars: Crimson Reign" #1, Marvel's upcoming comic by writer Charles Soule and artist Steven Cummings, with a cover by Leinil Francis Yu. The issue arrives in December and is the second chapter in a trilogy that started with "War of the Bounty Hunters," continuing the saga of Lady Qi'ra (the character portrayed by Emilia Clarke in "Solo: A Star Wars Story") and the Crimson Dawn crime syndicate.
Check out StarWars.com for a look at all the Marvel "Star Wars" titles coming this month, including "Star Wars: The High Republic: Trail of Shadows" #2, "Star Wars: The High Republic" #11, "Star Wars: Doctor Aphra" #16, "Star Wars: Bounty Hunters" #18, and "Star Wars: Darth Vader" #18.
Into a Larger World: Star Wars Art & Zines
Fanzines have been an integral and often female-driven part of the fan community for over 40 years. "Into a Larger World" is a "Star Wars" fanzine made by Kara DJ (@intoalargerworldbykara), a collage artist from New Jersey. Each issue combines different mediums in a classic fanzine style, examining and celebrating a different part of the "Star Wars" universe and fandom. I'm very excited to be included in Kara's upcoming issue all about Boba Fett, with an article about the bounty hunter's best "Star Wars Legends" stories. For more info about the zine, visit Kara's Instagram or subscribe here.
Star Wars Podcast Marathon for Charity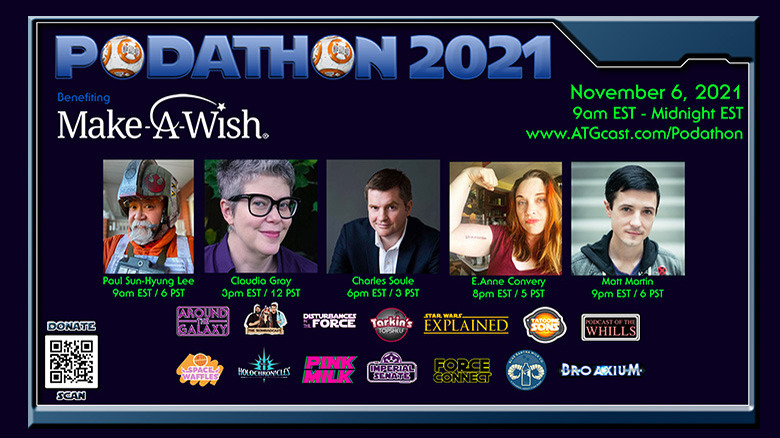 Around the Galaxy
On Saturday, November 6, beginning at 9 A.M. ET, Pete Fletzer of Around the Galaxy and Scotty Jayro of The Bombadcast will host PODATHON, the annual all-day marathon livestream of content creators from around the "Star Wars" community, to raise money for the Make-A-Wish Foundation. Celebrity guests during the day will include actor Paul Sun-Hyung Lee from "The Mandalorian," authors Claudia Gray, Charles Soule, and E. Anne Convery, and Lucasfilm Story Group's Matt Martin. All proceeds go directly to the charity and hosts will plan giveaways and special events to take place during their shows.
In fact, more than 30 "Star Wars" prizes will be raffled off to those that have donated including a rare autographed Bo-Katan sketch from Dave Filoni, signed books from Claudia Gray, E. Anne Convery and Dave Filoni, as well as collectibles from Regal Robot, rare comic books, posters, apparel, and more. Giveaways will happen every hour with a premium raffle event at the end of the day!
If you are interested in donating money or an item for auction/giveaways, please contact ThePodAThon@gmail.com. You can also donate directly to the event's Make-A-Wish page.
Matt Smith Confirms The Rise of Skywalker Rumors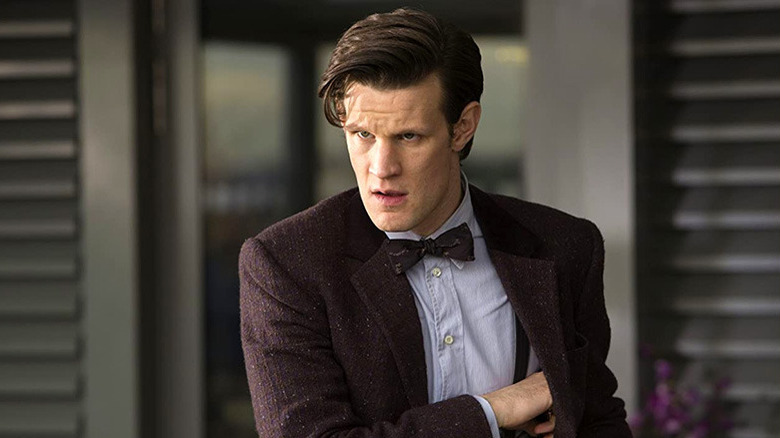 BBC
Back in 2018, mere weeks after shooting on "Star Wars: The Rise of Skywalker" got underway, reports surfaced that actor Matt Smith (of "Doctor Who" and "The Crown") had been cast in a key role in the movie. Smith denied his involvement and, when the film was released in theaters and he wasn't in it, the "Star Wars" community took him at his word that the reports were just speculation and fan-casting. 
However, Smith was recently a guest on the Happy Sad Confused podcast, where host Josh Horowitz asked him about his supposed "Star Wars" role. In the interview, Smith confirmed that he was in talks to be in the movie, but it fell through:
'No, I didn't. That was... you know, we were close to me being in it, and it never quite happened. I think the thing they were thinking of me for... eventually the part became obsolete, they didn't need it. So I never got to be in 'Star Wars.'"
When the rumors first began, I was pretty convinced that Smith was going to be playing a young clone of Emperor Palpatine (like in the "Dark Empire" series), or Palpatine's son. Horowitz asked him if this was the case, to which Smith replied:
"I could not possibly say. But it was a pretty groovy thing, it was a pretty groovy part and concept. It was like a big thing, yeah, it was a big story detail. Like a, you know, transformative 'Star Wars' story detail, but it never got quite over the line."
Here is the full segment from the interview (the full episode is available on Spotify):
Remember those reports that Matt Smith was going to be in THE RISE OF SKYWALKER? He told me his role was a big deal, representing "a big shift in the history of the [STAR WARS] franchise."

WHO WAS HE GOING TO PLAY?!

Full video chat at https://t.co/e84WokCDhq pic.twitter.com/JGKiwPSba9

— Josh Horowitz (@joshuahorowitz) November 3, 2021
This Week! in Star Wars
And finally, on This Week! in Star Wars, host Kristin Baver gives us the lowdown on all the latest news from that galaxy far, far away!
This week in 'Star Wars,' we catch up with Boba Fett and Fennec Shand in the new The Book of Boba Fett trailer and meet new Jedi from Star Wars: The High Republic straight from the pages of Mission to Disaster. Plus, we catch you up on the exciting life of notorious bounty hunter Boba Fett.