New Scream Featurette Teases Plenty Of Twists (And New Footage)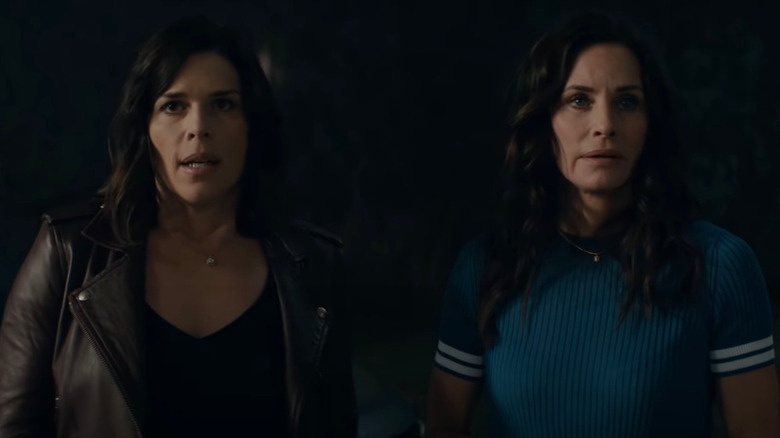 Paramount
Look, I'm already sold on the new "Scream." I love the original movie. I'm thrilled to see the three original leads back. And I'm a big fan of the work of filmmakers Matt Bettinelli-Olpin and Tyler Gillett. However, I have to admit that I've been left cold with the marketing so far. I think there's a reason for that: the folks involved with the pic want to play things close to the vest to avoid massive spoilers leaking. And I've heard inside sources who've read the script state that the movie is a lot different from how it was sold in the recently released first trailer. That said, this new behind-the-scenes featurette sure seems to be selling "more of the same." Sure, there are multiple occasions here where cast members assure us that twists and turns are in store. But I'm getting serious "Scream 4" vibes here. That's not a bad thing, mind you – I think "Scream 4" is the best sequel in the series (sorry, "Scream 2" fans). But I've also already seen "Scream 4," and would like something new, ya know? Anyhoo, check out a new "Scream" featurette below. 
Scream Featurette
In the new "Scream," a whole new cast of youngsters find themselves targeted by a new Ghostface. Can the original surviving "Scream" players help?? If that set-up sounds familiar, that's because it's pretty much the same deal as "Scream 4." But again: I'm going to give the new "Scream" the benefit of the doubt. I'm pretty sure there's a lot more to the film than the marketing is letting on. For now, we'll have to make do with this mostly vague featurette that does include some new footage.
Kevin Williamson, who wrote the original "Scream" and almost all of the other sequels, and who is an executive producer on this film, says the time was right for a new "Scream" movie "because we had a new story to tell with the legacy cast members and a new cast."
One of those new cast members, Melissa Barrera, says her character, Sam Carpenter, becomes "the target" of the new Ghostface. As a result, she seeks out help from Dewey (David Arquette). As for Sidney, Neve Campbell says she's "moved on with her life." And she really means it, too, because the footage here shows Sidney out on a jog with a baby in a stroller. Now, I suppose Sidney could have a side-hustle as a babysitter. But the more likely scenario is that Sidney is a mom now, and I'm honestly not entirely sure how I feel about that. Maybe it just makes me feel old. 
Hello, Sidney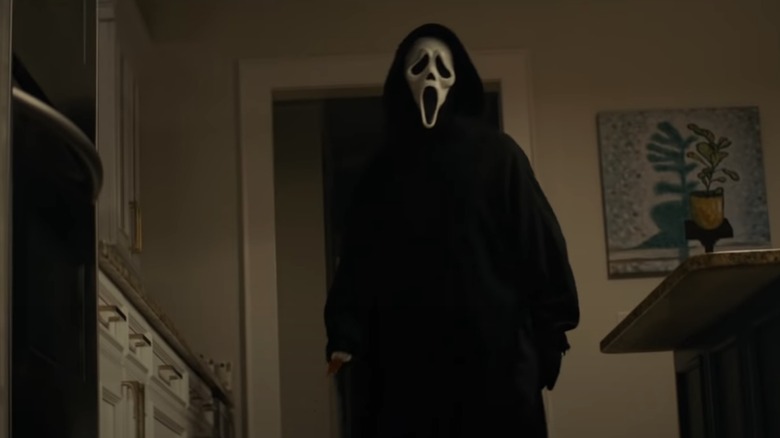 Paramount
So just what the heck is the new "Scream" about? I'm glad you asked, because it allows me to paste this synopsis I copied: 
Twenty-five years after a streak of brutal murders shocked the quiet town of Woodsboro, a new killer has donned the Ghostface mask and begins targeting a group of teenagers to resurrect secrets from the town's deadly past. Neve Campbell ("Sidney Prescott"), Courteney Cox ("Gale Weathers") and David Arquette ("Dewey Riley") return to their iconic roles in Scream alongside Melissa Barrera, Kyle Gallner, Mason Gooding, Mikey Madison, Dylan Minnette, Jenna Ortega, Jack Quaid, Marley Shelton, Jasmin Savoy Brown, and Sonia Ammar.
Matt Bettinelli-Olpin and Tyler Gillett direct a script by James Vanderbilt and Guy Busick. Look for "Scream" to slash its way into theaters on January 14, 2022.