Station Eleven Teaser Trailer: HBO Max's Pandemic Drama Brings The Apocalypse In December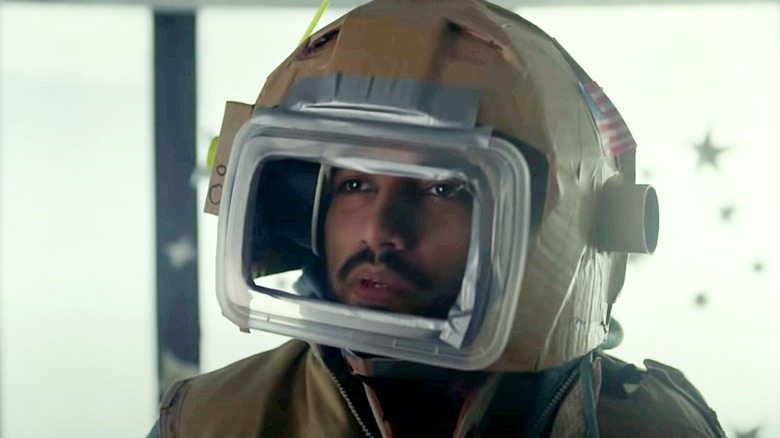 HBO Max
The teaser trailer for HBO Max's "Station Eleven" features a version of "What the World Needs Now Is Love." But it also implies that what the world needs now is ... a pandemic drama. Because that's what "Station Eleven" is. 
In all fairness, the upcoming limited series is based on an Emily St. John Mandel novel, which was published back in 2014. HBO Max ordered it to series and started casting it in 2019, and it went into production in January 2020.
Then COVID-19 happened, and suddenly we were all in the middle of a real pandemic. This did affect the production of "Station Eleven," but it didn't affect HBO Max's plans to move full steam ahead with this series, which features an ensemble cast led by Mackenzie Davis and Himesh Patel, with Lori Petty and Gael García Bernal in supporting roles.
"Station Eleven" hails from creator and writer Patrick Somerville and director Hiro Murai. Somerville served as a writer on HBO's "The Leftovers" and created Netflix's "Maniac," writing or co-writing most episodes of the series, which Cary Joji Fukunaga directed. Murai is known for directing music videos like Childish Gambino's "This Is America" and episodes of series such as "Barry" and FX's "Atlanta" (soon returning for a long-awaited third season).
Check out the teaser trailer for "Station Eleven" below.
Station Eleven Teaser Trailer
The trailer for "Station Eleven" begins in a familiar way: with people stocking up on emergency supplies at the super center. A father and his daughter wheel five shopping carts out to the parking lot, and it serves as a reminder of all those times last year when people made a run on the store, emptying the shelves of tissues, toilet paper, hand sanitizer, bottled water, and whatever else.
A radio voice squawks, "We've never seen a flu like this before," alluding to the Georgia Flu, the swine flu-like virus responsible for the pandemic in "Station Eleven." Whether or not viewers are ready to be reminded so much of real-world circumstances in this series remains to be seen.
Here's the official synopsis for "Station Eleven" via HBO Max:
STATION ELEVEN is a post-apocalyptic saga spanning multiple timelines. This limited drama series tells the stories of survivors of a devastating flu as they attempt to rebuild and reimagine the world anew while holding on to the best of what's been lost.
"Station Eleven" premieres on HBO Max on Thursday, December 16, 2021.