Eternals Clip: Kingo Is The Bollywood Dance King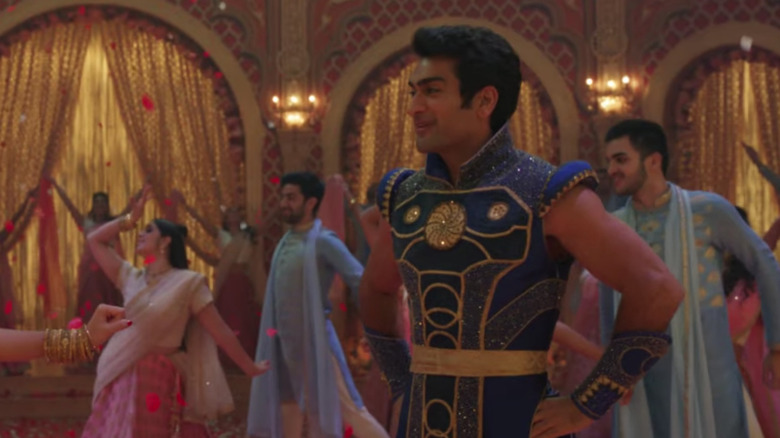 Marvel Studios
One of the big highlights of the superhero ensemble in Marvel Studios' "Eternals" has to be Kingo, as portrayed by the newly-swole Kumail Nanjiani ("The Big Sick," "The Lovebirds"). Although the film bounces back-and-forth through different eras of human existence, when we catch up to Kingo in the present day, he is a Bollywood superstar filming a movie where he portrays Richard Madden's Ikaris. A clip from the scene of his elaborate dance number just debuted for your viewing pleasure, and you can check it out below!
For those wondering how comic book accurate this portrayal of Kingo is, the answer is — surprisingly — pretty accurate! The main difference is that the Kingo Sunen of Marvel's Earth-616 comic universe is Japanese, and instead of starring in Bollywood movies has portrayed samurai in action films. Think Toshiro Mifune or the recently departed Sonny Chiba. A modern-day parallel to the Kingo of the movie would be Fawad Khan ("Khoobsurat"), a model/actor/singer who, like Nanjiani's character, is a Pakistani working in the Bollywood industry. Both the comic and movie versions of the character relish living in the spotlight and receiving the adoration of millions. 
Eternals "Bollywood" Clip
If this clip seems to jump wildly from comedic to dramatic beats just be forewarned: that's how "Eternals" rolls. However, it is not as whiplash-inducing as this truncated clip represents, as there's a big spoiler that has been strategically cut. Just know that it's more than the return of the Deviants that is urgently bringing the band back together here. 
Also of note in this clip is the introduction of Indian actor Harish Patel ("Run Fatboy Run") as Karun, Kingo's gofer/driver/personal videographer. Karun is more than just comic relief for this scene, he is a major character who follows Kingo throughout his adventure. Patel even gets a prominent credit in the poster, so keep an eye out for this character as he's likely to be a breakout and source of many future GIFs!
"Eternals" also stars Gemma Chan as Sersi, Angelina Jolie as Thena, Lauren Ridloff as Makkari, Brian Tyree Henry as Phastos, Lia McHugh as Sprite, Don Lee as Gilgamesh, Barry Keoghan as Druig, Salma Hayek as Ajak, and Kit Harington as Dane Whitman, AKA Black Knight.
"Following the events of Avengers: Endgame, an unexpected tragedy forces [the Eternals] out of the shadows to reunite against mankind's most ancient enemy, The Deviants."
"Eternals" is in theaters only on November 5, 2021.