The Chloe Zhao Movie You Should Watch After Eternals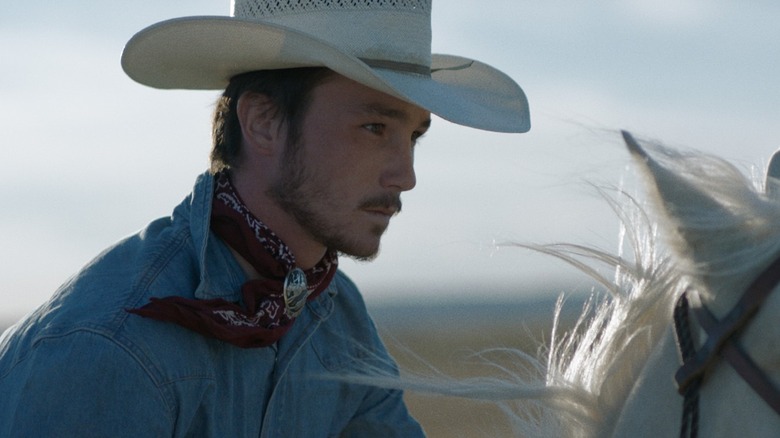 Sony Pictures
The Marvel Cinematic Universe continues on this weekend with "Eternals" hitting theaters. This film, much like "Shang-Chi and the Legend of the Ten Rings" before it, will be introducing a brand new set of characters to this ever-popular universe, all of them based on characters not too many people in the mainstream are familiar with. Oscar-winning director Chloe Zhao ("Nomadland") is the director making it happen. While this will serve as her biggest project to date by far, she is an accomplished filmmaker with several films that movie fans can, and should, go back and check out after seeing "Eternals."
And I can confidently say that "The Rider" is a movie that is well worth checking out for anyone who enjoys cinema on any level. I happen to be a sucker for westerns and Zhao put her stamp on the genre in a pretty unique way several years ago. This is arguably the film that paved the way for her to step into the spotlight in such big fashion. As such, it might be the perfect movie to watch after taking in her contribution to Phase 4 of the MCU.
What Is The Rider?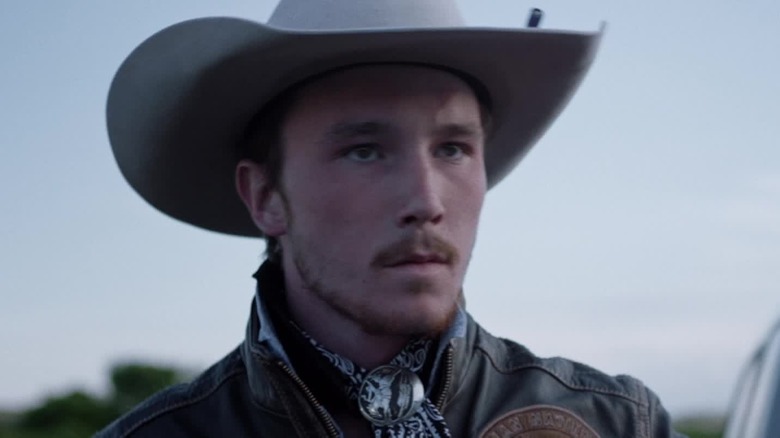 Sony Pictures
"The Rider" is a western that was released in 2017. While it wasn't Zhao's directorial debut (that honor belongs to 2015's "Songs My Brothers Taught Me") it was arguably the movie that put her on Hollywood's radar in a big way. And for good reason, as it is an emotionally effective, truly excellent piece of filmmaking, albiet a bit quiet compared to something like "Eternals." For those who may not be familiar, here is the synopsis and trailer for the movie.
Based on his a true story, THE RIDER stars breakout Brady Jandreau as a once rising star of the rodeo circuit warned that his competition days are over after a tragic riding accident. Back home, Brady finds himself wondering what he has to live for when he can no longer do what gives him a sense of purpose: to ride and compete. In an attempt to regain control of his fate, Brady undertakes a search for new identity and tries to redefine his idea of what it means to be a man in the heartland of America.
I think westerns in the classic context have an old-fashioned macho thing going for them, broadly speaking. So one of the things that I love when we do get a western these days is that we often get a commentary on the genre through a modern lens. Zhao does that expertly with this film, but more than that, it's a western with a heart on display in a way that I simply haven't found in many other movies I've enjoyed within the genre. I am by no means an expert on the genre, but it feels distinctly different from other films that tackle similar subject matter — it's a western that could easily welcome in those who don't enjoy a gritty Clint Eastwood flick or a John Wayne classic.
The Movie That Changed It All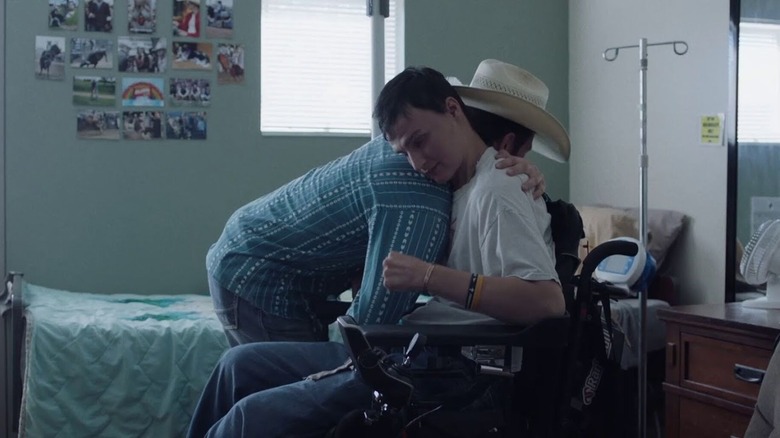 Sony Pictures
There is no question that "Nomadland" winning Best Picture at the Oscars, in addition to Zhao winning Best Director, changed the course of her career trajectory in Hollywood forever. That is a transformative thing and the film was met with near-universal praise. That said, when she got the gig directing "Eternals," "Nomadland" hadn't come out yet, and certainly hadn't found the awards season praise it eventually did. So while Marvel Studios and Disney might have known that was in the pipeline, it was her prior work (in addition to her unique pitch) that won Zhao the gig directing a blockbuster for one of the biggest studios in the business.
It truly was "The Rider," a movie that was met with much acclaim and film festival love, that helped get her foot in the door with Marvel Studios. It is completely conceivable that, had this movie not garnered the attention that it did critically, this new franchise within the MCU might not exist as it does now. Or, at the very least, it would have been another director at the helm. That makes this movie an important one both for Zhao personally, for Marvel fans, and for anyone who follows the film industry and cares about it.
A Unique Compliment to Eternals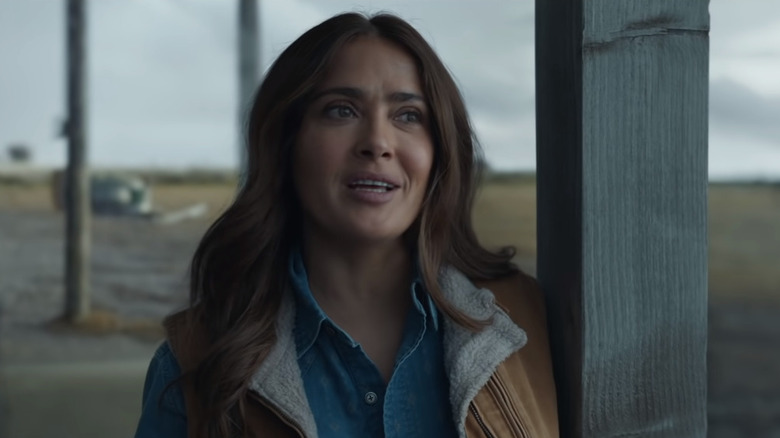 Marvel Studios
While I have not, as of this writing, seen "Eternals" just yet, it is quite clear that this is a sweeping space epic and, at its base level, a big-budget superhero movie. It has a huge cast, a ton of super-powered beings in it, and a whole lot going on. "The Rider," quite plainly, is not that. This is a more reserved, focused story taking on the western genre while looking at it through a unique lens. In this way, it works as a unique complement to the likes of an MCU epic. It is also, I find, always interesting to discover where a filmmaker has been after seeing where they've gone.
The fact of the matter is that with a huge blockbuster with a massive ensemble that we need to meet, while also dealing with earth-shattering consequences, there simply isn't time to spend with each and every character. On the other side of the coin, this movie offers viewers a chance to see what Zhao can do while honing in, very specifically, on a single character, which is something she does exceedingly well. It might offer a window into what she could do later on in the MCU, provided she gets the chance to tackle an "Eternals" sequel – or something else entirely.
"Eternals" hits theaters on November 5. "The Rider" is streaming on Starz, and can be rented and purchased from the usual services.