American Sicario Trailer: The Tale Of The First American-Born Drug Lord In Mexico [Exclusive]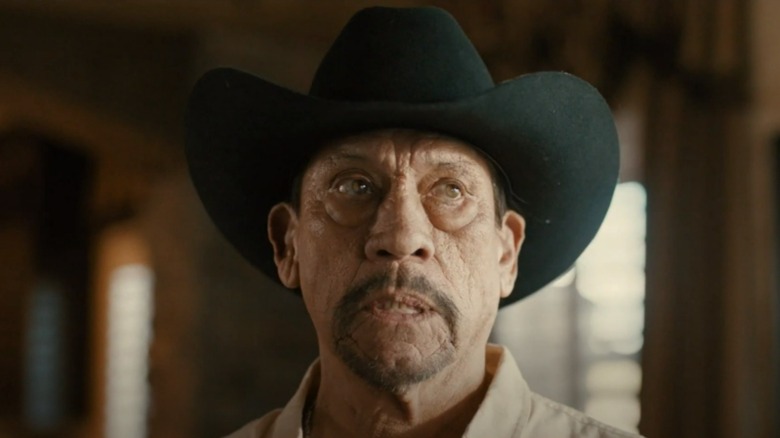 Saban Films
It's been over 10 long years since star Danny Trejo — best known for his appearances in "From Dusk Till Dawn" and the "Machete" movies — made a brief but memorable impression in "Breaking Bad." For those who may be unfamiliar with the show, the classic crime drama series dealt with Bryan Cranston's Walter White getting into the drug business in New Mexico and expanding his reach all the way to the Mexican cartels, to dire consequences. Trejo appears a couple of times in the second and third seasons as a cartel drug runner, and the new movie "American Sicario" certainly appears to serve as a return to similarly potent territory for the Mexican-American actor. This time, however, Trejo will be portraying the father of a partner of the film's main drug lord. 
/Film can exclusively show you a new trailer for the upcoming crime thriller, which you can check out below.
American Sicario Trailer
"Nothing more important than family," the trailer intones in its opening seconds. This, as it happens, sums up the defining aspect of Erik Vasquez's moral code as a formidable drug lord in Mexico, who never killed women and children and became known as "the American Sicario." 
"American Sicario" is based on the true story of how Vasquez (aka La Munequita, which translates to "Little Doll") rose to prominence from modest beginnings in Dallas, Texas to become an integral member of the infamous Feliz Cartel in Mexico who would lead them into an extended and costly drug war.
The film is directed by RJ Collins, who will be making his directorial debut, and written by Rich Ronat ("The Rising Hawk," the Nicolas Cage-starring "Grand Isle," "While We Sleep"). Rated R for violence, pervasive language, drug use, and some sexual material, the footage teases a bloody and violent fight for power that embroils the entire cast. Speaking of which, "American Sicario" stars Philippe A. Haddad as the notorious Erik Vasquez and also includes Maurice Compte, Maya Stojan, Jaylen Moore, Johnny Rey Diaz, and Danny Trejo. The film will be made available in theaters, on demand, and digital on December 10, 2021. Check out the synopsis and the poster below.
The story of the rise and fall of the first American-born drug lord in Mexico, this tale of power, money, greed and betrayal amongst rival members of the drug cartels finds American gangster Erik Vasquez (Philippe A. Haddad) scheming to become the top dog in the Mexican underworld, only to find himself making enemies out of both the powerful cartels and his own allies.