Pop Culture Imports: The Skin I Live In, Raging Fire, & More Foreign Movies And TV Streaming Now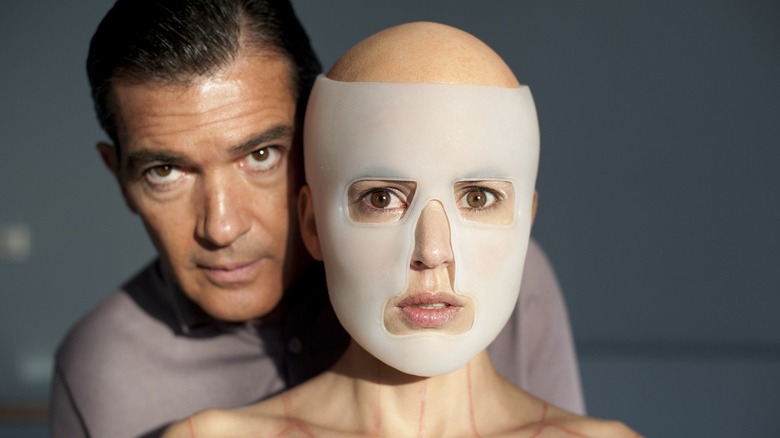 Warner Bros.
(Welcome to Pop Culture Imports, a column that compiles the best foreign movies and TV streaming right now.)
It's time for another edition of Pop Culture Imports, and we're getting in right under the wire before Halloween. As such, I have a few spooky foreign-language offerings for you, though a few non-horror titles made their way through the cracks (mostly because the Hong Kong action awesomeness of "Raging Fire" could not be tamed). So let's settle back with some candy and some cozy socks, and fire up those subtitles.
The Skin I Live In – HBO Max
Country: Spain
Genre: Psychological thriller
Director: Pedro Almodóvar
Cast: Antonio Banderas, Elena Anaya, Marisa Paredes, Jan Cornet, Roberto Álamo.
It was for so brief a time that nine of Pedro Almodóvar's films arrived on HBO Max, only for all of them to exit the streaming service just four months later. But before the Spanish auteur's films leave HBO Max completely, take some time to watch the one that is most fitting for this season: "The Skin I Live In." Perhaps Almodóvar's most transgressive and most disturbing work, "The Skin I Live In" stars the queer auteur's longtime collaborator Antonio Banderas as a successful plastic surgeon who harbors a dark secret: he has been holding captive a woman, Vera (Elena Anaya), upon whom he has been experimenting in order to develop artificial skin that will be resistant to burns and insect bites — a project he names "GAL" after his dead wife. Curiously, Vera looks uncannily like his dead wife as well, but as her past is slowly revealed throughout the course of "The Skin I Live In," the film takes truly unexpected and upsetting turns. "The Skin I Live In" flirts with body horror, melodrama, and even a little slapstick — a deliciously macabre tsunami of tone which could only have been concocted by a maximalist filmmaker like Almodóvar.
Watch This If You Like: "Titane," "The Neon Demon," "Climax," bodysuits.
My Name – Netflix
Country: South Korea
Genre: Revenge action-thriller series
Director: Kim Jin-min
Cast: Han So-hee, Park Hee-soon, Ahn Bo-hyun.
South Korean cinema has been slowly making its way into Korean TV, and it's never been clearer than with the one-two punch of Netflix hits "Squid Game" and "My Name." Where "Squid Game" tapped into the economic despair of Korean cinema, "My Name" taps into its penchant for grimy ultraviolence. And, you know, the many, many revenge thrillers. New South Korean It Girl Han So-hee stars as a woman who joins a gang to avenge the death of her father, after he was killed in front of her eyes. But when she's tasked with becoming an undercover cop, her quest becomes much more dangerous and murky. "My Name" is a good old-fashioned revenge thriller featuring lots of ladies in leather jackets kicking ass — what more do you need?
Watch This If You Like: "Lady Vengeance," "The Villainess," "Infernal Affairs," ladies in leather jackets kicking ass.
Raging Fire – Hi-YAH!
Country: Hong Kong, China
Genre: Action
Director: Benny Chan
Cast: Donnie Yen, Nicholas Tse, Qin Lan.
"Raging Fire" is the last directorial effort of Hong Kong action stalwart Benny Chan before he died of cancer shortly after completing it. As such, "Raging Fire" feels like a last hurrah for that old-school Hong Kong action movie — the final explosion of guts and blood and righteousness before we put to bed the halycon days of gun-fu. And it's a shame, because "Raging Fire" doesn't feel like the last of a dying genre, it feels extremely alive. Starring Donnie Yen as Cheung Sung-bong, a longtime officer of the Regional Crime Unit who is ready to settle down with his wife and soon-to-be-born baby, "Raging Fire" follows the righteous cop has he's faced with his greatest failure: his former protégé Yau Kong-ngo (Nicholas Tse), who has recently emerged from prison after being convicted of manslaughter while on a case. Yau holds a grudge Cheung for helping to put him in jail, kicking off a long and complex scheme to exact his vengeance. "Raging Fire" is bloody, it's highly melodramatic, and it's slightly less impressive than those golden-age Hong Kong movies (there's tons more CGI blood than squibs, because technology), but it's a satisfying throwback to those hard-boiled days. 
Watch This If You Like: "The Killer," "Hard Boiled," the glory days of Hong Kong action movies.
Gaia – Hulu
Country: South Africa
Genre: Ecological horror
Director: Jaco Bouwer
Cast: Monique Rockman, Carel Nel, Alex van Dyk, Anthony Oseyemi.
Ecological horror has never been better, or more gruesome, than it is now. And the South African horror film "Gaia" is no exception. Directed and produced by Jaco Bouwer, from a screenplay by Tertius Kapp, "Gaia" follows two park rangers Gabi (Monique Rockman) and Winston (Anthony Oseyemi), who cut surveillance routines short to investigate an ancient stretch of woodland. But when they lose control of a drone and get lost further in the deep and ancient jungle than they've ever been, they find that they've accidentally awakened an ancient power. Creepy, contemplative, and absolutely stunning, "Gaia" is a welcome addition to the eco horror canon.
Watch This If You Like: "Annihilation," "Tragic Jungle," the Earth devouring you from beneath your feet.
Fever Dream – Netflix
Country: Chile
Genre: Psychological thriller
Director: Claudia Llosa
Cast: María Valverde, Dolores Fonzi, German Palacios, Guillermo Pfening, Emilio Vodanovich.
"Fever Dream" is a Chilean psychological thriller follows two mothers who befriend each other and muse over their children — one of whom Carola (Dolores Fonzi) is not sure is still her son. Amanda (María Valverde) and her young daughter Nina (Guillermina Sorribes Liotta) have just arrived in town and befriend Carola, who lives next door. In a series of jumbled flashbacks, Carola recalls how a few years ago her son David (Emilio Vodanovich) became deathly ill and, not trusting the rural clinic, Carola takes him upstream to an old woman in a green house, who performs a "transmigration" on him. Since then, David has been ... strange. In fact, "He's a monster," Carola insists. Eerie and unsettling, "Fever Dream" lives up to its name — a dreamlike examination of motherly fears and anxieties that feels just a little sickly and off.
Watch This If You Like: "We Need to Talk About Kevin," "The Bad Seed," "Goodnight Mommy," creepy flicks about motherhood.