Pop Culture Imports: Squid Game, Riders Of Justice & More Foreign Movies And TV Streaming Now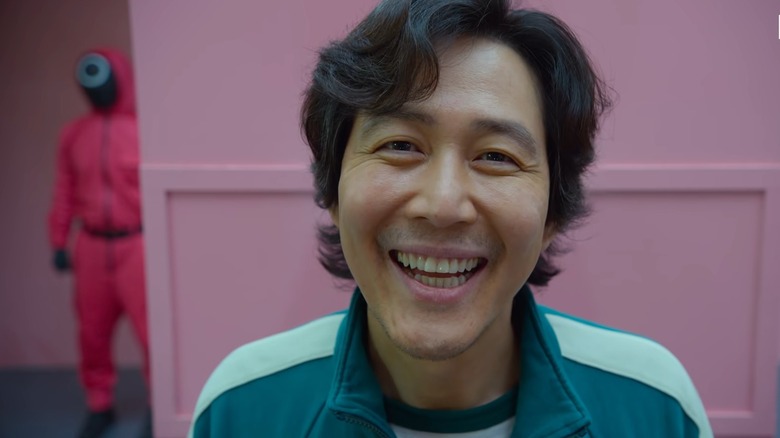 Netflix
(Welcome to Pop Culture Imports, a column that compiles the best foreign movies and TV streaming right now.)
Summer is over and there's a chill in the air. Doesn't it make you want to throw on your tweed blazer and watch some foreign films? Just me? Well this column is back to recommend you some subtitled gems, which include a surprise South Korean Netflix hit, a Mads Mikkelsen vigilante thriller that takes some unexpected turns, a dark German fairy tale, and more.
Fire up those subtitles, and let's get streaming.
Squid Game – Netflix
Country: South Korea
Genre: Survival drama series
Director: Hwang Dong-hyuk
Cast: Lee Jung-jae, Park Hae-soo, Wi Ha-joon.
Would you like to play a game? It's an invitation that can only seem ominous to Seong Gi-hun (Lee Jung-jae), but he is desperate — the chauffeur and gambling addict lives with his mother, is a disappointment to his daughter, and is indebted to ruthless loan sharks who force him to sign away his kidneys and eye if he doesn't pay them back. So h takes up the invitation of a handsome stranger ("Train to Busan" star Gong Yoo, in a too-short cameo) to join this mysterious game, which turns out to be a children's game that roughly 500 other people have signed up for. But the game quickly turns into a bloodbath as it's revealed that to be eliminated from the game is to be swiftly, brutally killed. "Squid Game" follows in the footsteps of many a survival thriller before it — think "Saw" and all those other twisty torture games — but injects its premise with a smart and sympathetic class commentary. Like many a Korean movie or show, it's actually about capitalism, folks. That undercurrent of social awareness, coupled with the bloody twists on children's games, is probably what turned "Squad Game" into one of Netflix's biggest hits yet. And it deserves it.
Watch This If You Like: "Alice in Borderland," "Battle Royale," not comparing every Korean title that has vague class commentary to "Parasite."
Riders of Justice – Hulu
Country: Denmark
Genre: Action comedy
Director: Anders Thomas Jensen
Cast: Mads Mikkelsen, Nikolaj Lie, Kaas Andrea, Heick Gadeberg, Lars Brygmann, Nicolas Bro.
Mads Mikkelsen in a vigilante revenge thriller? Yes. Mads Mikkelsen in a vigilante revenge thriller that's actually a bittersweet action-comedy about grief and trauma? Yes please. "Riders of Justice" stars Mikkelsen as a former military man whose wife is killed in a trainwreck that his daughter barely survived. As he struggles with his grief over his and his daughter's loss, he gets a knock on the door: it's a group of dweeby mathematicians who believe that the trainwreck was not an accident, but an act of sabotage. Mikkelsen's Markus reluctantly teams up with this group of computer nerds to get to the bottom of this, discovering that a biker gang called the Riders of Justice may be behind the whole thing. But it's vigilante justice that Markus doles out, casually snapping necks and going on a brutal rampage, while finding himself an unusual makeshift family in his newfound mathematician friends. "Riders of Justice" takes some unexpected turns, revealing itself to be less a revenge flick than a film about revenge. Offbeat, funny, and unexpectedly touching, "Riders of Justice" is another solid entry in the "Mikkelsen subversively grapples with masculinity" saga.
Watch This If You Like: "Nobody," "Taken," Mads Mikkelsen snapping bad guys' necks then getting existential about it.
Undine – Hulu
Country: Germany
Genre: Romantic fantasy drama
Director: Christian Petzold
Cast: Paula Beer, Franz Rogowski
Director Christian Petzold teams up with his "Transit" stars Paula Beer and Franz Rogowski once again for a contemporary spin on an old folk tale. Beer plays the titular character, who happens to share a name with the undine, an ancient water nymph that lacks only one thing — a soul. To gain that soul, an undine must marry a human being, rendering them mortal but delivering unto them an immortal human soul. At the start of the film, Beer's perpetually lovelorn woman warns her latest lover that if he breaks up with her, she would have to kill him. But what sounds like the kind of desperate plea that any heartbroken woman would say to her dismissive lover, becomes an omen as Undine quickly moves on and falls in love with a new man (Rogowski). In "Undine," Petzold plays up the soap in his most overtly melodramatic film yet. But there's something hypnotizing about "Undine" and its willingness to play it straight and lean into the mundanity of this ordinary love story before the magical realism starts to seep in, gradually unfolding into a dark, eerie fairy tale.
Watch This If You Like: "Pan's Labyrinth," "Big Fish," "A Monster Calls," lots of shots of model cities.
A Touch of Sin – Criterion Channel
Country: China
Genre: Anthology drama
Director: Jia Zhangke
Cast: Jiang Wu, Zhao Tao, Wang Baoqiang, Luo Lanshan.
This 2013 Chinese anthology film written and directed by Jia Zhangke is an interesting one. Featuring four loosely interconnected stories set in dramatically different geographical and social stratas in modern-day China, "A Touch of Sin" draws from recent real-life acts of violence — a quiet coal miners representative who goes on a rampage in a village, a gunman who murders and robs people for a living, a spa receptionist who snaps and murders a corrupt official, a factory worker who commits suicide — and infuses them with an operatic sentiment. It's a wuxia-inspired Chinese opera set in our grim contemporary reality. Lyrical, visceral, and visually outstanding, "A Touch of Sin" is another grand achievement from the Chinese auteur.
Watch This If You Like: "Babel," "Crash," the futility of reality.
The Mad Women's Ball – Amazon Prime
Country: France
Genre: Thriller
Director: Mélanie Laurent
Cast: Mélanie Laurent, Lou de Laâge, Emmanuelle Bercot, Benjamin Voisin, Cédric Khan, Grégoire Bonnet.
Mélanie Laurent directs and stars in "The Mad Women's Ball," which follows a wealthy but rebellious young woman Eugénie (Lou de Laâge) who is committed against her will in the Salpêtrière, a mental asylum for women. But the problem is, Eugénie is not "mad." She can only speak to the dead, a gift which she refuses to reject, even under the pressures of the Salpêtrière, which echoes with the screams of hysterical women who undergo all manner of horrible "treatments" of the time: bloodletting, magnet therapy, hydrotherapy, isolation. The asylum is less a hospital than it is a freak show, a place where the women are paraded in front of gawking spectators, including in the titular costume "ball," where the patients are put in costume for all the public to see. Part psychodrama, part melodrama, Laurent — who is secretly an accomplished filmmaker with five features under her belt — directs "The Mad Women's Ball" with a sympathetic, loving hand.
Watch This If You Like: "One Flew Over the Cuckoo's Nest," "The Alienist," "Girl, Interrupted," women!