What Antlers Director Scott Cooper Borrowed From Alien, The Exorcist, And The Shining [Exclusive]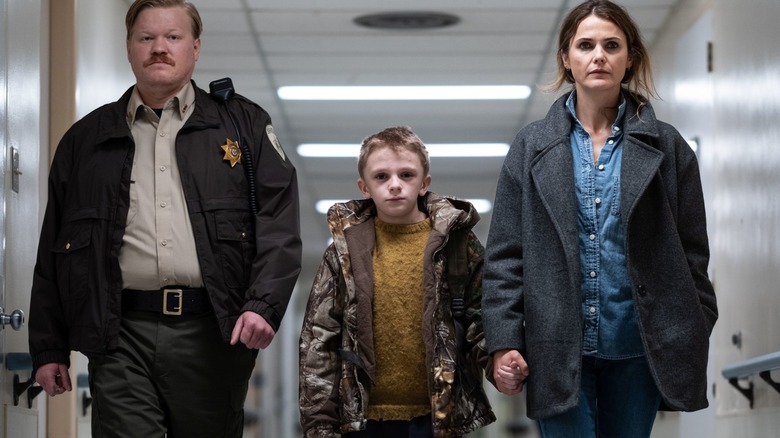 Searchlight Pictures
It's a rite of passage for any horror filmmaker. If you're making a scary movie, you could do far worse than to borrow liberally from the undisputed classics. When it came to making "Antlers," the moody and atmospheric horror film with high ambitions of being even more than that (read Chris Evangelista's review here), co-writer/director Scott Cooper didn't hesitate to use arguably the unholy trinity of the genre as inspiration. 
/Film's Jack Giroux recently caught up with the filmmaker for a wide-ranging conversation about his latest movie, which marks new ground after his last project, 2017's Christian Bale-starring western "Hostiles." "Antlers" stars Keri Russell, Jesse Plemons, and young Jeremy T. Thomas as the trio of characters at the forefront of this story, which is described as, "...a small-town Oregon teacher and her brother, the local sheriff, discover that a young student is harboring a dangerous secret with frightening consequences."
But don't let the familiar-sounding premise fool you. According to Cooper, his influences include such horror royalty as "Alien," "The Exorcist," and "The Shining" in order to give "Antlers" as much of a strong social message and relatable experience as possible. As he put it:
"I think Ridley [Scott], who produced my second film, 'Out of the Furnace,' very masterfully created a science-fiction film, a classic horror film, but also a political film about how unimportant the working class is to whomever sent these folks out on to this mission. And then you have a heroine in Ripley, who is very strong, who's also compassionate and vulnerable. And that's really what I wanted with Keri Russell's character, Julia, those same qualities, which I think Keri performs beautifully. I also looked at William Friedkin's 'The Exorcist,' which deals with the supernatural and family grief, but is portrayed so realistically, that's what makes it so terrifying. I looked at Nicolas Roeg's 'Don't Look Now,' which also deals with family tragedy, as well as 'The Shining.' All of those deal with family and trauma and this supernatural and grounded experience, and which is precisely what 'Antlers' is."
Learning from the Best
In addition to having Ridley Scott in his corner on his previous film, Scott brought horror icon Guillermo del Toro along as a producer as well. The monster-loving filmmaker helped infuse "Antlers" with his own distinctive flair for the creature at the heart of this film — the wendigo. When asked about exercising restraint before finally unleashing the film's big bad (similar to how Scott approached the xenomorph reveal in "Alien," of course), Cooper had this to say:
"Yeah, that's always a struggle. There were a lot of challenges in this film using a practical wendigo, and then marrying it with a little bit of CGI, trying to marry my very grounded sensibilities with Guillermo Del Toros more whimsical and fantastical sensibilities. It's a miracle that any of it works because it's quite difficult to do. I'm also making a film in a genre which I've never made a film, so I'm not aware of all the pitfalls. I suspect in my self-serious way, trying to make a high-minded drama, but also a terrifying monster film. It works to some degree on levels, better than others."
"Antlers" is based on a short story titled "The Quiet Boy," written by Nick Antosca. After undergoing some lengthy pandemic delays (the first teaser dropped in 2019 and was originally scheduled to release in April of 2020), "Antlers" finally arrives in U.S. theaters tomorrow, October 29, 2021.