The Spine Of Night Clip Features Patton Oswalt And Lucy Lawless Squaring Off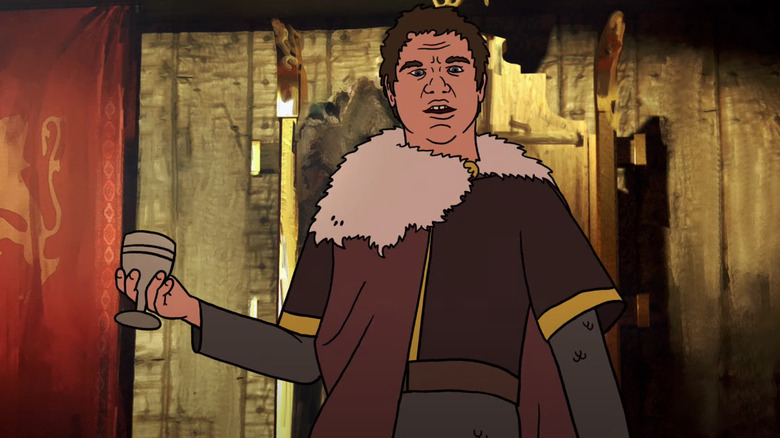 Shudder
Opening tomorrow in theaters and on digital via Shudder and RLJE Films is the animated adult fantasy film "The Spine of Night," written and directed by Philip Gelatt and Morgan Galen King. Now Dread Central has unveiled a new clip from the movie featuring the voices of comedian Patton Oswalt ("Young Adult," "Marvel's M.O.D.O.K.") and the legendary Lucy Lawless ("Xena: Warrior Princess," "Ash vs Evil Dead").
Only in an animated movie would Oswalt have the upper hand on Lawless, but what makes this pairing extra ironic is on his 1997 "HBO Comedy Half-Hour" special Oswalt told a particularly filthy joke about "Xena":
"My favorite show on TV is 'Xena, Warrior Princess.' Oh my god. They should just call that show 'The Patton Oswalt Masturbation Hour.' That's really all it is... Big moon-faced amazon with a stick beatin' people up. What god did I please?"
Needless to say, a graphic part of that bit had to be "edited for content." But it seems like Oswalt respects Lawless for more than her buxotic Amazonian good looks, as he recently applauded her for standing up to ultra conservative "Hercules" star Kevin Sorbo on Twitter. 
Patton Oswalt is a Tyrant in The Spine of Night Clip
This clip really shows off the amazing 2D rotoscope techniques the filmmakers employed for this movie. While for some it may remind them of the rotoscoping in Richard Linklater's "A Scanner Darkly," it really harkens back to the early '80s era when adult animated fantasies like Ralph Bakshi's "Fire and Ice" or the "Heavy Metal" anthology movie gave fans a different kind of cartoon to fall in love with. While there are more R-rated animations being put out via Japanese anime or Netflix series like "Love, Death & Robots" (which the directors worked on), the perception is somehow still that animation is mostly the realm of family movies. Hopefully if "Spine" is a success it will breed more risky ventures like this. 
Besides Oswalt and Lawless the voice cast of "The Spine of Night" also includes Richard E. Grant ("Star Wars: The Rise of Skywalker"), Betty Gabriel ("Get Out"), Joe Manganiello ("Justice League," "Magic Mike"), Abby Savage ("Orange is the New Black"), Larry Fessenden ("The Dead Don't Die"), and Rob McClure ("The Good Fight").
Here is the official synopsis:
In this ultra-violent, fantasy epic, ancient dark magic falls into sinister hands and unleashes ages of suffering onto mankind. A group of heroes from different eras and cultures must band together in order to defeat it at all costs.