Happy Halloween! We're Giving Away A Giant Stack Of Paramount Horror Movies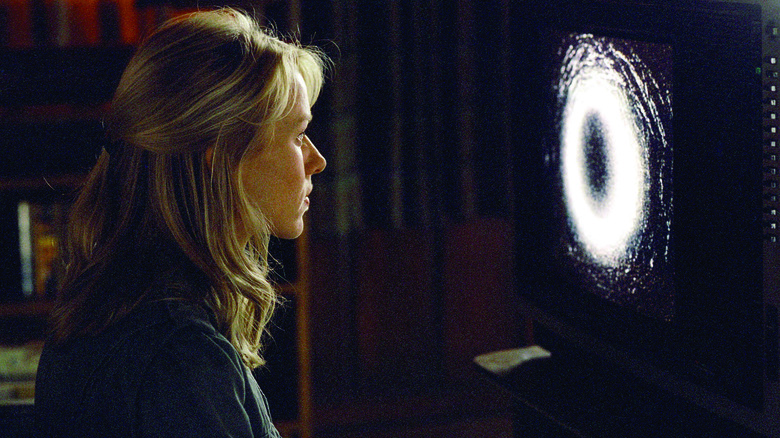 Paramount
There's no denying that the number one Halloween season activity is watching scary movies. Let me set the scene: the lights are dim in the living room, there's popcorn overflowing in your fall-accented bowl. You're snuggled up on the couch with your favorite Halloween blanket wrapped around you Snuggie-style. You grab your remote and do your thing, cycling through your (very '90s) 21-disc changer to find the perfect horror movie for a spooky night.
Now, courtesy of Paramount, you can fill up that disc changer with a sweet prize pack of movies that /Film is giving away! After all, it's no Halloween season without a sweet set of horror movies to binge.
What You Win
These are the films and editions you will receive in the giveaway package if you are our lucky winner:
"Friday The 13th" 8 Movie Collection Blu-ray Steelbook
"The Crow" Blu-Ray
"Pet Sematary (2019)" Blu-Ray
"A Quiet Place" Blu-Ray+DVD+Digital
"Paranormal Activity" 6 Movie Collection Blu-Ray
"Hellraiser" 4 Movie Collection Blu-Ray
"The Ring" DVD
"Sleepy Hollow" Blu-Ray
"10 Cloverfield Lane" Blu-Ray
"Mimic" Blu-Ray
"World War Z" Blu-Ray
"The Haunting" Blu-Ray
"Scream" 4K
Talk about a stacked set of movies to get you through the rest of fall and (honestly, if you're anything like me) well into winter! After all, horror movies are meant to be watched year-round, and with this list of titles, you'll be busy for quite a while. 
How to Enter
Considering the loot, you're probably wondering how to throw your hat in the ring for such a stellar prize pack. I definitely don't blame you. But luckily, it's actually super easy to enter this contest. All you have to do is retweet the below tweet to be included in the drawing. See? Simple!
Our friends at @ParamountPics are giving away some MASSIVE prize packs this Halloween! Follow @slashfilm and RT for a chance to win a ton of your favorite #HorrorMovies, including #Scream on 4K and a #FridayThe13th 8 movie Blu-ray Steelbook. pic.twitter.com/X1fpvSJ4t3

— /Film (@slashfilm) October 28, 2021
/Film will randomly select three winners from the retweeters to bestow the prize pack upon. Only U.S. residents are eligible to win. 
Paramount's Horror Roster Is Stacked
This list of horror movies is a seriously impressive set of movies — and it will certainly broaden your horizons or fill any blind spots if you have any. The list of films covers some of the biggest franchises in horror history, as well as some cult classic gems. From creature features to supernatural frights and terrifying thrillers, there's definitely something for everyone in this giveaway. 
Relive the Jason Saga With the Friday the 13th Collection
One thing cannot be understated: how exciting it is to have the full "Friday the 13th" series included in this prize pack! The 8-movie collection Steelbook is an awesome piece for any Jason Voorhees die-hard to have in their collection. Also, "Scream" in 4K? Sounds like a night at the movies to us.
Good luck to all who enter!