Tiger King 2 Trailer: Netflix Lets The Exotic Cats Out Of The Bag Again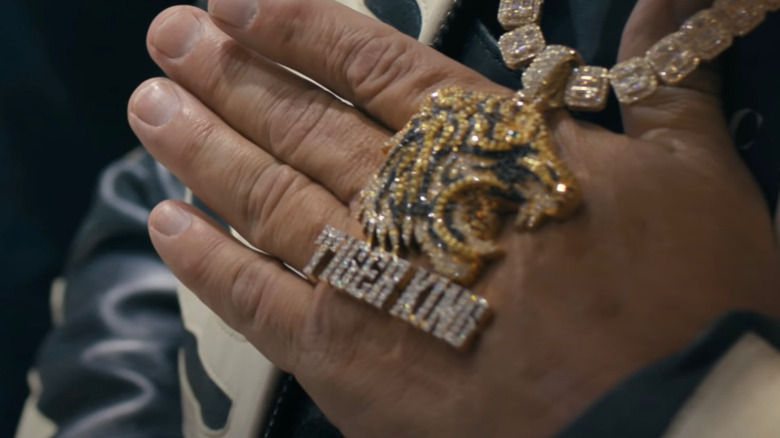 Netflix
"Tiger King" was a huge deal for Netflix, which means we must now suffer through a sequel. "But Chris," you're saying, "I don't have to watch the sequel." Oh, are you so sure about that? Are you ready to be so out-of-the-loop, while all your friends are sharing memes and doing whatever else it is people do these days? The Entertainment Industrial Complex has us all brainwashed into needing to remain "with it," as the kids say. To ignore the latest bit of pop culture is to essentially be dead.
But seriously, folks, here comes "Tiger King 2"! I'll confess to getting swept up in the first "Tiger King," and I'll admit that the show's constant barrage of shocking twists and turns held my attention. But I was also happy to never, ever revisit the "cast of characters" present in the docuseries, a ragtag bunch of weirdos running ethically questionable animal preserves in the hellish landscape that is Florida. But a hit is a hit, and Netflix is ready to check back in with Joe Exotic, Carole Baskin, and all the rest. Joe Exotic is still in prison, and as a result of that, it looks like this new docuseries focuses less on him and more on the other people in his weird world, and perhaps that's for the best. Watch the "Tiger King 2" trailer below. 
Tiger King 2 Trailer
"Tiger King" told the wild and crazy story of Joe Exotic, owner of a shady-looking zoo and convicted felon. Exotic was arrested for hiring contract killers to murder his business rival Carole Baskin. In the end, Exotic was convicted on 17 federal charges of animal abuse and two counts of attempted murder for hire for the plot to kill Baskin, and received a 22-year sentence in federal prison at Fort Worth, Texas as a result. Exotic has claimed he's innocent of the charges, and at the start of this trailer, he even declares himself to be an "innocent man" in prison. Sure, Joe, whatever you say.
"Tiger King 2" will continue the story, whether or you like it or not. Here's the synopsis: 
With Joe Exotic behind bars and Carole Baskin closing in on ownership of his disreputable zoo, the Emmy-nominated saga continues its twisted course with Tiger King 2 as newfound revelations emerge on the motivations, backstories, and secrets of America's most notorious big cat owners. Old enemies and frenemies, including Jeff Lowe, Tim Stark, Allen Glover, and James Garretson return for another season of murder, mayhem, and madness. Thought you knew the whole story? Just you wait.
And here's some more info:
The colorful saga of America's most notorious big cat owners continues. Sudden fame and unwanted attention from the authorities turns up the heat and unearths some stunning revelations.
The five-episode docuseries hits Netflix on November 17, 2021, and we're probably all going to end up watching it, because we are hopelessly addicted to content.