The Guinness World Record James Bond Set With Spectre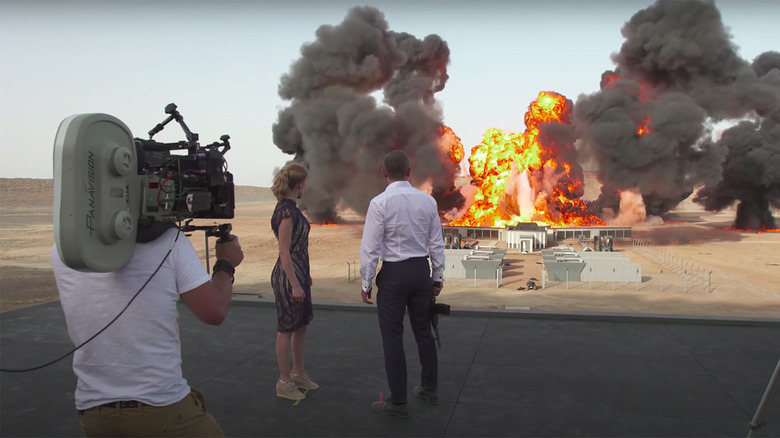 Sony Pictures
Thanks to the release of "No Time to Die," the second biggest movie of 2021 so far, James Bond has the honor of being the film franchise with the most movies. But that's an honor it currently shares with the Marvel Cinematic Universe, with both standing at 25 films. Unfortunately for 007, the second longest-running film franchise in cinema history will soon fall behind Marvel when "Eternals" hits theaters, and with several films coming from Marvel Studios each year, James Bond will have no hope of catching up. However, the secret agent will still hold a Guinness World Record thanks to a massive practical explosion that was created for "Spectre," marking the biggest explosion in film history.
Spectre Has the Biggest Explosion in Film History
On June 28, 2015, the production team for "Spectre" set the world record for biggest explosion in film history while shooting the destruction of Blofeld's desert base in the middle of Morocco. Using 2,223 gallons of fuel and 72 pounds of explosives, they only had one take to shoot the explosion, and it went off without a hitch. Though the final shot required visual effects to create much of Blofeld's desert base, as you can see when comparing the top image to the actual shot in "Spectre," the explosion itself is very real, as you can see in this featurette that shows the explosion without visual effects:
The crew was every much aware of setting the record for Largest Film Stunt Explosion, with director Sam Mendes and the rest of the careful crew celebrating as soon as the single take was complete. 
Guinness World Records presented producer Barbara Broccoli, Daniel Craig and Léa Seydoux the record certificate in Beijing, China, who accepted on behalf of winner Chris Corbould, who served as Special Effects and Miniature Effects Supervisor on "Spectre." Commenting on the honor, longtime James Bond franchise producers Michael G. Wilson and Barbara Broccoli said, "It is absolutely tremendous that the Guinness World Records have recognized Chris Corbould's incredible work in 'Spectre' in which he created the largest explosion ever in film history." It's just a shame that the explosion is pretty much the only good thing to come out of "Spectre."
This isn't the only Guinness World Record that the James Bond franchise helped set. Back in 1973, stuntman Jerry Comeaux set the record for longest speedboat jump in a film for the high speed chase that takes place in Louisiana's bayou in "Live and Let Die," where a boat is jumped over a road. In 1995, stuntman Wayne Michaels participated in the highest bungee jump from a structure in a movie for a "GoldenEye" sequence at the Verzasca hydro-electric dam in Switzerland. And finally, Daniel Craig's debut as Jamed Bond in "Casino Royale" also came with a world record set by stuntman Adam Kirley, who achieved the most cannon rolls in a car while completely wrecking 007's Aston Martin DBS.
For more James Bond-related Guinness World Records, head over here.