Benedetta Trailer: God Speaks In Many Tongues In Paul Verhoeven's Nun Romance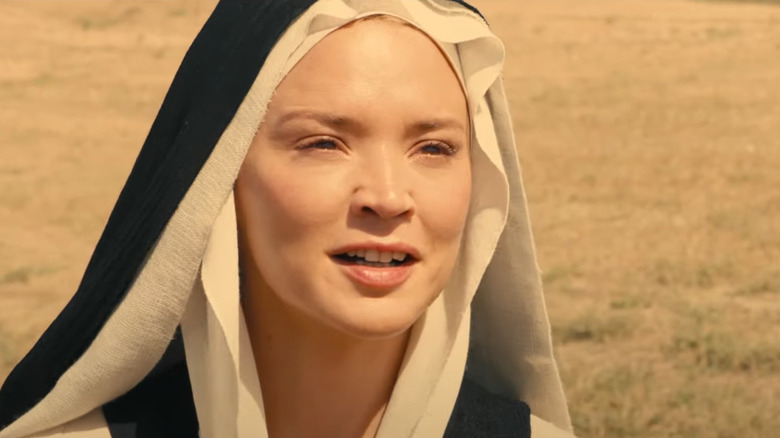 Pathé
We've already had a sinfully tiny taste of Paul Verhoeven's salacious nun romance "Benedetta" via a teaser trailer and an official Cannes Film Festival trailer. With its December 3, 2021 release date finally getting closer, one last trailer has been revealed to titillate and seduce audiences into checking out this absolutely wild period piece. 
Benedetta Trailer
If you had any concerns that Verhoeven's latest wouldn't be as shocking as any of his previous work, he literally has Jesus talking to the nun Benedetta (Virginie Efira) in a field. She shows signs of stigmata, or wounds in the hands and feet that resemble the wounds Christ endured when he was crucified. There's also a lesbian kiss. No wonder some Catholics have been protesting!
While lesbian nuns who see visions of Christ in sheep fields seem like a major departure for Verhoeven, best known for directing "RoboCop" and "Starship Troopers," the director did publish a book called "Jesus of Nazareth" in 2008 and he is a bonafide religious scholar. Catholicism and blasphemy have clearly been on his mind for awhile. 
So what's "Benedetta" about? Here's the official synopsis:
In the late 15th century, with plague ravaging the land, Benedetta Carlini joins the convent in Pescia, Tuscany, as a novice. Capable from an early age of performing miracles, Benedetta's impact on life in the community is immediate and momentous.
The Best Part? It's a True Story
Pathé
Perhaps the best part of all of this blasphemous nun-humping is the fact that it actually happened. Verhoeven obviously took some liberties with the story, but "Benedetta" is based on the book "Immodest Acts: The Life of a Lesbian Nun In Renaissnce Italy" by Judith C. Brown. The book is a deeply researched tome about the life of Sister Benedetta Carlini, Abbess of the Convent of the Mother of God. Possible spoilers ahead for the movie, but these are events that happened more than 400 years ago.
The real-life Benedetta entered the convent at the age of nine. She started having visions at the age of 23, both erotic and religious in nature. She was elected abbess due to the visions, but she later stirred controversy when she claimed to have actual contact with Christ. (Sort of like in the trailer!) Church authorities eventually discovered that she had faked the visions and the stigmata, and in the course of their investigations they uncovered her lesbian affair with another nun named Bartolomeo. 
You can check out this horny historical drama for yourself when "Benedetta" hits theaters and VOD on December 3, 2021.