The Summit Of The Gods Trailer: Acclaimed Manga Becomes A Gorgeous Animated Film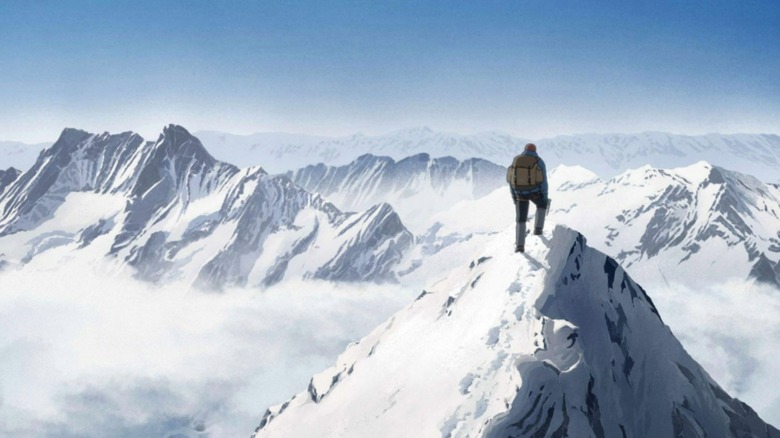 Netflix
Animation has long been a medium that somehow never quite received its due from Western audiences and artists. There's a unique freedom of creativity, form, and style that animation affords in a way that live-action simply isn't equipped to — and that applies to adult-minded storytelling just as much as it does to children's cartoons. So leave it to this fusion of a critically acclaimed Japanese manga adaptation and a French animator-turned-director to remind us of what 2D animation truly has to offer. After receiving a live-action feature film adaptation distributed by Toho in 2016, the manga series written and illustrated by Jirô Taniguchi and based on author Baku Yumemakura's 1998 novel now comes to (animated) life with "The Summit of the Gods."
Netflix acquired the worldwide distribution rights in August of this year and has just released a flat-out gorgeous trailer for the upcoming movie. But don't take my word for it. Check it out for yourself below!
The Summit of the Gods Trailer
The stunning visuals and sweeping dialogue combine to promise an epic story of what's considered to be the earliest attempt to successfully conquer Mt. Everest. Directed by French animator Patrick Imbert and written by Imbert, Jean-Charles Ostoréro, and Magali Pouzol, the film follows a Japanese photographer named Fukamachi who embarks on an "...obsessive quest for the truth about the first expedition to Mt. Everest [that] leads him to search for an esteemed climber who went missing."
The creative team involved come with plenty of credibility, as it is produced by Didier Brunner, Damien Brunner, and Stéphan Roelants. Brunner was a producer on "The Triplets of Belleville," one of the wildest fever-dream animated movies I've personally been exposed to, but all three previously produced "Wolfwalkers," the 2020 film that boasts some of the most eye-popping hand-drawn animation you'll ever see (/Film's Hoai-Tran Bui revewed it here).
"The Summit of the Gods" will actually receive a limited theatrical release in U.S. theaters on November 24, 2021 and will arrive on Netflix on November 30, 2021. Here's the synopsis:
Were George Mallory and his companion Andrew Irvine the first men to scale Everest on June 8th, 1924? Only the little Kodak camera they took with them might reveal the truth. In Kathmandu, 70 years later, a young Japanese reporter named Fukamachi recognizes the camera in the hands of the mysterious Habu Jôji, an outcast climber believed missing for years. Fukamachi enters a world of obsessive mountaineers hungry for impossible conquests on a journey that leads him, step by step, towards the summit of the gods.